For the Jains, It's Always Been Pages Down the Ages
Divya and Rashi Jain, the third-generation entrepreneurs and custodians of rare books.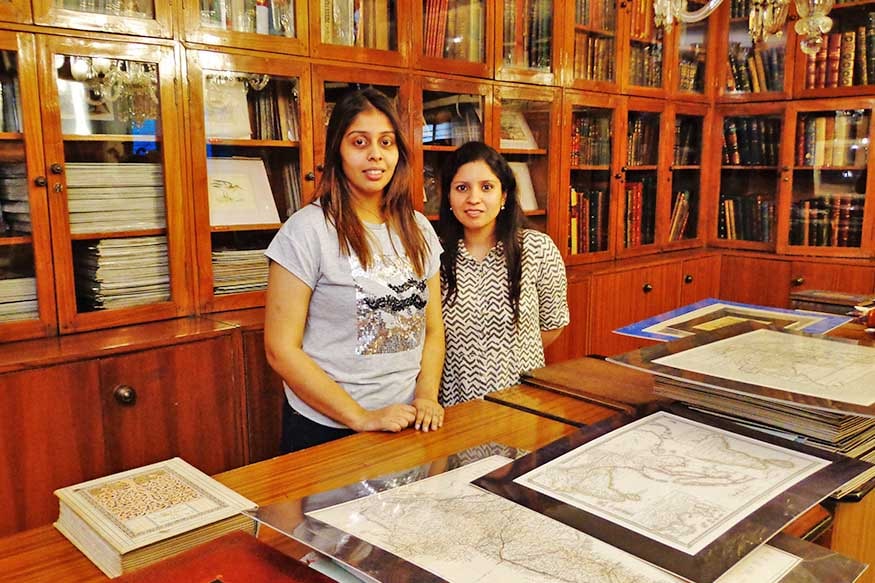 Divya and Rashi Jain, the third-generation entrepreneurs and custodians of rare books.
"I have always imagined that Paradise will be a kind of library." — Jorge Luis Borges
DELHI'S SOUTH EXTENSION — with all its pizzaz and unabashed show of wealth — is every shopper's nirvana. But tucked somewhere in the neighbourhood, within the quaint lanes and softer quarters, is a world so enchanting, it can ensnare bibliophiles and history lovers alike.
The house is a conventional one — a façade waiting to unravel its secrets. There are no boards indicating this is the address of the antiquarian book-selling Southex Books & Prints. But the affable Rashi Jain, third-generation entrepreneur and custodian welcomes me in.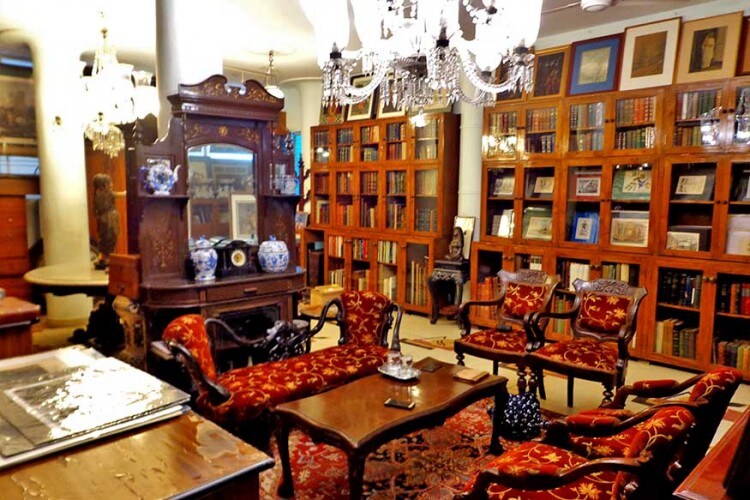 Everything about the hall spells vintage. The furniture and carpets are immaculate. Colossal bookshelves, housing literary treasures, define the walls. The heavy chandeliers hoisted from the ceiling add to the kaleidoscope of antiquity.
Rashi is joined by her father Rajiv Jain and first cousin Divya. Southex Books & Prints was started by the patriarch GC Jain in 1967. "It began in Calcutta (now Kolkata). My brother and I joined our father in the early '80s. In 1982, we travelled to Delhi; got this place in 1985 and have been here since," says Mr Jain.
"We, basically, specialise in rare and antiquarian books. In our possession are some of the very first books published on India and the Indian subcontinent. For the Europeans, India was an exotic place, since they had little understanding and knowledge of the country. They, therefore, wanted some written material that excited them. So they came down in the 1600s, armed with the printing technology, and started writing books on India. Those accounts were published mostly in Europe," explains Jain.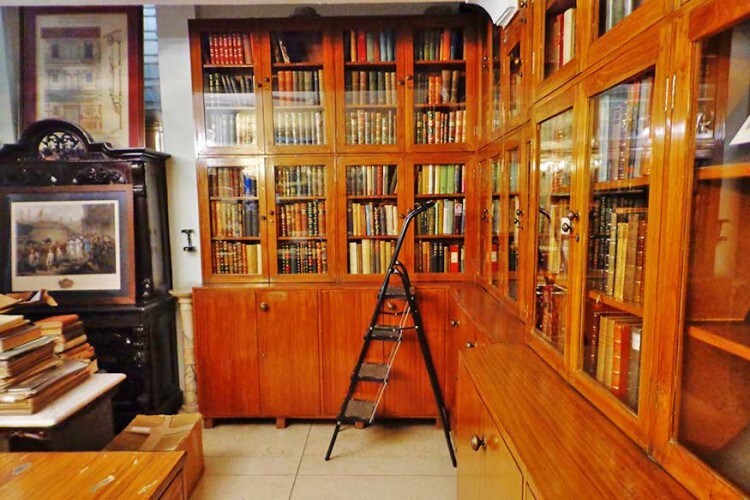 Besides books, several thousand artworks too were made, in the form of prints. Southex Books & Prints have almost 70-80% of these in their possession.
Bringing everything antique under one roof is an arduous task. How do the Jains manage it?
"When my father started this business, he would procure antiquarian books and other rare items from dealers and the old houses of Calcutta. As the years progressed, we started finding it difficult to source things. The tropical climate of India is not very friendly towards the paper. Once you have the temperature soaring above 30°C with high humidity, the paper tends to deteriorate fast. On the contrary, countries with moderate climate add to the longevity of these rare and old books. Whatever we acquire, is from around the world," he says.
India, once upon a time, comprised several princely states. Every royal and high-profile state had a library, with a British resident director. They used to advise the Maharajas to promote whatever was produced in England. "Unfortunately, owing to our lack of heritage upkeep, things got lost over the course of time," Jain laments.
The antique in the antiquarian are the first editions, signed copies, maps, old editions, illustrations and other rare artworks that the family has sensibly curated over a period of time. The prices range anywhere from a few thousands of rupees, to lakhs.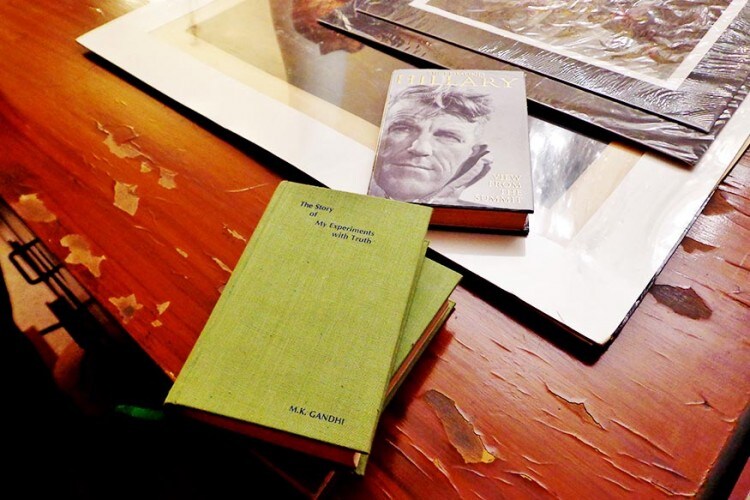 "We have built a network over the years. Some of these things are so rare that only a few copies have stood the test of time. We always have to be on the lookout; you cannot build up a collection like this otherwise. The rarity makes it special," he says.
A few days ago, a gentleman from America described Southex as a museum. The only difference, he said, was that unlike museums, things here are for sale. "I know of no other dealer in the country or in southeast Asia who will have so much under one roof. You name it and there is an 80% chance of us having it. Even the best of libraries will not have so much. A single family has built up its collection over the years. We have gratified several libraries in India, including the Indira Gandhi Centre for the Arts," he says.
Southex Books & Prints has a global clientele. Bibliophiles and art lovers from around the world — who know of this treasure trove — come here. The family also holds exhibitions, besides auctioning most of the things.
"There are nearly 5,000 dealers of antiquarian and rare books in the UK itself. But, you will be surprised to know that we do not have even six world-class dealers in India. This is a niche market, catering to a small segment of people with Western exposure and interest," he says.
"It is a sad state of affairs. There are hardly any antiquarian dealers left in India. When you go to places like Hauz Khas village, you will find a few people claiming to be antiquarian book keepers and dealers. They are part-time workers. Here, everything is collected," adds Rashi.
And how does one vouch for the authenticity of the antique items?
"Honestly, it is the gut feeling, and the experience," says Rashi. She pulls out an ostensibly old-looking book and runs her fingers through the pages. "Just take the book in your hands and see for yourself. How can anyone reproduce something like this? It is not possible; feel its texture. With books, you cannot get away with a replica. As far as prints are concerned, most of them are dated. The exact dates are mentioned, so we just know," she says.
Rashi, along with her sister Divya, wishes to take the business forward. "My first goal is to make people aware of the existence of such rare things. If they are not aware, or educated, and do not value these things, how will businesses like these survive? People think we merely sell "old" books. And I have to tell them that we actually sell rare ones. They are not easily available," says Rashi.
The sisters want to revamp the website too. "It is archaic. It needs to change," laughs Divya.
Get the best of News18 delivered to your inbox - subscribe to News18 Daybreak. Follow News18.com on Twitter, Instagram, Facebook, Telegram, TikTok and on YouTube, and stay in the know with what's happening in the world around you – in real time.
Read full article
Next Story
Next Story
Also Watch

Popcorn With Smoke, Pizza Dosa And Quirky Food Experiments At Horn Ok Please