This Independence day, Amar Chitra Katha brings alive the tales of Indian war heroes in their new comic book
This Independence Day, Amar Chitra Katha has collaborated with the Indian Army and the Indian Air Force to give life to iconic battle tales in 'Param Vir Chakra'.
During the Indo-Pak War of 1947, when Major Somnath Sharma's company of forty soldiers was ambushed by more than 500 raiders in Badgam; he knew they were facing a dire situation. Reinforcements would not arrive soon enough and they were sustaining heavy losses. But he continued to urge his men to fire at the advancing threat. With the single thought of holding their position, he effectively inspired his soldiers to continue fighting till their last breath.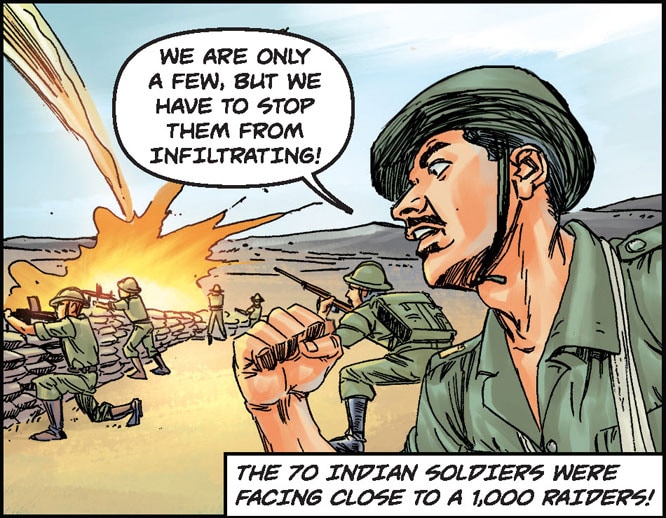 In 1971, when a fleet of Sabres flew in from across the border during the Indo-Pak War, the defence of the strategically vital Srinagar airbase fell on the shoulders of Fg Offr Nirmaljit Singh Sekhon. Despite poor visibility and challenging odds, the Indian Gnat and its fearless pilot faced six Sabres single-handedly.
During the Kargil War, the Indian Army launched Operation Vijay in order to clear a peak, Point 5140, of the enemy defences. Captain Vikram Batra led his company in a fierce and successful assault. He was then given charge of clearing a narrow ridge that had enemy bunkers on either side. Captain Batra advanced into heavy enemy fire, and fearlessly took on several soldiers in a hand-to-hand combat.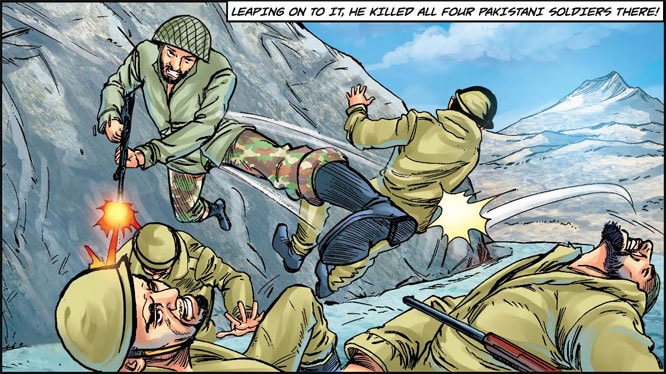 These aren't plots to successful Bollywood films, these are real life stories of real life heroes; people who fought bravely at the battlegrounds securing our motherland at different points in time. India has been very fortunate to have given birth to some gallant men and it is befitting to share these splendid stories with young Indians. This Independence Day, Amar Chitra Katha has collaborated with the Indian Army and the Indian Air Force to give life to these iconic battle tales in 'Param Vir Chakra', a comic book that pays tribute to the recipients of the highest military award in India.
The new 248 page title narrates inspirational stories of 21 of India's brave sons who have been awarded India's highest battle honour. "This idea had been in our minds for quite some time. We wanted both adults and children to know about India's contemporary heroes. Of all the awards, we chose the Param Vir Chakra and its 21 awardees," says Reena Puri, editor, Amar Chitra Katha.
ACK's team of 6 scriptwriters, 11 artists, 5 colorists and an extensive editorial team worked rigorously for more than 2 years to ensure that the significance of bravery, courage, honour, discipline and selflessness for the safety of the nation, is conveyed to the readers. "We got all the research material from the Army and the Air Force, compiled the stories with the help of our talented writer Vaneeta Vaid, checked the ranks and details thoroughly and then went on to script and illustrate. It has been an emotional process for all of us," Puri says.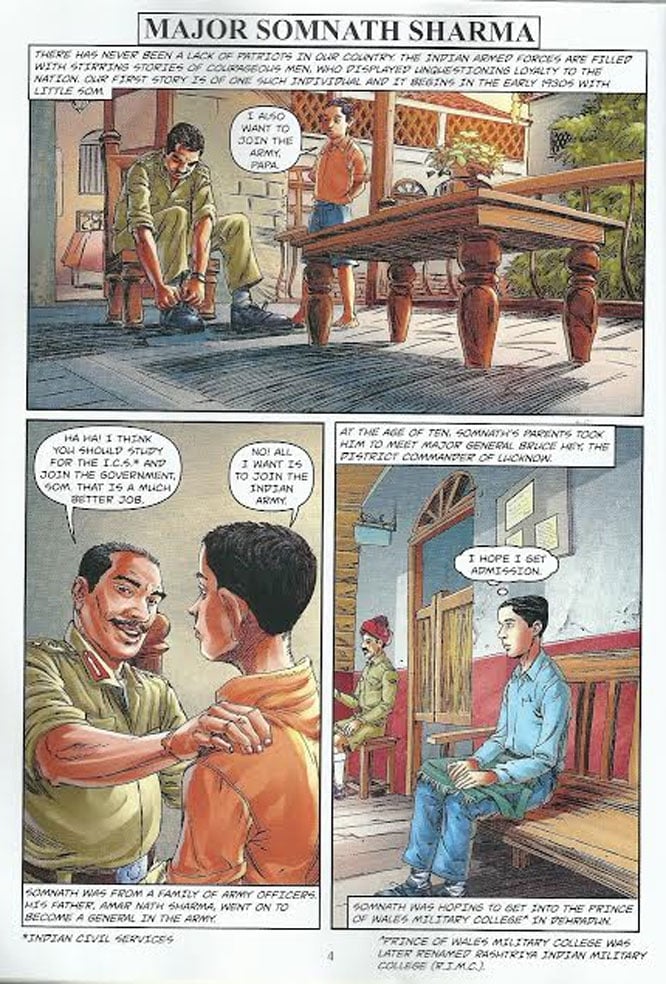 The comic book encapsulates the bravest of stories from the 1947 Indo-Pak war to the latest one in Kargil; it has the inspiring war tales of Major Somnath Sharma, Lance Naik Karam Singh, Second Lieutenant Rama Raghoba Rane, Naik Yadhunath Singh, Company Havildar Major Piru Singh Shekhawat, Captain Gurbachan Singh Salaria, Major Dhan Singh Thapa, Subedar Joginder Singh, Major Shaitan Singh, Company Quarter Master Havildar Abdul Hamid, Lieutenant Colonel Ardeshir Burzorji Tarapore, Lance Naik Albert Ekka, Flying Officer Nirmal Jit Singh Sekhon, Second Lieutenant Arun Khetarpal, Major Hoshiar Singh, Naib Subedar Bana Singh, Major Ramaswamy Parameswaran, Captain Manoj Kumar Pandey, Grenadier Yogendra Singh Yadav, Rifleman Sanjay Kumar and Captain Vikram Batra.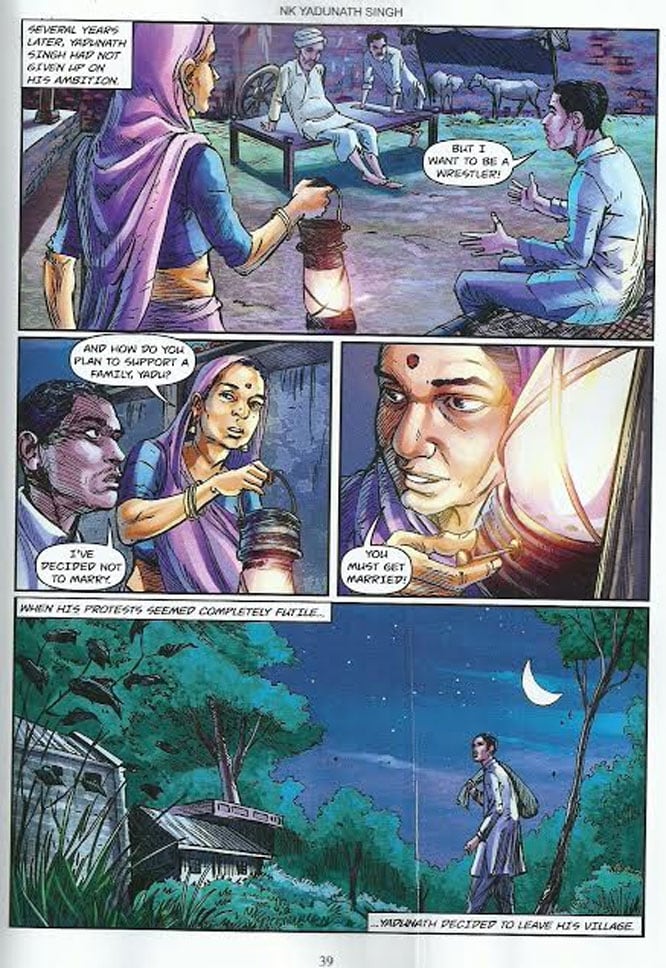 The new title, 'Param Vir Chakra', can be bought from all the book stores while a digital version on iOS and other mobile platforms is also available. Let your Independence Day be truly rewarding; read about India's greatest modern heroes straight from the battlefront!
Get the best of News18 delivered to your inbox - subscribe to News18 Daybreak. Follow News18.com on Twitter, Instagram, Facebook, Telegram, TikTok and on YouTube, and stay in the know with what's happening in the world around you – in real time.
Read full article