Interactive, live review of Chetan Bhagat's 'Half Girlfriend' on Facebook and Twitter
The mark of a good writer is to hold the attention of the reader. I live reviewed Half Girlfriend. I rest my case.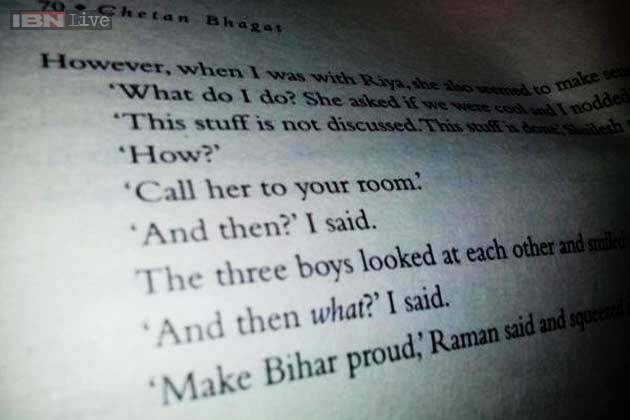 The mark of a good writer is to hold the attention of the reader. I live reviewed Half Girlfriend. I rest my case.
I have never reviewed a book live - tweeting as I read, answering questions, re-tweeting insights from users on Twitter and Facebook, forming many tiny first impressions before I've even finished reading - and if someone had suggested I do this earlier, I would have been nothing short of scandalized.
But that was much before the author, whose book I treated with the gravity I would assign a college reunion, a master marketer himself, allowed me this ultimate transgression by comparing the first print run of his latest book, 'Half Girlfriend', to the weight of 200 Asian elephants.
The only instance when written pages are referred to by their weight and not by the content is when they are handed over to the local recycler at Rs 11 a kilo to be pulped and processed.
And when Indian bestselling author Chetan Bhagat, who has a wicked knack for using self-deprecatory humour to fight haters online, did just that, I thought what could be a better tribute to the man who considers WhatsApp as his main competition by doing a tweet-by-tweet analysis of his latest book?
I used the hash tags #LiveBookReview and #HalfGirlfriend to comment as I read.
To be honest, I really did not know what to expect of 'Half Girlfriend'. It's the story of a man from Bihar who gets admitted to one of India's most elite colleges and meets the love of his life only to lose her to a rich rival. Bhagat even has a guest appearance in a book that he's written like a screenplay - keeping in mind a big-budget Bollywood film.
'Kai Po Che' was in fact a neat adaption from his book 'The Three Mistakes of My Life' and 'Two States' adapted from 'Two States - The Story of My Marriage' was definitely watchable.
But Half Girlfriend drops all pretense at being a book. Every chapter is written with one eye on how it would turn out in a cinematic adaptation. I have read all of Bhagat's books and had even loved a couple of them and reread them over the years. But Half Girlfriend is lazy, dull writing that forces you to feel nothing but annoyance for the protagonists who come across as manipulative, selfish and one-dimensional without getting a chance to explain their behavior or redeem themselves.
I will not comment much on Bhagat's writing, which I felt he deliberately dumbed down in this book to make a point about new India's sharp urban-rural divide.
But Bhagat is known for spotting everyday Indians realities about love and romance. He fails to do any of that here, stereotyping relationships and adding a drama that feels so far from reality that it makes you wonder if you've ever had a friend who would do what these men and women did in these situations.
####
Get the best of News18 delivered to your inbox - subscribe to News18 Daybreak. Follow News18.com on Twitter, Instagram, Facebook, Telegram, TikTok and on YouTube, and stay in the know with what's happening in the world around you – in real time.
Read full article
Next Story
Next Story
Also Watch

Popcorn With Smoke, Pizza Dosa And Quirky Food Experiments At Horn Ok Please