JLF 2015, Day 2, behind the scenes: Waheeda Rehman gets mobbed by the media; Suhel Seth calls Mamata Banerjee 'Lady Macbeth'
Don't know what happened on Day 2 of the ongoing Jaipur Literature Festival? We get you all the updates.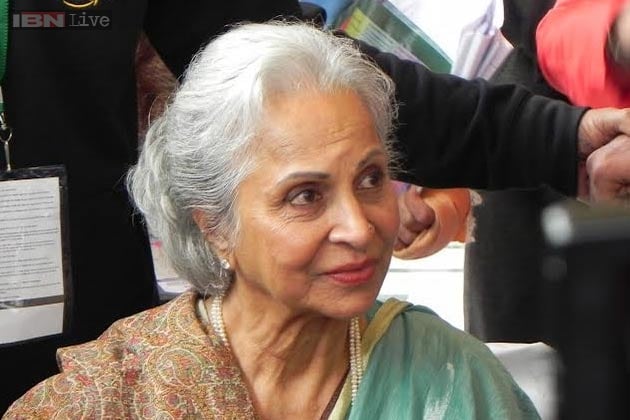 Don't know what happened on Day 2 of the ongoing Jaipur Literature Festival? We get you all the updates.
Suhel Seth was his wittiest and blatant best as he went on the stage to moderate a session on Hamlet, Shakespeare and Haider which had Vishal Bhardwaj, Basharat Peer as panelists. Seth, who is a true blue Calcuttan by heart, kick started the session with "Most of us in Calcutta grew up on Shakespeare, most of you in Delhi grew up on Rahul Gandhi and Rahul Gandhi is still growing up!." Later on, while theater director Tim Supple was earnestly explaining how he intends to have actors from India play out various Shakespeare characters in his plays, Seth interrupted and said, "We have a Lady Macbeth in Calcutta( referring to the CM of the state). Would you be interested in taking her as the lead?" While the audience erupted in laughter, Supple looked rather confused not knowing the context fully.
---
Two authors who have written in depth about the civil war in Sri Lanka, Samanth Subramanian and Romesh Gunesekera were in deep discussion with moderator Ashok Ferry during their session 'Sri Lanka: Through The Looking Glass' when one of the organisers indicated Ferry to wrap up the session in the next two minutes. As soon as Ferry made the announcemnet, Gunesekera said," But we must rebel!" much to everyone's amusement. Guess the author is still living and breathing his book.
At the same session Subramanian's latest book 'This Divided Island: Stories From The Sri Lankan War' was held up by Ferry to the audience and somewhere some one hooted instantly. Ferry immediately said, "Oh good, Samanth, there are fans of the book already!" to which Samanth wryly pointed out "That's my wife cheering, so she doesn't count".
---
Even though the network at the Diggi Palace is perhaps the worst ever, young particpants were seen clicking selfies by the dozen and posting them up on social networking sites.
---
There was a slight oops moment for the moderator of the discussion titled 'Double lives: Writers as critics'. Noted personalities such as Alberto Manguel, Will Self, Nicholson Baker and Amit Chaudhuri were gathered together on a rainy at the ongoing Jaipur Literature Festival, to discuss the topic. The moderator, who wanted play with British TV personality Will Self's name a little, said, "So Will, tell us if you see your Self as a writer or a critic."
Self, known for his sharp wit and sarcastic manner, replied, deadpan: 'Oh I see. Wordplay on name. This is the first time I've ever heard it. Totally makes it worth it, my flying from London to India."
Not knowing which way to look, the moderator was left red faced.
---
Legendary Bollywood actress Waheeda Rahman had also come to the ongoing Jaipur Literature Festival. Mobbed my fans and admirers right from her entry into the venue, the senior actress perhaps suffered a mild panic attack as she walked into the press area for a media interaction. The media people, along with their cameras, TV cameras, microphones and recording devices, literally shoved their equipment in her face. After several minutes of utter chaos, the public relations people managed to shoo the media to a respectable distance. Phew!
Get the best of News18 delivered to your inbox - subscribe to News18 Daybreak. Follow News18.com on Twitter, Instagram, Facebook, Telegram, TikTok and on YouTube, and stay in the know with what's happening in the world around you – in real time.
Read full article
Next Story
Next Story
Also Watch

IPL 2019: KXIP Vs KKR, Can Russell And Narine Push KKR To Semifinals?