Nepalese author translates Gita in Rajbhanshi
It is an ancient tribal language spoken in India, Nepal and Bangladesh.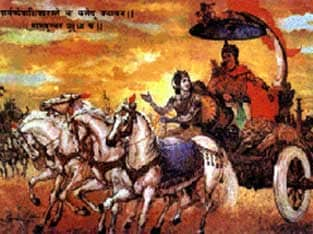 It is an ancient tribal language spoken in India, Nepal and Bangladesh.
Kathmandu It is available in languages as diverse as Hebrew and Hungarian. Now the Bhagvad Gita, a scriptural classic that provides the essence of Hindu philosophy, has been rendered in an ancient tribal language still spoken in India, Nepal and Bangladesh.
Forty-one-year-old fine arts teacher from Ghailadubba village in Jhapa, Pawan Rajbanshi, a tea garden district in eastern Nepal bordering India, has come out with the first Gita in the Rajbanshi language spoken by his community.
Also known as Kamtapuri and Tajpuri, the Rajbanshi language bears a striking resemblance to the Bengali and Nepali languages and uses a script that the Rajbanshis said, is also the foundation of the Bengali language.
"It took me four months. For the translation, I used the original Sanskrit, Nepali and Hindi versions," said Pawan.
Pawan, whose ancestors migrated to Nepal after the fall of the powerful Koch kingdom in eastern India that had held sway over the present Assam state and north Bengal, speaks Sanskrit. The language of ancient Indian classics and Hindu scriptures is a legacy handed down to him by his grandfather.
"As a child, my grandfather used to read out shlokas (Hindu holy chants) to me and encourage me to explore Sanskrit texts. That is how I came to grow up with the language," said Pawan, who is also a news reader and editor for the Rajbanshi language service of Kanchanjungha FM, a private radio station in Jhapa.
He hopes the Rajbanshi Gita, which costs Nepali Rs 150, will be read by members of the community in Nepal, who number about 300,000 and live in three districts bordering India; Morang, Sunsari and Jhapa.
However, his dream is that it will also be read by Rajbanshis in India's West Bengal, Assam, Arunachal Pradesh, Meghalaya and other northeastern states as well as in Bhutan, Bangladesh and Pakistan.
"The Gita is not just a religious text," he said, explaining why he chose the ancient classic. "It also guides you to a better way of life. For an advanced society, we need upliftment in all spheres - social, economic, religious and spiritual. The Gita gives you a spiritual uplift," added Pawan.
When he began the translation, people asked him to start with Muna-Madan, Laxmi Prasad Devkota's 20th century epic that is one of the best loved works in Nepali literature.
"However, Muna-Madan is a love story," said Pawan. "Our community has a very rich drama tradition and we are familiar with narrative masterpieces. I wanted to make a contribution to society. The Gita also stands for a dynamic and progressive way of life, emphasising the culture of 'work is worship'. I myself believe in that culture."
Though the Rajbanshi Gita is out now, its creator doesn't want to stop there. He says he will start work on another interpretive, modernised version - in Rajbanshi.
Get the best of News18 delivered to your inbox - subscribe to News18 Daybreak. Follow News18.com on Twitter, Instagram, Facebook, Telegram, TikTok and on YouTube, and stay in the know with what's happening in the world around you – in real time.
Read full article