GET Stock

Quotes


Sasikala No Replacement, Won't Last Long, Says Jayalalithaa's Biographer
Vaasanthi also believes that the nature of politics has changed over the years and cinema has slowly cut its ties from politics in the south.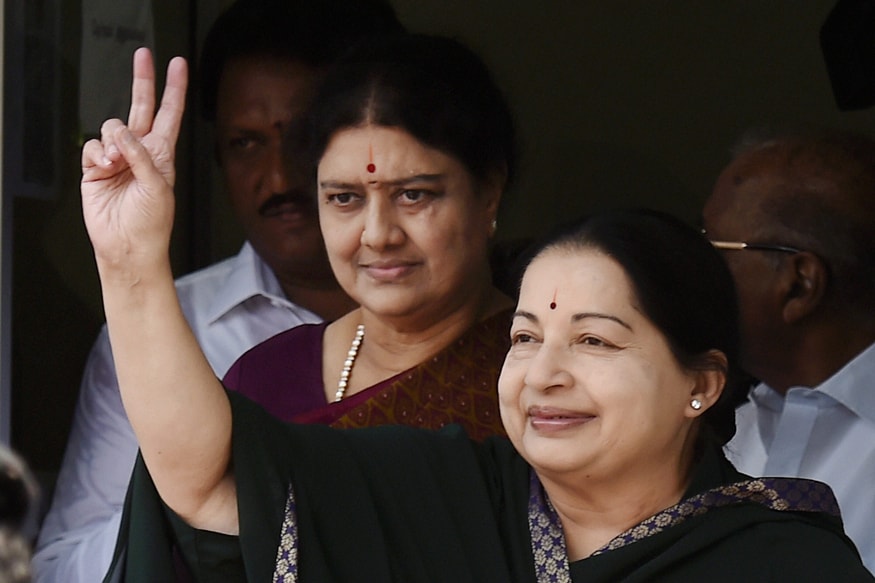 File photo of Tamil Nadu Chief Minister J Jayalalithaa. (PTI)
Jaipur: Writing a biography about an enigmatic politician is not an easy task. And when it's a larger-than-life leader like Jayalalithaa, the task is even more difficult. Having faced a ban on her book on the leader earlier, noted journalist and Jayalalithaa's biographer Vaasanthi admits that she was genuinely scared of Amma throughout her lifetime.
At Jaipur Literature Festival, the author of the book Amma: Jayalalithaa's Journey from Movie Star to Political Queen spoke to News18 about how it was not her own idea to write on the leader and that she was approached by Penguin. The book, of course, faced a lot of trouble with Jayalalithaa herself objecting to its release.
How difficult was it to write about the leader? "She was a very a secretive person so it was doubly difficult to get anything on her," she said.
Many feel she was manipulated by Sasikala. "She was very intelligent. No one could manipulate Jayalalithaa," said the biographer of the late leader.
When asked how difficult it is to write an unbiased story, Vaasanthi chuckled and said, "You must not tell the person on whom you are writing, "and added quickly, "Yes you have to face criticism afterwards. If you are an honest journalist, you have to say what you have to say and then face the music, that's all."
Jayalalithaa's rise as the supremo of Tamil politics appears is like a story straight out of a film. From being shunned by MGR's followers to becoming the leader of AIADMK and subsequently the CM, Jayalalithaa was loathed and revered in equal measures. "Perhaps it gave her a high that the men who earlier had ill-treated her, spoke to her with so much respect and were actually scared of her as she gained power."
Author of the biography of the late Jayalalithaa, Vaasanthi speaks on Tamil Nadu politics, Aadi Parashakti and more. #ZEEJLF @coxandkingsIN pic.twitter.com/wG9taqg2uZ

— ZEE Jaipur Lit Fest (@ZEEJLF) January 19, 2017
For someone who has keenly followed and observed Tamil Nadu politics for decades, Vaasanthi appeared to be unsure of its future after Amma's demise. "I dont know. They (AIADMK) will see to it that the party doesn't break up. Because they have another four and a half years to go. They will see to it that they stay together, they want somebody as their leader and they are looking at Sasikala in that role. Although she can't last long. "What about Jayalalithaa's niece who has shown interest in carrying forward her legacy? " Niece has been propped up by those who are not in favour of Sasikala. She is not a threat.
Having faced much trouble in releasing her book on Amma Vaasanthi is aware of how there are always certain limits in writing the truth. But the author feels that freedom of expression is under more threat than at any other time. "Karunanidhi also didn't like it. But he wasn't as harsh as Jayalalithaa. But yes freedom of expression is now under greater threat."
Vaasanthi also believes that the nature of politics has changed over the years and cinema has slowly cut its ties from politics in the south. "Those days so many things happened. Dravidian connection advanced to greater length due to its connection with cinema. Cinema became a vehicle for political propaganda, vehicle of that ideology. Cinema and politics had a symbiotic relation those days. It is no longer so. Now, politics has no ideology and hence it doesn't need cinema as its vehicle."
Also Watch
| Edited by: Sameeksha
Read full article