GET Stock

Quotes



Sathya Saran's 'Sun Mere Bandhu Re' is not a traditional biography maintaining linearity of the narrative
Sathya Saran's book 'Sun Mere Bandhu Re' on SD Burman and his music is not only welcome but also much needed.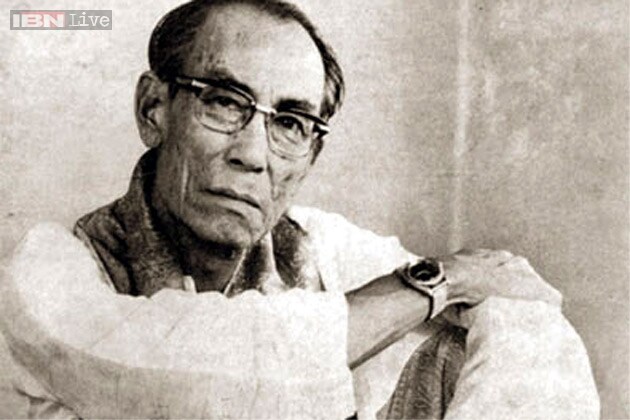 Sathya Saran's book 'Sun Mere Bandhu Re' on SD Burman and his music is not only welcome but also much needed.
Sachin Dev Burman passed away in 1975 nearly four decades back. He was one of the tallest that the Hindi cinema could ever produce. Interestingly there aren't many books on him or his music - whatever are there are mostly in vernacular including Khagesh Dev Burman's Sachin Kartar Ganer Bhuban which until recently got translated and published by Rupa as SD Burman: The World of his Music. Hence, Sathya Saran's book 'Sun Mere Bandhu Re' on SD Burman and his music is not only welcome but also much needed.
The books deftly deals with the early years in the quaint palatial abode in Comilla, to a jostler, busy Calcutta where the foundation of him being a music maestro were laid under the tutelage of the legendary Krishna Chandra Dey. And finally, the more elaborate, detailed and exquisite rendering is of his Bombay days as a music composer.
The book is interesting weaved - in third person and excerpts from his autobiography Sargamer Nikhad. In between the two are pieces in first person which delve on being factual as well as fictional in places. The author rummaged through a pile of written material, interviews on and by SD as he was popularly known as in Bombay (Whereas in Calcutta he is more often than not referred to as Sachin Karta even today may be because of his royal lineage) and created the first person ambit with a lot of care. Mohit Lalwani is a person who needs to be credited as well for preserving and gathering troves of information in the form of paper cutting on SD as well as interviewing many related to the industry and close to SD - all these were handed over to the author when she embarked on this trail.
It is not a traditional biography maintaining linearity of the narrative. As a result we got details of interesting anecdotes like beads in a string - staccato and revealing. One such account is regarding the composition of the song 'Mora gora ang lai le' from the Bimal Roy's masterpiece Bandini. It was Gulzar's first job as a lyricist of Hindi film song who at that time was a car mechanic with a dream of becoming a writer. In Gulzar's vivid narration we come to know how there were differences between SD Burman and the ace director on the picturization of the song and how they slowly built up the entire sequence - not in isolation but as a collective whole. This is poignant in today's situation where Hindi commercial cinema is more like an assembly of elements - created in separation and then amalgamated in the edit floor. At a later part it is mentioned how SD got furious when in the magnum hit 'Mere sapno ki rani kab aayegi tu' from Aradhana Sujit Kumar is shown as playing a mouth organ in the interlude while SD's music actually played guitar as a background score. This goes on to prove a perfectionist he was, always choosing the best which suits his music and again not in isolation but within the scope of the film in question. This is why he experimented with voices, had his favourites but never shied away from introducing new ones when he thought that the existing ones will not do justice to his creative output.
This is how he introduced three new voices in the music of Hindi films - all three Bengalis and all three went on to making it big in Hindi cinema. In Geeta Dutt (nee Roy) Hindi cinema got a svelte tilt as opposed to the balanced almost spiritual nuance of a Lata Mangeshkar. The peppy numbers of Asha Bhonsle came much later, it was Geeta Dutt who brought in fresh air in the alternate films of Guru Dutt, Dev Anand and a host of others. The other two notable singers whom SD gave break in Hindi cinema playback are Hemant Kumar who was already a famous Bengali singer by then and was trying his luck as a music composer in Bombay and the classical Manna Dey who was an assistant to SD back then. The other stalwart of Hindi playback music Kishore Kumar also had been on record acknowledging the debt towards SD who had faith in Kishore's 'untrained' voice and helped him render some of the scintillating melodies of all times including 'Baadi sooni sooni' from the film Mili which happened to be SD's last as well before he suffered from heart attack and stayed nearly a year in coma state before passing away. Meera Dev Burman, SD's gifted wife had penned many an interesting Bengali songs sung by her 'karta' which include hits like 'Biroho boro bhalo lage', 'Ghate lagaiyo majhi dingapaan khaiya' and 'Shono Go Dakhino hawa'. In his autobiography SD mentions "Meera, besides composing lyrics, was knowledgeable in creating music too. With her help and assistance, I successfully composed music for many songs, which subsequently became popular...On many occasions, Meera would write the Bengali lyrics according to the rhythm and metre of my music, making it easier for Hindi lyricists to write their lyrics." Meera Dev Burman was an accomplished singer by her own rights as well having a number of duets with SD in Bangla. It is hence a pertinent question as raised by the author as to why Meera Devi never sang for him as a Hindi playback artist when SD experimented with his singers for three decades.
The book is free-flowing and by shifting the point-of-views the author brings out an intimate persona of the character - childlike, innocent yet steadfast in his choice and thoroughly professional. The book also has lilting accounts of SD's vision for his son - RD Burman who eventually came out of his father's shadow to become one of Hindi cinema's very best. The book goes in detail to account the controversy over who composed Aradhana's superhit number -'Roop tera mastana' and squarely puts the credit with SD. However probably the alternate version crediting RD for the song needed more space to deliberate the root of the confusion in the first place only - why only that song and not the others in the same film was attributed to RD, just because it was racier than the others and hence apparently more 'western'?
The hardbound book is produced with utmost care though the dearth of pictures seems quite a let down. Also, the book keeps the Calcutta account short and uses it only as a preamble to the Bombay settlement. By doing this the entire gamut of a rich and unparalleled collection of SD's Bengali songs as a singer goes amiss. Those songs are important since SD have returned to them a number of times while composing his Hindi ones albeit by tuning them even fine. Though this is not a veritable biography of the man, the book indeed holds the attention captive for the curious reader with an ear for the music of SD Burman. Hence, not having a list of his songs and music makes it a bit incomplete for which the reader will have to search other books or look up the web. But these are minor blemishes in an otherwise intriguing insight to the mesmeric world of Sachin Dev Burman's unforgettable melodies.
Also Watch
Read full article