Story behind how Gujaratis do business
Shobha Bondre's book 'Dhandha' showcases the powerful ambition, capacity for hard work, and the inherent business sense of the Gujaratis.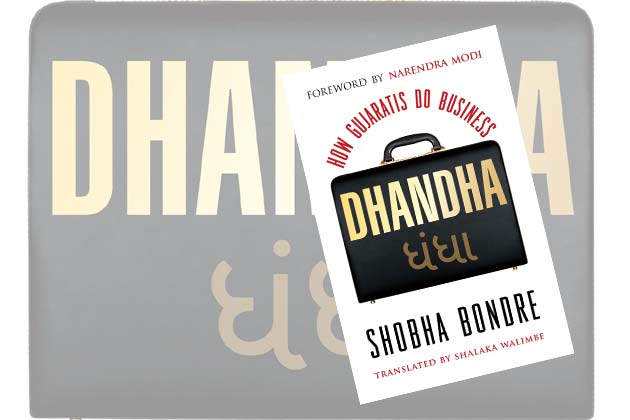 Shobha Bondre's book 'Dhandha' showcases the powerful ambition, capacity for hard work, and the inherent business sense of the Gujaratis.
Dhandha, meaning business, is a term often used in common trade parlance in India. But there is no other community that fully embodies what the term stands for than the Gujaratis. Innately businessminded and highly persevering, their entrepreneurial spirit has led them to taste enviable success in their chosen fields.
Shobha Bondre's book 'Dhandha' is the story of five such Gujaratis - Mohanbhai Patel, Bhimjibhai Patel, Jaydev Patel, Dalpatbhai Patel, and Hersha and Hasu Shah. Travelling across continents, from Mumbai to the United States in search of the story of their life and the common values that bond them, Dhandha showcases the powerful ambition, incredible capacity for hard work, and the inherent business sense of the Gujarati people.
Here's an excerpt from the book:
But, just as things were falling into place, something happened. One day, as soon as I arrived from Mumbai, Bhaskar came running towards me and said, 'Sheth, please go back. Tomorrow there is going to be a 'morcha' here and it might get dangerous.'
I wondered what could be the problem now. It seemed that the local Corporator, who in other words was the elected representative of the area of the State Legislative Assembly, was planning to hold a protest march against me. But I stood my ground and declared, 'Let them come here. I am not going to budge from here.'
This time though, I took the precaution of informing the police in advance about the protest. The next afternoon, a few people from the neighbouring villages, sticks and sickles in hand, gathered in front of my house and started shouting slogans:

'Sheth, go back.'
'We don't want an outsider here in our area.'
'Who is the owner of this place? Come out.'
The police were ready and I was ready too, to face the protestors. I went outside and stood in front of the mob.
A giant of a man, who appeared to be the leader, asked me in a rasping voice, 'Sheth is this land yours?'
But I countered with another question, 'Who are you to ask me this question?'
'My name is Laniya and I am the Corporator from this region. What is your name and where are you from?'
'My name is Mohan Patel. I have factories in Goregaon and
Malad, in Mumbai.'
Laniya seemed stunned. He looked at me closely and asked,
'Sheth, do you know Mrs Mrinal Gore (a senior politician)?
'Yes, I know her very well.'
Laniya came near me and joined his hands humbly, 'Please excuse me, Sheth. I didn't recognize you before.'
Now I was stunned. What could be the reason for this change of heart? The protestors and the police too gaped at this transformation.
Laniya explained, 'Sheth, Perhaps you are not aware of it, but after the Emergency, when I contested the elections from this region, it was thanks to your contribution that I won.'
Now I was genuinely puzzled. My contribution? How come I
knew nothing about this?
As Laniya's story unfolded, the riddle was solved.
When the Emergency was lifted and elections were announced, Mrs Mrinal Tai Gore, a senior and respected politician, met me and asked me if I could help her. She needed some financial help for the election campaign. When I asked her how much money was required, she asked me to donate a sum of 2 lakh rupees for the cause of the elections. I assured her that I would arrange for the money. I talked to several businessmen and convinced them to contribute to the campaign. We managed to collect 2.5 lakh rupees which we handed over to Mrinal Tai. A couple of days later, I met Mrinal Tai, who said, 'I will not need more than 2 lakh rupees, so please take back this extra 50,000.'
But I did not take the money and told her, 'Several of us together have contributed and collected this money. We don't need it back. Please keep it and use it for some other useful purpose.' I trusted Mrinal Tai completely and was sure that she would put the money to good use.
I had totally forgotten about the extra 50,000. Now I realized that Mrinal Tai must have given the money to Laniya to help him with his election campaign. And today he was the elected representative from the region.
Laniya apologized once again, fell at my feet, and begged for forgiveness and went back with his men.
What an irony. The same men who minutes ago had been shouting,
'Patel Sheth Hai, Hai.' were now shouting: 'Patel Sheth ki Jai.'
It was after this incident that the Adivasis truly accepted me and considered me their friend. In fact, this incident made me famous among the Adivasis not only in the region but everywhere else in Maharashtra as well.
Here I would like to narrate one occasion which is very special to me. The Chief Minister of Maharashtra was chairing a meeting at the Mantralaya. Names of people who would be members of the
'Adivasi Development Board' were being proposed and finalized. All the members belonged to the Adivasi community. When my name was proposed, the Chief Minister was surprised, 'Are you sure? Mr Mohan Patel? He is not a member of your community and in fact, he is a "Zamindar" (landowner). Will he be accepted by the Adivasis?'
But the Adivasi leaders were very firm, 'Even if he is a Zamindar, he is not like the others. He does not behave like a Zamindar. Today, thanks to him, hundreds of Adivasis in the Dahanu region have stable jobs and a good income. Some of the Adivasis, who could not dream of owning even a bicycle earlier, today ride a scooter or motorbike and it is all because of Mohan Bhai. He has built schools, dispensaries, and done many other things for our development. We don't consider him an outsider. He is one of us.' And it is a matter of pride and satisfaction to me that, to date,
I am the only non-Adivasi who has become the Chairman of the
Adivasi Development Board.

Title : Dhandha - How Gujaratis Do Business; Author: Shobha Bondre; Publisher: Random House; Pages: 292; Publishing Date: 27 May 2013; Language : English
Catch the Biggest Newsmakers and the Biggest Newsbreaks on CNN-News18, your favourite English TV news channel. Keep watching CNN-News18 at just 50 Paise per Month. Contact your cable /DTH operator Now!
*Rental / capacity fee of Rs.130/- as charged by cable / DTH operator may apply. **GST extra.


Read full article
Countdown To
Elections Results
To Assembly Elections 2018 Results