Vikram Seth on A Suitable Girl, homosexuality
Author Vikram Seth is making headlines with a reported Rs 14 crore deal.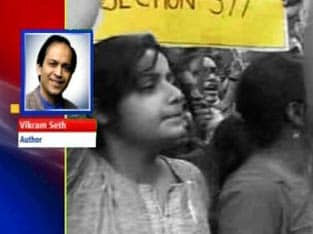 Author Vikram Seth is making headlines with a reported Rs 14 crore deal.
Best-selling author Vikram Seth is making headlines with a reported Rs 14 crore deal to write the sequel to A Suitable Boy, as well as a book of poems and one on essays. He has been very open about coming out to his family and he was elated to hear about the Delhi High Court's decision on Section 377, decriminalising homosexuality. He spoke to CNN-IBN's Amrita Tripathi from England.
Amrita Tripathi: Tell us a little bit about A Suitable Girl.
Vikram Seth: Well for about 17 years or so, people have been asking me why I haven't made good on the implicit promise in A Suitable Boy, that the curtain has fallen but for that time. In other words...I can't remember how the couplet goes, "The curtain falls, the players make their bow, and wander off the stage at least for now"... but that NOW turned out to be quite prolonged... although publishers and readers wanted me to write the sequel, I couldn't reach the inspiration or enthusiasm to do it. And without inspiration or enthusiasm, the book is dead, even if there's a commercial purpose. But lately I've been wondering...not if I set the book in the '50s, but if I wrote something set in present day India, and Lata -- who is 20 in 1950s, would be about 80, a grandmother -- the person for whom A Suitable Girl, a suitable match is being sought would be her grandson. So this gave me a sense of excitement and a lot of curiosity on what had happened to all the families I had sort of lived with so many years before. It also brings up 60 years of Indian history, right from independence until now.
Amrita Tripathi: I suppose there's no way of knowing at this point whether this is going to be an epic like A Suitable Boy?
Vikram Seth: No way of knowing! I'm a little alarmed at the thought that it could possibly be as long as that! With A Suitable Boy, I had no idea it would be more than 200-300 pages, the characters took over! The history, the background took over. I found I'd written something fatter than I'd imagined. If that happens this time or not, is completely up in the air. I suppose I would say I hope not! That book really took it out of me.
Amrita Tripathi: I read that A Suitable Boy took you eight years to write, this deadline is much shorter (four years) - are you worried or happy to have a deadline at all?
Vikram Seth: That time I'd never even written a short story when I'd written A Suitable Boy. I had written a novel in verse, but that's quite different. But I was learning on the job, and I was creating the characters. I hadn't lived with them. This time I hope that I'll finish within the allotted period. Because I've written a novel or two since.
Amrita Tripathi: Of course there's been a lot of speculation. I don't know if you will want to get into this at all, about the money involved. Do you have any comments on that?
Vikram Seth: What do you think my answer is going to be?
Amrita Tripathi: I can guess...
Vikram Seth: I'm not allowed to talk about it, but even if I were, I probably wouldn't want to. It's the most trivial of things. Most of my time is spent writing poetry, which is a complete non-starter as far as making a living is concerned.
Amrita Tripathi: It evens out I suppose. I read you're also going to be publishing a book of poems and essays in the meanwhile.
Vikram Seth: That's very important to me, that's part of the reason I wanted to find a publisher for all these books. A Suitable Boy is coming again for license, I want it to be under the same roof as A Suitable Girl, and also that I have a publisher for essays and poems. I write poetry quite a lot, I haven't collected them together for the last 15 years, I think I should do that.
Amrita Tripathi: Is Penguin UK publishing the entire back list?
Vikram Seth: That's something they'll have to work out with previous publishers, they have the rights to previous books. I'm on good terms with them, hope something will be worked out, but one isn't certain about that. I am certain that Penguin India, that have published all my books will publish my next one.
Amrita Tripathi: What do you think about Delhi High Court's decision on Section 377?
Vikram Seth: Yes the decision has been a long time coming, seven months since the case was argued, but this was a decision well worth waiting for. Not only does it come to the right decision, but it is such a lucid clear well-thought out decision, I don't think it will be easily appealable or successfully appealable. It's broad in its ambit, in that it takes example of countries other than India and what they've done while at the same time being completely grounded in Indian constitutional principles, it borrows from psychology, philosophy, history, sociology, is really based naturally in law. It really strike me as a clear decision, one that will be looked at by other high courts in India if the matter should come up there, before it's argued before the Supreme Court. In other words I think that although the strict legal ambit of decision is Delhi, I think the effect will go wider than that. My first reaction was actually elation, let me see the judgement, and then I saw it on the Internet and I was terribly impressed.
It's definitely a step in the right direction now of course how much law influences society or society influences law is a question but def people don't see themselves as misapprehended felons disgraced not just by society but by the law, or pressured by their parents or their neighbours because Section 377 existed in full force even against consenting adults. It doesn't any more thank god. Young people will have burden lifted off their shoulders. Police, if inclined to harass people, will be less inclined to do that.
You know the cases spoken about, Lucknow case where people were harassed unduly and put in jail, and other cases, disgraceful oppression. The fact the law is on the books allows people to blackmail and harass. You asked me if I myself was victimised, no of course not, in the sense that I'm unlikely to be arrested and so on. I have the great luxury if I want of living abroad.
I've been brought up in a legal family, my mother was a judge in the same Delhi High Court, and I was surrounded by law books, and I grew up reading and I thought, 'my gosh when I came across these sections, I had doubts about myself, am I criminal, what's my place in society', those kind of thoughts. I don't want to make too much of that because our level of society is lucky in some sense. The full ambit of law is not brought to bear on us and if it's serving no purpose, it should be removed.
One thing is really important is this, that when people say there are lots of other issues, why are we concentrating on this. At a conservative estimate, it affects the happiness of 50, 60, 70, 80 million people and their families. Nothing like that can be considered trivial, and the people it's brought most to bear come from different sections and branches of society, should be kept in mind.
People should speak up and speak out, India is a secular polity and though we respect religions and those who don't subscribe to any religions. I think religious bigots should not be given a free run of what the law should be or not be. They can practice what they preach but mustn't assume we should succumb to their preaching, hateful intolerant preaching.
Get the best of News18 delivered to your inbox - subscribe to News18 Daybreak. Follow News18.com on Twitter, Instagram, Facebook, TikTok and on YouTube, and stay in the know with what's happening in the world around you – in real time.
Read full article
Next Story
Next Story
Also Watch

IPL 2019: KXIP Vs KKR, Can Russell And Narine Push KKR To Semifinals?