April WPI Inflation Slips to 3.85 Percent as Food Prices Cool
India's wholesale prices rose 3.85 percent year-on-year in April, government data showed on Friday.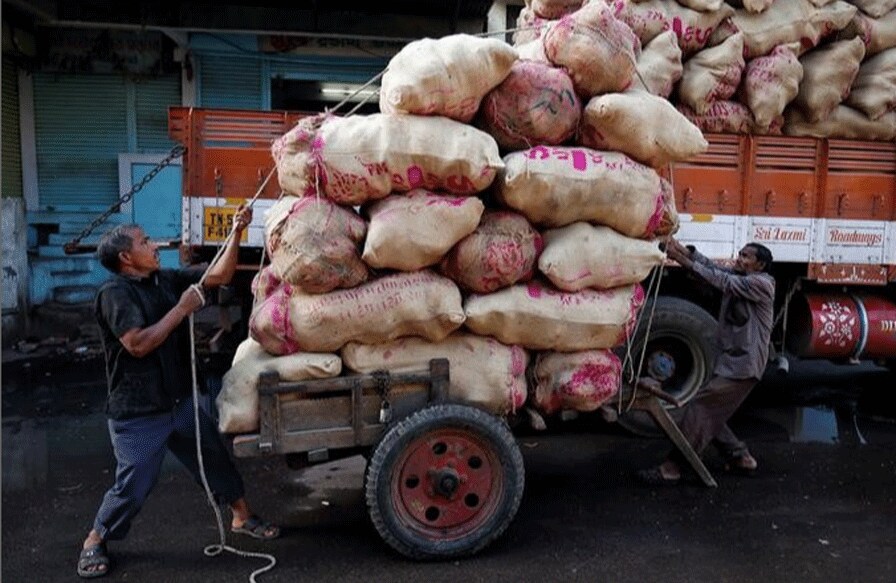 In this file photo, labourers load sacks filled with coconuts on a hand cart at a wholesale market in Ahmedabad. (Representative Photo: Reuters)
New Delhi
: Inflation based on the wholesale price index slipped to a four-month low of 3.85 percent in April as both food articles and manufactured items showed cooling in prices.
The government on Friday came out with the new series of wholesale inflation and industrial output data under which the the base year for calculating the macroeconomic indicators has
been revised to 2011-12, from the 2004-05 earlier.
The index basket of the new series has a total of 697 items, including 117 for primary articles, 16 for fuel and power and 564 for manufactured products.
The WPI inflation readings, reflecting the annual rate of price rise, as per the new base stood at 5.29 percent in March, 5.51 percent in February, 4.26 percent in January, 2.10 percent in December and 1.82 percent in November.
As per the data released on Friday, inflation in food articles was 1.16 percent in April, lower than 3.82 percent in March.
The low food inflation was mainly because pulses saw deflation of 13.64 per cent, vegetables (-7.78 percent), potato (-40.97 per cent) and onion (-12.47 percent).
"A new food index is being compiled combining the food articles under primary articles and food products under manufactured products. Together with the Consumer Food Price Index released by the Central Statistics Office, this would help monitor the price situation of food items better," a government statement said.
As per the numbers, inflation in the fuel and power segment was 18.52 per cent while that of manufactured products was 2.66 percent in April.
Last month, the Reserve Bank had left the key policy rate unchanged at 6.25 percent for the third review in a row, citing upside risks to inflation. It had, however, increased the reverse repo rate -- which it pays to banks for parking funds with it -- by 0.25 percent to 6 per cent, narrowing the policy rate corridor.
As per the new series data, industrial output growth slowed to 2.7 percent in March as against 5.5 percent a year ago.
| Edited by: Bijaya Das
Read full article
Live TV
Countdown To
Elections Results
To Assembly Elections 2018 Results