December industrial output contracts 0.6 per cent
Manufacturing, which constitutes about 76 per cent of industrial production, fell 0.7 per cent from a year earlier.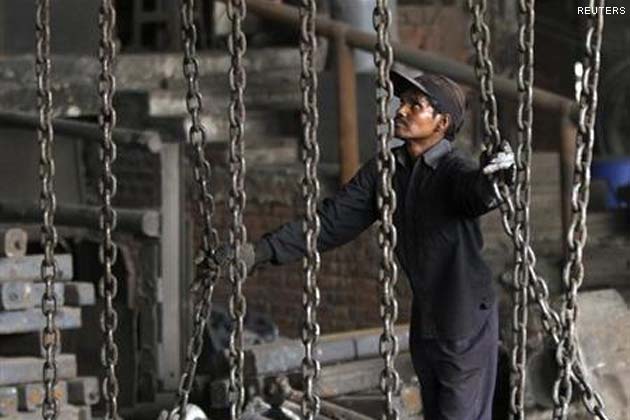 Manufacturing, which constitutes about 76 per cent of industrial production, fell 0.7 per cent from a year earlier.
New Delhi: India's industrial production unexpectedly shrank for a second straight month in December, weighed down by weak investment and consumer demand, casting doubt on Finance Minister P Chidambaram's view that Asia's-third largest economy is showing signs of recovery. The index of industrial production (IIP) fell 0.6 per cent annually in December, data released by the Central Statistics Office showed on Tuesday.
Manufacturing output, which accounts for the bulk of industrial production and contributes about 15 per cent to overall gross domestic product (GDP), fell 0.7 per cent in December from a year earlier. "What is clear is that any meaningful industrial recovery is eluding us. Demand destruction is far more well entrenched than we thought," said Sujan Hajra, chief economist at brokerage firm Anand Rathi in Mumbai, who said he now sees GDP growth next year of 5-6 per cent.
Preliminary data from India's statistics office last week predicted growth of 5 per cent for the fiscal year ending in March 2013. That was worse than anticipated and triggered an angry response from Chidambaram. Chidambaram said the Central Statistical Organisation had used "dated data" and argued that GDP growth was following an upward trend in a sign of revival. He reiterated his view that 5.5 per cent growth was possible.
"We can recapture the magic of 2004-08. The average growth was 8.5 per cent during that period," he said on Saturday. "Why should we, without any reason, denigrate our own performance and record? I have no doubt in my mind that we will come out of the trough and we will climb back to a growth rate of between 6-7 per cent next year," he said.
Chidambaram is under political pressure to unveil a growth-oriented budget on February 28 for the next fiscal year, as the government of Prime Minister Manmohan Singh gears up for an election due by early 2014 at the latest. But he is also faced with the arduous task of trimming a swollen fiscal deficit that has put India's investment-grade credit rating in peril. He has already ordered spending cuts in welfare, defence and road projects for this financial year. Critics warn that at a time of low growth, lower spending risks deepening the slowdown without helping the deficit-to-GDP ratio.
Rate cuts may help
The Reserve Bank of India reduced its policy interest rates by a widely expected 25 basis points on January 29 to spur the economy, and investors hope slower price rises will lead to another. "Despite incremental efforts we are still staring at a weak growth print," said Jyotinder Kaur, economist at HDFC Bank.
"We expect a rate cut in March as growth is consistently surprising on the downside while the pace of CPI (consumer price inflation) has stabilised." Consumer price inflation inched up to 10.79 per cent in January from 10.56 per cent a month ago, according to other data on Tuesday. January wholesale price index data, which the Reserve Bank of India gives more weight to in setting policy, is due on Friday. The index for December rose 7.18 per cent, the slowest in three years.
Get the best of News18 delivered to your inbox - subscribe to News18 Daybreak. Follow News18.com on Twitter, Instagram, Facebook, Telegram, TikTok and on YouTube, and stay in the know with what's happening in the world around you – in real time.
Read full article
Next Story
Next Story
Also Watch

IPL 2019: KXIP Vs KKR, Can Russell And Narine Push KKR To Semifinals?
Live TV