Decoding World Bank's Ease of Doing Business Report
While protecting minority investors seems to working well for India, the country ranked 181st in "dealing with construction permits."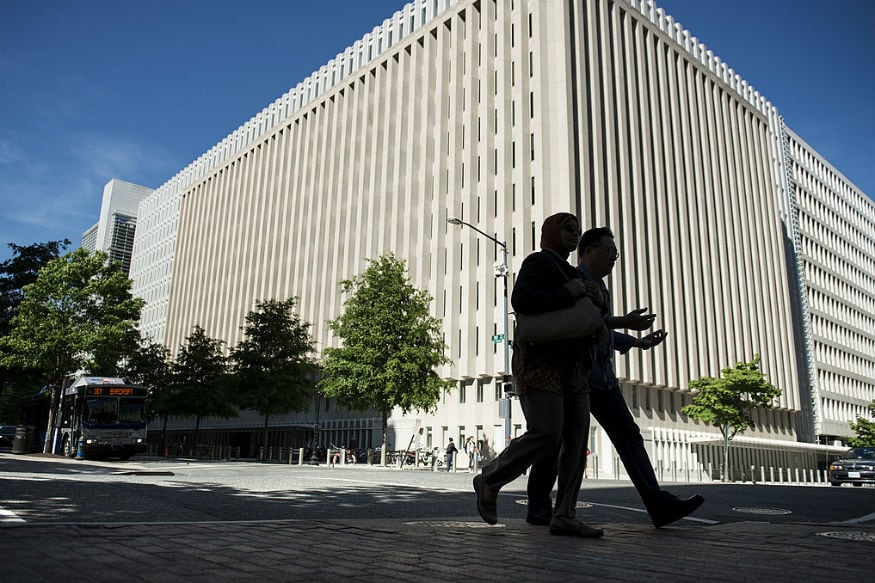 The World Bank headquarters in Washington, DC. (Getty Images) (File IMAGE)
New Delhi: India ranked 4th among 190 economies for protecting minority investors in the Ease of Doing Business rankings released by World Bank on Tuesday. The country jumped 30 positions compared to last year to speed its way to the 100th overall spot. However, there is more to it than just the three figure mark.
World Bank in its yearly report analyses ten different parameters for determining the final index. Explaining the methodology on how EDM is calculated, World Bank in a separate release explains, "The ease of doing business ranking compares economies with one another; the distance to frontier score benchmarks economies with respect to regulatory best practice, showing the absolute distance to the best performance on each Doing Business indicator."
The indicators used for devising the index are: starting a business, dealing with construction permits, getting electricity, registering property, getting credit, protecting minority investors, paying taxes, trading across borders, enforcing contracts and resolving insolvency.
While protecting minority investors seems to working well for India, the country ranked 181st in "dealing with construction permits."
The report also states that it takes approximately 29.8 days for both men and women to start a business in India, compared to 28.5 days last year. India stood at 156th for "starting a business."
However, one of the pointers that worked in India's favour of the improvement in rankings includes "paying taxes." The country leap-frogged its way to the 119th place, a jump of 53 spots as compared to last year. India, in the last yearly survey scored 4.50 in the "post-filing index" under the parameter "paying taxes" on a scale of 0-100. However, the numbers scooped up to 49.31 this year.
The World Bank incorporated the "post-filing index" criteria for the first time last year. It measures what happens after a firm pays taxes, such as tax refunds, tax audits, administrative tax appeals among others.
The post-filing index is based on four components—time to comply with value-added tax (VAT) or goods and services tax (GST) refund, time to obtain VAT or GST refund, time to comply with corporate income tax audit and time to complete a corporate income tax audit.
Furthermore, India's stress on coal production seems to be producing results as it ranked 29th under "getting electricity."
World Bank in its release further mentioned that the report encompasses the cities of Mumbai and New Delhi with 53% weight for the capital and the rest for Mumbai.
However, in a separate report, Doing Business in India, released in 2009, the World Bank surveyed 17 Indian cities, out of which Ludhiana emerged as the easiest city to do business in. Kolkata was ranked 17th.
Get the best of News18 delivered to your inbox - subscribe to News18 Daybreak. Follow News18.com on Twitter, Instagram, Facebook, Telegram, TikTok and on YouTube, and stay in the know with what's happening in the world around you – in real time.
| Edited by: Ananya Chakraborty
Read full article
Next Story
Next Story
Also Watch

Popcorn With Smoke, Pizza Dosa And Quirky Food Experiments At Horn Ok Please
Live TV