'DLF IPO looks profitable on long-term'
DLF is entering capital market with an initial public offer, IPO of 175,000,000 equity shares of Rs 2 each.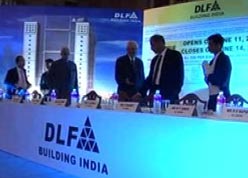 DLF is entering capital market with an initial public offer, IPO of 175,000,000 equity shares of Rs 2 each.
New Delhi: DLF, a leading real estate company, is entering capital market with an initial public offer, IPO of 175,000,000 equity shares of Rs 2 each through a 100 per cent book building process.
Moneycontrol conducted a poll on market experts to check whether to apply for the public issue or not. Experts said 'apply'.
R S Iyer (KR Choksey): If we see the name and brand of DLF, then it is a good issue. But looking at concerns like, the company has litigation matters of Rs 355 crore and problem in land bank reserves ownership as most of the land is owned by its subsidiaries, then it is an average issue. One more negative point is that its price band of Rs 500-550; it is a very expensive issue.
The company should come out with the price of Rs 200-300, which is its actual price after looking at its EPS of Rs 11.31 (Unitech at Rs 11.55). So people should either apply at lower price band of Rs 500 or part payment system, which means one can pay Rs 150 at the time of application and remaining amount at the time of allotment. People can take their own call.
SP Tulsian (Investment Advisor): DLF looks expensive issue but it is a very good for long term. Company has largest land bank of 10,750 acres, 9 SEZs of 26,000 acres and has more than 40 years of experience in realty busines. Compared with Unitech, DLF's financial's look weak but over the years, it will improve that. Investors can apply for the issue at higher price band of Rs 550. Retail investors can go for part payment system.
The issue comprises reservation of 1,000,000 equity shares of Rs 2 each for subscription by the employees of the company and a net issue to the public of 174,000,000 shares. The company has set the price band at Rs 500 to Rs 550. The Issue will open on June 11, 2007 and close on June 14, 2007.
The issue would constitute 10.27 per cent of the fully diluted post-issue capital of the Company.
The objects of the Issue are to augment the company's capital base to meet the future capital requirements arising out of growth of the Company's assets.
Kotak Mahindra Capital and DSP Merrill Lynch are the global coordinators and book running lead managers and Lehman brothers securities Pvt. Ltd is the senior book running lead manger. Citigroup Global Markets India Pvt. Ltd, Deutsche Equities India Pvt, Ltd, ICICI securities Primary dealership Ltd, UBS Securities India Pvt. Ltd. are the book running lead managers to the issue. SBI Capital Market is the co-book running lead manager and Karvy Computershare Private Limited is the registrar to the issue.
DLF is the largest real estate development company in India in terms of the area completed and commercial development (AC Nielsen Report) and DLF's primary business is the development of residential, commercial and retail properties.
DLF operations span all aspects of real estate development, from identification and acquisition of land, planning, execution and marketing of its projects through to the maintenance and management of its completed developments. DLF is also expanding its infrastructure, SEZs and hotel business.
Source: Moneycontrol.com
Get the best of News18 delivered to your inbox - subscribe to News18 Daybreak. Follow News18.com on Twitter, Instagram, Facebook, Telegram, TikTok and on YouTube, and stay in the know with what's happening in the world around you – in real time.
Read full article
Next Story
Next Story
Also Watch

Popcorn With Smoke, Pizza Dosa And Quirky Food Experiments At Horn Ok Please
Live TV