GET Stock

Quotes


In Its 1st Meeting, PM Modi's Economic Council Identifies Reasons for Slowdown
However, Bibek Debroy, chairman of EAC-PM, refused to publicly identify the reasons.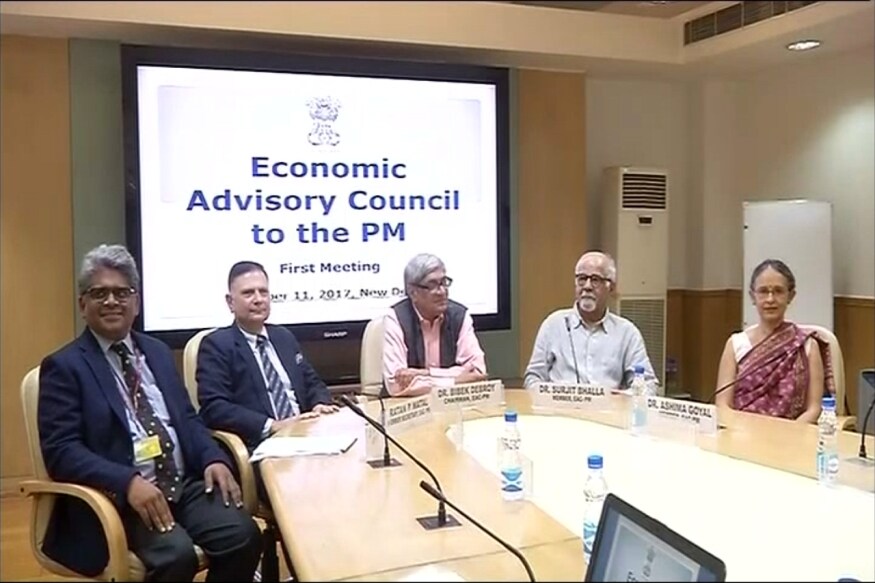 Members of the PM's Economic Advisory Council as seen during the meeting on October 11, 2017.
New Delhi:
In its first meeting on Wednesday, the five-member Prime Minister's Economic Advisory Council (EAC-PM) reached a consensus on the reasons behind the slowdown in economic growth.
However, Bibek Debroy, chairman of EAC-PM, refused to publicly identify the reasons. "There is a consensus among us about the various reasons for slowdown in the growth rate, but we will not identify the reasons," Debroy said in a press briefing after the meeting. Debroy added that the council will give policy inputs that are implementable.
The Chairman said ten issues had been identified that the EAC members would work on them. Arvind Subramanian, the chief economic adviser in the finance ministry, made a presentation to the EAC members. The EAC was revived last month with the mandate of providing economic inputs to Prime Minister Narendra Modi on economic and policy matters. They have a wide remit: fiscal policy, monetary policy, agriculture, social sector and more.
However, Debroy clarified that the EAC would offer policy advice that complemented the views of other agencies. For instance, its advice on monetary policy would be in consultation with the RBI. "It is necessary to have a different view that complements the RBI view. We will be looking at structural issues in monetary policy and not the level at which the policy rate should be," Debroy clarified.
The other members of the EAC are Ashima Goyal, Surjit Bhalla, Rathin Roy and Ratan Watal.
One of the main areas of focus over the next few months for the EAC will be giving inputs for the budget, which is due in February 2018. The inputs will be given to the Prime Minister after consultations with the relevant ministries.
The necessity for reviving the EAC has to be seen in the context of the economy slowing. GDP growth has slowed to a three year low and export growth and employment generation are anemic. Some of the issues that are holding the economy back are the NPAs problem in the banking sector, rising unemployment, and giving a boost to exports.
Apart from this there is a consensus among economists that the government needs to provide some sort of fiscal stimulus to revive economic growth. This is bound to affect the fiscal numbers and the EAC will have to factor this in while giving inputs for the budget.
Also Watch
| Edited by: Ashish Yechury
Read full article
| Company | Price | Change | %Gain |
| --- | --- | --- | --- |
| Reliance | 1,012.50 | -19.45 | -1.88 |
| HDFC | 1,906.75 | +47.85 | +2.57 |
| Sun Pharma | 577.25 | +22.75 | +4.10 |
| SBI | 273.05 | +4.40 | +1.64 |
| TCS | 1,809.80 | -9.55 | -0.52 |
Live TV