GET Stock

Quotes


Bad news: Sensex crashes to below 10300, rupee dips
Government had promised Indian markets are strong, yet the debacle.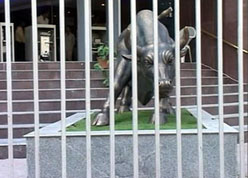 Government had promised Indian markets are strong, yet the debacle.
Mumbai: Indian equities markets crashed Friday morning, with the benchmark index of the Bombay Stock Exchange, the Sensex, going down over eight per cent shortly after the opening bell.
The Sensex opened at 10,632.27 points, well below its close of 11,328.36 points Wednesday.
Before 10 a.m., it had fallen further to 10,416. 65 points, 911.71 points or 8.05 percent below its previous close.
The markets were closed Thursday because of Dussehra.
The Sensex is at its lowest levels since 25th July 2006. It has fallen below 10300. It has plunged over 1000 points on bad global cues.
Markets have slaughtered in early trade following scary global cues, as heavy sell off was seen in US and Asian markets.
Banking, realty, telecom, technology, metal, power, oil and capital goods stocks hammered the most.
Infosys Technologies Quarter three numbers were good but the company has lowered its FY09 guidance. The stock plunged over 11 per cent.
The Nifty slipped below 3200, which is at lowest levels since August 10 2006.
The Sensex is at lowest levels since July 25, 2006 and fallen below 10300.
At 9:56 am, the Sensex fell 1047 points to 10,280 and the Nifty slipped 306 points to 3,207. CNX MIdcap lost 5.78 per cent to 3,960.
BSE Small Cap tanked 4.38 per cent to 4,493.
According to CRISIL research reports, Rs 2.3 trillion of shareholder value has been lost in Indian Stock Markets in September.
Top losers are ICICI Bank, Suzlon Energy, Satyam, Infosys, Reliance Power, Tata Steel, Tata Power, BHEL, Reliance Industries, Reliance Communication, Reliance Infrastructure, Cairn India lost 9-13 per cent.
Asian markets have crashed; Nikkei fell 10.28 per cent, Straits Times, Hang Seng and Kospi tanked around 7 per cent each.
Shanghai lost 3.81 per cent. Taiwan market is shut today.
On the US markets front, a late-session sell-off took the Dow to its lowest level in more than five years and the GM stock to its worst point since 1950.
Credit fears in addition to expiration of short selling rules were the key culprits in the knockdown.
All indices ended down between 5.5 to 7 per cent. Dow Jones ends below 9000 level for the first time in over 5 years while S&P 500 slumps 7.5 per cent and Nasdaq ends down 5 per cent.
Dollar was firm against yen and euro. US Treasury Dept is considering buying stakes in some of the country's banks.
The Dow slipped 678.91 points, or 7.3 per cent, at 8,579.19. The S&P 500 lost 75.02 points, or 7.6 per cent, to 909.92, the Nasdaq composite declined 95.21 points, or 5.5 per cent, to 1,645.12.
Market cues:
Global markets plunge despite coordinated rate cuts by 7 central banks
Dow below 9,000 for first time since 2003, plunges another 7 per cent on Thursday night
Asian markets crash, Nikkei down 10 per cent in early trade
Inflation data today; poll sees it at 12 per cent Vs 11.99 per cent
IIP data today; poll sees it at 5.79 per cent Vs 7.1 per cent (MoM), Vs 10.9 per cent (YoY)
FIIs net sell $135.9 million in equity on October 7: SEBI
NSE F&O Open Int down by Rs 77 crore at Rs 67,039 crore
F&O cues:
Futures Open Int down by Rs 974 crore, Options Open Int up by Rs 897 crore
Nifty futures add 1.5 lakh shares in Open Int, at 23-point premium
Nifty Open Int PCR at 0.77 vs 0.80
Nifty Puts add 5.8 lakh, Calls add 20 lakh shares in Open Int
Nifty 3400 Put adds 16 lakh shares in Open Int
ifty 3600 Put sheds 3.7 lakh shares in Open Int
Nifty 3400 Call adds 6 lakh shares in Open Int
Nifty 3500 Call adds 5.5 lakh shares in Open Int
Nifty 3600 Call adds 4 lakh shares in Open Int
Stock futures shed 1.5 cr shares in Open Int
More bad news
The Indian rupee also sank to Rs.49.30 to one US dollar.
Read full article