GET Stock

Quotes



Is RBI's Inflation-targeting Mandate Hurting India's Economic Growth?
A central bank, like the Reserve Bank of India, is the guarantor of the country's money, banking system and financial stability.
"We have been mandated by the government backed by legislation that we have to have an inflation target of about 4 percent - central tendency of 4 percent over the medium term. Therefore that is our main objective in terms of the policy of the central bank which is now determined by the monetary policy committee (MPC)."
This is Reserve Bank of India Governor Urjit Patel's reply to a question posed by Network18 Group Editor-in-Chief Rahul Joshi on interest rate cuts.
The reply highlights critics concerns that the RBI's focus on controlling inflation may come at the cost of economic growth.
Read Here: Highlights from the Urjit Patel Interview
To understand why this is so, let us understand the changes that have taken place in India's monetary policy architecture and why inflation targeting is a controversial idea.
A central bank, like the Reserve Bank of India, is the guarantor of the country's money, banking system and financial stability. This meant that the RBI's mandate was to control inflation and support economic growth through the use of the tools at its disposal, namely monetary policy.
In 2015 the RBI and the Finance Ministry signed an agreement that effectively made the RBI an 'inflation targeting' bank. Simply put, this means that the RBI was to focus on keeping inflation under control to the exclusion of every other goal, including supporting economic growth.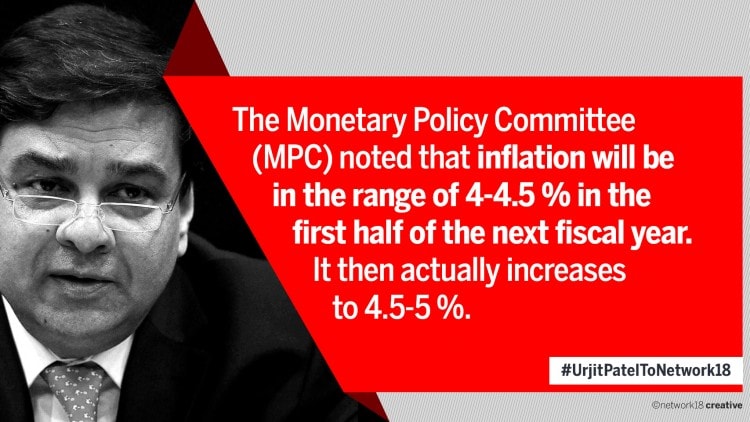 They even fixed an inflation target of 4% with a range of 2 percentage points on either side. The RBI is supposed to keep inflation between 2% and 6%, failing which the Governor would have to explain to Parliament the reasons for failing to do so.
However, in a developing country like India, which has been growing over 7%, an obsessive focus on inflation means that the RBI would like to keep interest rates relatively high, which would slow economic activity and growth.
This fear was realised when the RBI kept interest rates constant at its last policy meeting, when most analysts expected it to cut rates to support an economy hurt by demonetisation.
"If you put an inflation mandate and tell the central bank that come hell or high water you have to achieve this then the RBI will use monetary policy tools to try and control inflation that are not under its control,"
Pronab Sen, an economist and the former chief statistician of India, told News18: "The global consensus has shifted to a point where inflation targeting is not such a hot idea."
Things like food inflation and fuel prices, which are largely determined by international prices, are beyond the RBI's control. Monetary policy is more effective when it comes to controlling inflation caused by things like demand for bank loans purchasing homes and cars etc. In fact, in countries like India, one of the main contributors to inflation is food inflation (the price of rice, wheat, vegetables and milk) caused by excessive demand and limited supply of agricultural products.
"Agricultural prices are without doubt a major contributor to inflation in India, Pulapre Balakrishnan, an economist and former director of the Centre for Development Studies, said.
"Inflation targeting is not such a good idea if it cannot control inflation, but at the same time has the potential to damage growth," he added.
Urjit Patel estimated in the interview that India could grow 7.4% in the next fiscal year, compared to 6.9% this fiscal.
Also Watch
| Edited by: Ashutosh Tripathi
Read full article
Live TV