Municipal Corporations

9/10

TRS

8

INC

0

BJP

1

AIMIM

0

OTH

0
MUNICIPALITIES

114/120

TRS

96

INC

9

BJP

3

AIMIM

2

OTH

4
Refresh Data
Mkts end strong; Nifty above 5100, realty up
The Sensex has hit an intraday high of 17,366.19 and low of 17,079.94 before closing.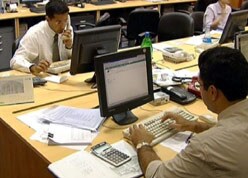 The Sensex has hit an intraday high of 17,366.19 and low of 17,079.94 before closing.
Mumbai: It was a spectacular session for the markets as it opened on a strong note and sustained at higher levels through the day. In late trade, it shot up to the roof and gained further; the Nifty touched 5100 mark and the Sensex remained above 17300.
Capital Goods, realty, oil & gas, banking, power and metal stocks played the key role today. Midcap and small cap maintained upmove for the whole day.
Market breadth was strong. On the global front, Asian markets ended mixed. Europe were trading mixed at the time of writing market report.
The Sensex has hit an intraday high of 17,366.19 and low of 17,079.94 before closing the day at 17,353.54, up 2.21% or 375.19 points. The Nifty surged by 2.07% or 103.5 points to settle at 5115.25 and hit high/low of 5118.55 and 4999.60, respectively. Market breadth was positive; about 1871 shares have advanced, 1026 shares declined, and 191 shares remained unchanged.
Midcap and small cap stocks also finished higher, both indices were up 1.3% each. Midcap stocks like Mercator Lines, Lupin, Madras Alumini, Triveni Engg, Ashapura Mine, Bajaj Hind, Tanla Solutions, Monsanto India, Nava Bharat Ven, Shree Renuka and Castrol were up nearly 6-11%.
Biggest gainers were Hindalco, Reliance Communications, L&T, Reliance and PNB while losers - Satyam, HUL, Tata Motors, Dr Reddy's Labs and Hero Honda.
Capital goods stocks outperformed the markets led by Triveni Engg, Crompton Greaves, Kalpataru Power, Larsen, Alstom Projects, BHEL and Kirloskar Bros. The BSE Capital Goods Index went up by 3.46% or 454.74 points at 13,600.80.
Realty stocks rallied higher, index up 3.41% or 264.87 points at 8,042.52 due to Phoenix Mills, Omaxe, HDIL, Parsvnath, Akruti City, Unitech and DLF.
Oil and gas stocks also surged as the buying interest seen in Reliance, RNRL, Petronet LNG, Essar Oil, Cairn India, ONGC and GAIL. The BSE Oil & Gas Index closed at 11,205.76, up 2.65% or 288.84 points.
Banking stocks like PNB, Yes Bank, Kotak Mahindra, Bank of India, ICICI Bank and Axis Bank gained momentum. The BSE Bankex moved up by 209.49 points or 2.44% to settle at 8,806.01.
Power stocks fully charged up, BSE Power Index rose by 2.12% or 68.61 points at 3,303.13 due to buying in Crompton Greaves, Areva T&D, Tata Power, Suzlon Energy, Punj Lloyd, Reliance Infra, Torrent Power and Reliance Power.
Metal stocks like Hindalco, NALCO, JSW Steel, Jindal Steel, Sesa Goa and Mah Seamless have shined. The BSE Metal Index climbed by 305.19 points or 1.86% at 16,740.37.
Telecom stocks including Reliance Comm, Idea Cellular, MTNL, Tata Comm, Tata Teleservices, Spice Comm and Bharti Airtel also joined the bulls party.
Technology stocks continued yesterday's upmove further as the Indian Rupee remained above 42 per dollar and was trading at 42.43 at the time of writing report. The BSE IT Index risen by 1.33% to close at 4,486.36 due to strong buying in Infosys, Patni Computer, TCS, Wipro and Tech Mahindra.
The BSE Healthcare Index finished at 4,285.99, up 0.79% on the back of sweet pills from Lupin, Matrix Lab, Aventis Pharma, Divis Labs, Panacea Biotech, GSK Pharma and Cipla.
Auto Index closed marginally higher at 4,730.24, up 0.24%. Auto stocks like Apollo Tyres, Escorts, Maruti Suzuki, Tube Investment, MRF, Punj Tractors and Ashok Leyland gained.
Most active counters on the bourses were Aishwarya Telecom, Reliance Comm, Reliance, Satyam and Infosys.
Total market turnover for the day stood at Rs 58476.64 crore including Rs 13819.73 crore from NSE Cash segment, Rs 38196.16 crore from NSE F&O and Rs 6460.75 crore from BSE Cash segment.
Get the best of News18 delivered to your inbox - subscribe to News18 Daybreak. Follow News18.com on Twitter, Instagram, Facebook, Telegram, TikTok and on YouTube, and stay in the know with what's happening in the world around you – in real time.
Read full article
Live TV