News18.com Daybreak | Kamal Haasan's Political Party, RSS' Recipe For 'Good Quality' Babies and Other Stories You May Have Missed
Get a fresh dose of the news that matters, delivered directly to your inbox, every morning. The perfect way, to get you started and informed, for the day ahead.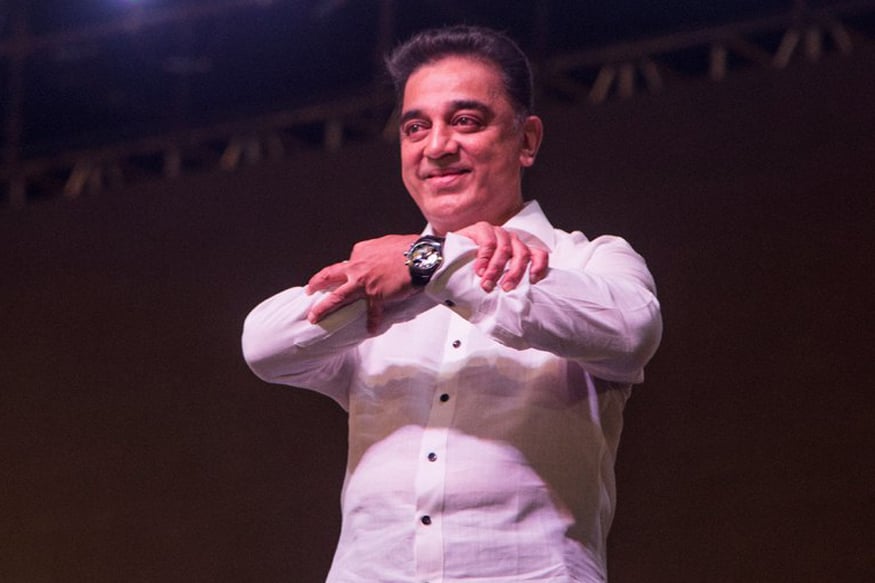 Image courtesy: MAIAM Twitter
In case you missed it
The opposition is working on a plan to corner the Central government over the PNB bank scam issue. It plans to launch a direct hit at the PM accusing him of hiding facts, not speaking out and being corrupt. The Congress, in fact, plans to demand a joint parliamentary committee probe (JPC) to turn the heat on the government. However, it faces its first hurdle in Trinamool Congress. The TMC has openly rejected the idea saying such moves have not yielded results in the past. While the Left is supporting the Congress it needs the support of major opposition parties like DMK, SP, BSP and NCP.
Veteran actor Kamal Haasan launched his political party 'Makkal Needhi Maiam', which translates to People's Justice Centre, amid much fanfare in Tamil Nadu's political capital Madurai. He also unfurled the party's flag – six interlinked hands with a star at the centre – which he said denotes the unity of the six southern states. Marking his political debut, Haasan said that he had worked in films for money for so many years, but now wants to work for people for the rest of his life.
While many on social media lauded the BJP-led central government for allowing railway exams to be conducted in regional languages, linguistic activists believe that this is the bare minimum the government could do. Celebrating #International Mother Language Day, representatives of various linguistic groups gathered to declare the Bengaluru Resolution of Language Equality and Linguistic Rights. Among the 16 points made in the resolution, the demand for conducting entrance exams and interviews for union government jobs for positions in banks, railways, army etc. in native languages was also made.
National Organisation of Bank Workers, in a statement, claimed that 18,000 Punjab National Bank (PNB) employees were transferred after the Central Vigilance Commission (CVC) issued directives to public sector banks to transfer senior bank officers who have served at the same post for three years and clerical staff who have been at the same post for five years in the same branch.
In a significant development, the Supreme Court virtually stayed the operation of its own judgment, which had on February 8 ruled that land acquisition will not lapse even if the money is not deposited in the court and the landowners have not been paid. A three-judge bench of Justices Madan B Lokur, Kurian Joseph and Deepak Gupta, asked the high courts across the country not to decide any case of land acquisition on the basis of the new ruling.
Mohammed Nalapad Haris, son of Congress MLA NA Haris, was sent to 14-day judicial custody by a local court in Bengaluru for allegedly assaulting a man on February 17. Nalapad's associates have also been sent to judicial custody till March 7.
On the inaugural day of the UP Investors' Summit, the state signed 1,045 Memorandums of Understanding (MoU) worth Rs 4.28 lakh crores. Addressing the gathering, Chief Minister Yogi Adityanath said, "It is a matter of pride for the state that fortune-500 companies are participating in the summit… We are heading towards a new Uttar Pradesh."
A few days ago, a police car was caught in the middle of a busy Srinagar road and a senior traffic police officer — much to the surprise of the officers and bystanders alike — challaned the police vehicle for not having a number plate. Twelve days old in his new job, Basant Rath, the new Inspector General (Traffic) of Jammu & Kashmir has already earned a name for being Jammu's 'Singham' thanks to his uncompromising attitude towards traffic violations, no matter who the violator is.
The democratically elected bodies of Jawaharlal Nehru University – the Teachers and the Students' Association have a complaint – "The VC does not meet us". The chorus on the campus against M Jagadesh Kumar is on how the 'LoC' (Line of Communication) between the students, teachers on one hand and the administration on the other are drawing them apart. Besides the "Viva Voce on SKYPE," and "VC's darbar on Mondays", News 18.com finds newer communication arrangement on the JNU campus.
Malayalam filmmaker Sanal Sasidharan's controversial film S Durga has been cleared by Central Board of Film Certification (CBFC) revising committee after it was stopped from being screened at the International Film Festival of India by the CBFC itself, saying the "boxes" used in the movie's altered title gave "a different implication."
​
In an extraordinary order, the Supreme Court made it mandatory for the lawyers to disclose their criminal antecedents during the ensuing elections to the Bar Council of Tamil Nadu and Puducherry (BCTNP). A bench headed by Chief Justice of India Dipak Misra found force in the argument that if politicians are supposed to reveal pending criminal cases against them when they fight polls, lawyers should also follow the suit when they run for bar elections.
Do you want your baby to have Aryabhata's brain or Rana Pratap's build? RSS has a recipe. The organisation is providing parents with a kit that includes 10 CDs and books with Mantras from ancient Indian texts to be used by expecting mothers.
Rcord-breaking superhero flick Black Panther has become our CBFC's latest victim. A reference to Lord Hanuman, that Marvel had specifically planted to please Indian fans, was reportedly removed from the movie. Here's a list of Hollywood scenes that our Desi Censor Board couldn't digest.
Agree or disagree?
Parents no longer insist that their kids learn their own languages but are concerned in teaching their children socio-politically dominant languages such as Hindi or English, so that 'they can advance in their lives'. As a result, the intergenerational transfer of several languages has been steadily deteriorating in our country and many mother tongues are dying. According to a list prepared by UNESCO, there are 40 languages in India that are supposed to be critically endangered and stand a chance of becoming extinct. Simantini Day has a message for the English-obsessed parents— "Don't steal your children's right to learn their mother tongue".
Earlier this week, what was always feared by the Delhi government officials, actually took place. Delhi's Chief Secretary Anshu Prakash was, if not assaulted, at least roughed up at Chief Minister Arvind Kejriwal's residence. Getting hysterical could be a good tool for activism but certainly not for governance. It's unfortunate that Kejriwal has failed to make use of the talent which he has in form of the officers of Delhi Government. He must realise they are officers of the government and not cadres of any political party. Their loyalty is to the government and not to the party that's in power.
On reel
In one of the biggest banking frauds in India, Punjab National Bank was involved in fraudulent transactions amounting to Rs 11,400 crore. What is the PNB scam? What is Nirav Modi's role? Here's a decoder.
(Get a fresh dose of the news that matters, delivered directly to your inbox, every morning. The perfect way, to get you started and informed, for the day ahead. Subscribe to News18 Daybreak here.)
Read full article
Next Story
Next Story
Also Watch

IPL 2019: KXIP Vs KKR, Can Russell And Narine Push KKR To Semifinals?
Live TV