News18.com Daybreak | Sridevi's Last Rites, Karti Chidambaram's Arrest and Other Stories You May Have Missed
Get a fresh dose of the news that matters, delivered directly to your inbox, every morning. The perfect way, to get you started and informed, for the day ahead.
Sridevi's mortal remains carried in a truck during her funeral procession in Mumbai on Wednesday, February 28. (Reuters)
In case you missed it
A Delhi court sent former finance minister P Chidambaram's son Karti Chidambaram to one day CBI custody for interrogation for his alleged involvement in the INX media money laundering case.
The CBI had sought 15-days custody
. The order was passed after a bitter legal battle between Karti's lawyer and the CBI counsel. While the CBI maintained that Karti was arrested for not cooperating with the investigation, Karti's lawyer Abhishek Manu Singhvi called the case against him "motivated" and "bizarre".
But what is the INX Media case all about? The CBI has alleged that firms with links to Karti had influenced FIPB approval for Rs 305 crore irregular investment in INX media. This took place in 2007 when his father was the Finance Minister. The FIR has been registered against Karti, INX Media along with eight others and unknown officials of the finance ministry.
Here's a complete explainer
.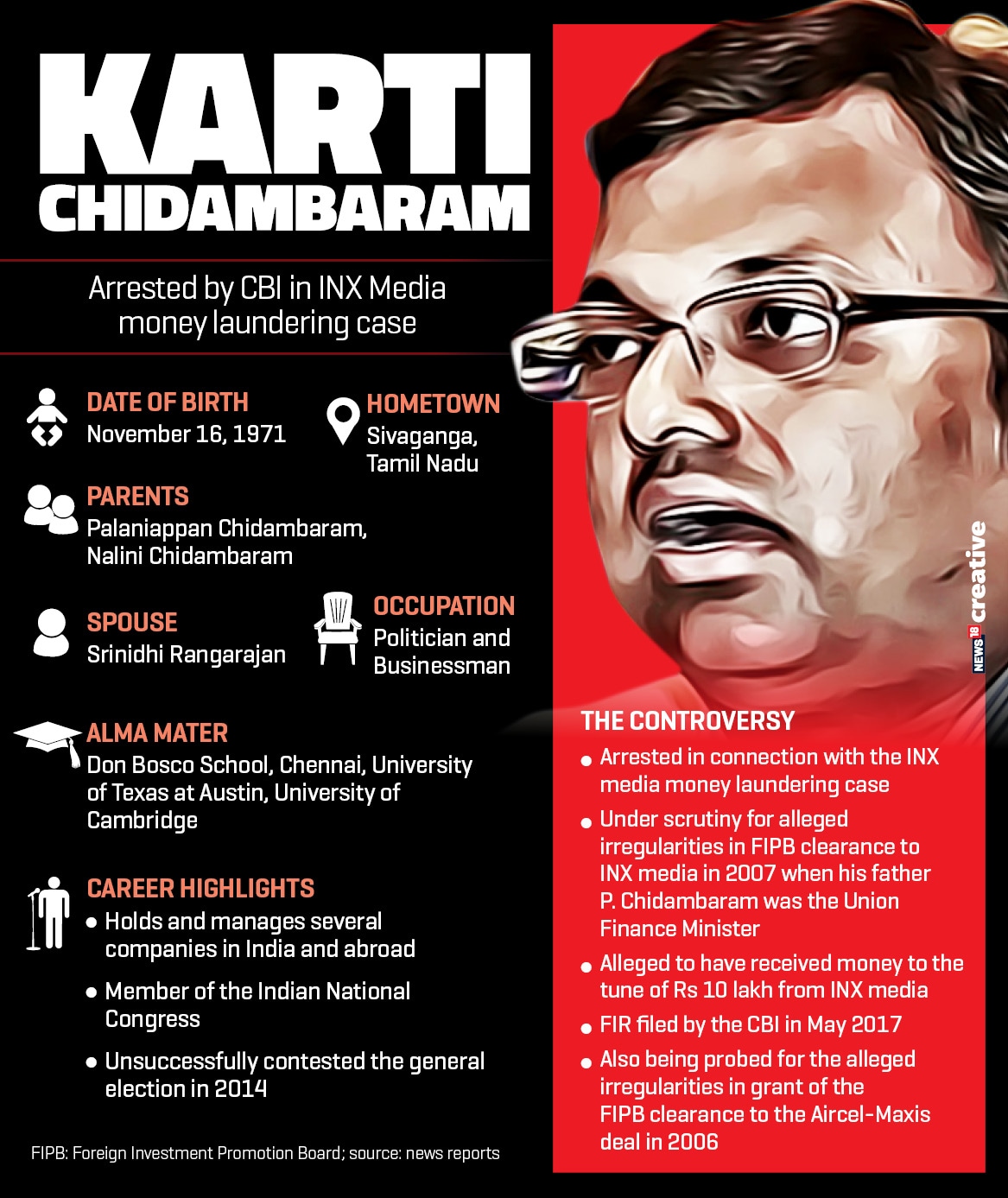 After a lifetime under the arc-lights, Indian cinema icon Sridevi was on Wednesday
given a send-off fit for celluloid posterity
with surging crowds of mourners walking with the cortege as it made its slow way through the city and thousands more glued to television to watch her last rites. The 54-year-old, whose sudden death in Dubai late Saturday sent shock-waves through India, was given a state funeral with her body wrapped in the tricolour and a gun salute by the Mumbai Police. The actor's mortal remains were draped in a red kanjivaram sari with a bindi on her forehead.
Billionaire jeweller
Nirav Modi has refused to join the CBI investigation
in the USD 2 billion fraud in Punjab National Bank citing his business engagements, prompting the agency to issue a stern letter on Wednesday asking him to appear before it next week. Meanwhile, the CBI has arrested PNB's internal chief auditor M K Sharma — a chief manager-ranked official — in connection with the case, they said, adding that it is first arrest of any auditor of the bank.
No lesson seems to have been learned from the 2016 Pathankot terror attack as an NIA investigation into the Sunjuwan Army camp attack has revealed that the terrorists breached not one, but two perimeter walls of the camp in February. "There were no sentries on the outside wall which is about 10 feet high and we have found foot holds on this wall. It looks like the terrorists scaled this wall, crossed the empty ground and then breached a second wall about 150 meters away, before entering the camp,"
a top NIA official told News18
.
Known for his honesty, IAS officer Pradeep Kasni is
retiring after a career spanning 34 years and 71 transfers
. Kasni has not received his salary in the past six months. The bureaucrat used to serve as an Officer on Special Duty (OSD) in Haryana Land Use Board, however, according to government records, the post does not exist any longer. Thus, Kasni has been living without a salary for the past several months. This was revealed only after an RTI application.
The
focus of the Karnataka Assembly election campaign has oscillated
between "corruption" and "Hindutva", and now it is back to corruption. Prime Minister Narendra Modi who first raised the issue of corruption calling Siddaramaiah-led Congress government a "percentage sarkar" has stuck to it by coining a new term to describe the state government. Addressing a farmers rally at central Karnataka city of Davanagere on Tuesday, Modi said that it was not a Siddaramaiah government and it was a "Seeda Rupaiyya" government, indirectly hinting that nothing happens without bribe in the state.
Twenty years after the crime was committed, the Supreme Court has agreed to consider a man's plea that
he was a juvenile when the incident occurred
and therefore, he could not have been jailed for seven years as an adult. In a rare order, the top court indicated it was open to examining the plea and not dismiss it on the grounds that 20 years had passed and that the two subordinate courts had also convicted the man as a major under the charge of culpable homicide not amounting to murder.
Has Donald Trump really been nominated for the Nobel Peace Prize
? The Norwegian Nobel Institute said it had filed a police report after receiving a seemingly fraudulent nomination for the US president. "We have good reason to believe that a nomination we received concerning Trump has been falsified," Nobel Institute director Olav Njolstad told AFP. He refused to provide further details, saying it was for the police to give more information.
The
defence ministry has approved capital acquisition
proposals worth nearly Rs 9,435 crore including procurement of 41,000 light machine guns and over 3.5 lakh battle carbines to bolster firepower of infantry soldiers deployed along borders with China and Pakistan.
​
A BJP spokesperson and a lawyer has written to Vice President Venkaiah Naidu
seeking to make information about Members of Parliament available in the public domain to facilitate information for people through a single window system and avoid the hurdle of filing multiple RTIs.
The 'Spiderman' of Karnataka's Malnad region, Kothi Rama, who had gone missing during a daring rescue mission at Jog Falls in Shimoga district was rescued a day later.
Jyothiraj is a talented climber and his bare hand tricks have given him the moniker — Kothi Rama
. In Kannada, Kothi means monkey.
Agree or disagree?
Sridevi's untimely and enigmatic exit has sparked a feeding frenzy
in the media, as celebrity deaths invariably do. In this case, the coverage reached an invidious low, with tasteless re-enactments of the 'death scene', broad hints at conspiracy theories and intense speculation on the form and extent of the cosmetic surgery she must have had to stay so gorgeous, right until the final curtain fell.
On the road leading to Kanchi Mutt in Kanchipuram is a board showing the directions. The arrow sign denotes the mutt on the left and Chennai on the right. The two months when Sri Jayendra Saraswati was in prison after his arrest by the Tamil Nadu police in the Sankararaman murder case in 2004, the board was an accurate depiction of the rift between Kanchipuram and Chennai. Jayalalithaa was Chief Minister when the pontiff was arrested and the development was shocking because most people in Chennai thought he advised her on religious-cum-political matters, a raj guru of sorts. But it would be inaccurate to measure the legacy of the 69th
Shankaracharya of the Kanchi Mutt only by the taint of the allegation of the murder
.
On reel
We caught up with Jimmy Shergill and asked the question nation has been dying to know and that is "why does Jimmy never find love in a movie"? Find out here.
(Get a fresh dose of the news that matters, delivered directly to your inbox, every morning. The perfect way, to get you started and informed, for the day ahead. Subscribe to News18 Daybreak here.)
Read full article
Next Story
Next Story
Also Watch

IPL 2019: KXIP Vs KKR, Can Russell And Narine Push KKR To Semifinals?
Live TV
Countdown To
Elections Results
To Assembly Elections 2018 Results