PepsiCo to invest Rs 33,000 crore in India by 2020
"India is a country with huge potential and it remains an attractive, high-priority market for PepsiCo," said Indra Nooyi.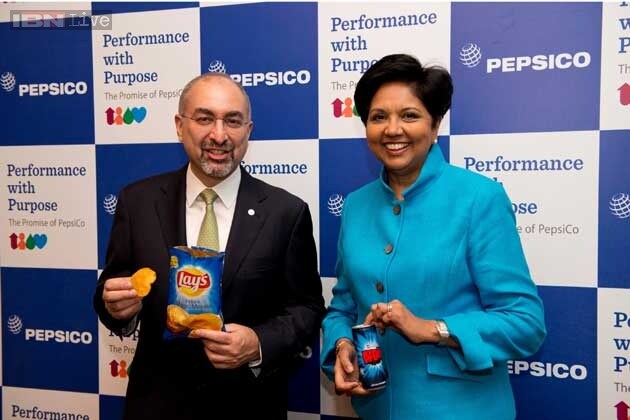 "India is a country with huge potential and it remains an attractive, high-priority market for PepsiCo," said Indra Nooyi.
PepsiCo Inc, $65 billion US-based beverages and snacks major, has announced on Monday that it has earmarked Rs 33,000 crore for investments in India by 2020.
The decision comes as a surprise as the Indian economy has slowed to a decade-low of 5 per cent growth in fiscal year through March.
For PepsiCo, which has so far invested $2 billion in India since its entry in 1989, a further expansion plan hints at its strategy to exploit the Indian fetish for chips and colas further and propel its business here, especially after it recorded 4 per cent growth in net revenue in developing and emerging markets in July-September quarter.
"India is a country with huge potential and it remains an attractive, high-priority market for PepsiCo," said Chairman and CEO of PepsiCo, Indra Nooyi one day after she met Finance Minister P Chidambaram in New Delhi.
PepsiCo said it intends to double its production capacity, improve its sales and distribution network in rural areas, expand its collaborative farming programme and develop new products to cater to evolving tastes of Indian consumers.
This announcement comes more than a year after its arch rival Coca Cola had said it, along with partners, would invest $5 billion in India by 2020 on various activities, including setting up of new bottling plants. Also, Britain's biggest clothing retailer Marks & Spencer had announced the launch of its largest store in India in Mumbai on Monday, while Unilever had earlier announced in April that it would raise its stake in Hindustan Unilever to approximately from 52 to 75 per cent.
These investment plans by major global companies coincide with Indian economic slowdown. India is reeling under the impact of inflation and the government is trying to restore foreign investor confidence. Many investors have complained about slow passing of reforms In India and have expressed their displeasure at investing in the country before the outcome of general elections in 2014.
However, Indra Nooyi seems to be unguided by the election scenario in India. Reaffirming her confidence in the potential of Indian economy, she termed the current situation as a "temporaray slowdown", assuring "India will make its way up soon and so will PepsiCo, as investors who stay for long reap more benefits than others".
"We've built a highly successful business in India over the course of many years, and we believe we've only scratched the surface of the long-term growth opportunities that exist for PepsiCo and our partners. This investment is PepsiCo's vote of confidence in India's future and it represents our deep commitment to India," she said.
It is estimated that the strategic initiative announced on Monday will add more than 100,000 new employment opportunities, as well as strengthen India as a center of talent development for PepsiCo.
"We will be guided by Performance with Purpose, PepsiCo's vision for building a profitable and sustainable 21st century corporation that is a good investment for our shareholders, a good environment for our employees, a good citizen in our communities and a good steward of our planet's resources," Indra Nooyi said.
PepsiCo has 42 plants across India, including franchises. Apart from cold drinks like Pepsi, 7UP, Mirinda and Mountain Dew, it sells snacks under Lehar, Uncle Chipps and Kurkure brands among others.
Get the best of News18 delivered to your inbox - subscribe to News18 Daybreak. Follow News18.com on Twitter, Instagram, Facebook, Telegram, TikTok and on YouTube, and stay in the know with what's happening in the world around you – in real time.
Read full article
Live TV