PM Modi to Host 120 Global CEOs, Pitch for Fourth Industrial Revolution at World Economic Forum in Davos
CEOs of companies such as Google, Microsoft, Nike, Citibank, Volkswagen, Mitsubishi, Sony, Philips, HSBC and Unilever, etc, are likely to join the dinner to be hosted by PM Modi.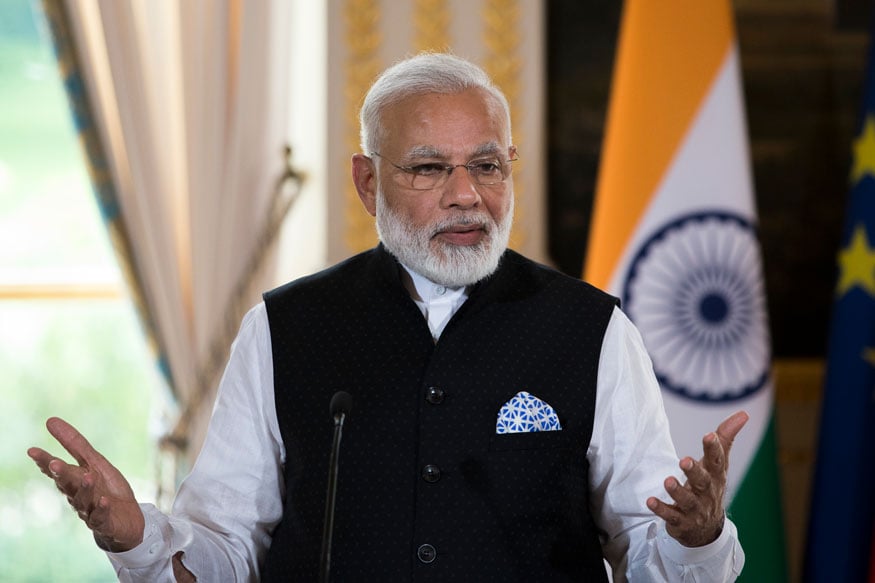 File photo of Prime Minister Narendra Modi.
New Delhi: Prime Minister Narendra Modi will be leading a power-packed contingent of six Union ministers, two chief ministers and top India Inc honchos at the World Economic Forum (WEF) in Davos this year. As many as 120 global CEOs of companies such as Google, Microsoft, Nike, Citibank, Volkswagen, Mitsubishi, Sony, Philips, HSBC and Unilever, etc, are likely to join the dinner to be hosted by PM Modi, News18 has learned from one of the organisers.
It's after two decades that an Indian PM is attending WEF and Modi will be leading the largest contingent ever to the annual summit of investors and world leaders.
Union ministers accompanying the PM are: Finance Minister Arun Jaitley, who will be deliberating on India's role in the world; Railway Minister Piyush Goyal, who will be speaking on post-establishment politics; Commerce Minister Suresh Prabhu, who will be highlighting India's relation with the World Trade Organisation and global trade treaties; Minister of Development of North Eastern Region Jitendra Singh, talking on promoting fragile cities; and Minister of State for External Affairs MJ Akbar, will be elucidating on nuclear threats to international security in the context of South Asia.
The Indian contingent will also be stressing on issues such as promoting use and development of electric vehicles in India, digital agriculture, promoting development of the railways industry in India, developing skills in a digital world and promoting design in India.
Maharashtra CM Devendra Fadnavis and Andhra Pradesh CM N Chandrababu Naidu, along with industry captains such as Gautam Adani, Mukesh Ambani, Rahul Bajaj and son Sanjiv Bajaj, N Chandrasekaran, Chanda Kochhar, Uday Kotak, Naresh Goyal, Anand Mahindra, Sajjan Jindal, Salil Parekh, Sunil Mittal and son Kavin Mittal, Azim Premji, Ravi Ruia and Prashant Ruia, Lakshmi Mittal with son Aditya Mittal, Indra Nooyi and Sundar Pichai will also be present.
India is making its presence felt in a big way by participating in numerous sessions like readiness for the future of production, next generation industrial strategies, designing for smart mobility, game-changers with respect to Asia, India's role in the world, the future of employment in manufacturing and production along with reimagining policy-making for the fourth industrial revolution.
The Prime Minister will be reaching Davos on January 22 and holding bilaterals with Swiss counterparts during the day.
The main event begins from January 23 and PM Modi will be addressing the plenary session. China's President Xi Jinping addressed the same session last year.
US President Donald Trump will also be present at Davos and there is a possibility of a meeting with Prime Minister Narendra Modi. This would be for the first time in 18 years that a US president would be attending an annual gathering of global economic leaders.
Get the best of News18 delivered to your inbox - subscribe to News18 Daybreak. Follow News18.com on Twitter, Instagram, Facebook, Telegram, TikTok and on YouTube, and stay in the know with what's happening in the world around you – in real time.
| Edited by: Aakarshuk Sarna
Read full article
Live TV