British bank announces nation's biggest loss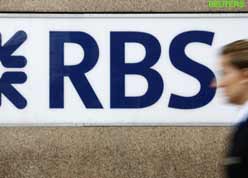 London: The Royal Bank of Scotland (RBS) on Thursday announced a loss of £24.1 billion ($34.36 billion) in what was described as the biggest annual loss in British corporate history.
But the government was forced to threaten legal action after a former chairman was reported to be drawing an annual pension of £650,000 despite the bank's collapse last year.
RBS, which had to be bailed out by the government last year, said Thursday it would put 325 billion pounds of toxic--or illiquid--assets into a government scheme that offers insurance for any future losses.
The losses were mainly attributed to RBS's 2007 takeover of the Dutch bank ABN Amro at the height of the economic boom.
Analysts said the poor result could lead to tens of thousands of job losses in RBS, as the bank announced plans to scale back operations abroad in order to repay the British taxpayer and return to making profits.
"We owe our continued independence to the UK government and taxpayers and are very thankful for their support," said RBC Chairman Philip Hampton, blaming the loss on "unprecedented turbulence" in financial markets and warning of another touch year in 2009.
But there was shock after reports that former RBS Chairman Sir Fred Goodwin was drawing an annual pension of £650,000 ($923,000) despite the bank's collapse, triggering threats of legal action.
"At my request, my ministerial colleague Lord Myners spoke to Sir Fred and put it to him quite simply - 'look, in the circumstances in which this bank is now in, do you not think it right that you should forego this?'" said Finance Minister Alistair Darling.
"We have not had a reply. So I am very clear that we will do whatever we can. That's why we have the lawyers looking at this."
Get the best of News18 delivered to your inbox - subscribe to News18 Daybreak. Follow News18.com on Twitter, Instagram, Facebook, Telegram, TikTok and on YouTube, and stay in the know with what's happening in the world around you – in real time.
Read full article
Next Story
Next Story
Also Watch

Popcorn With Smoke, Pizza Dosa And Quirky Food Experiments At Horn Ok Please
Live TV