RIL merger negative for RPL shareholders: SP Tulsian
According to him, RIL shares could rise by about Rs 50 or cross Rs 1,300.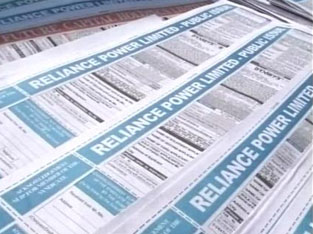 According to him, RIL shares could rise by about Rs 50 or cross Rs 1,300.
Mumbai: The Reliance Industries (RIL) board will meet on March 2 to consider merger with Reliance Petroleum (RPL). The merger is effective retrospectively from April 1, 2001.
SP Tulsian, of sptulsian.com doesn't see RIL-RPL merger news a reason to cheer for shareholders of Reliance Industries. According to him, RIL shares could rise by about Rs 50 or cross Rs 1,300.
However, he was quick to add that this step will disappoint shareholders of Reliance Petroleum. "One can see the price correcting to about Rs 70 because ultimately everything depends on the conversion ratio, which is likely to hover between 18:1 and 24:1.
It all depends on what stand Reliance Industries would take for extinguishment of their stake of 70% that they hold in Reliance Petroleum. If they go for extinguishment then it could be a better ratio of 18:1. If they go for non-extinguishment, then the ratio could be 24:1."
Future of RPL shareholders
Tulsian gives an example of the state of RPL shareholders post merger:-
Book value of RIL shareholder as of March 31, 2009, which is likely to be the effective date of the merger, would be 700, while that of RPL would be Rs 30.
How he arrived at book value: Reliance Industries has been in existence for the last 30 years. So there has been an accretion in the value of the fixed assets of the company, while RPL being a new company, there has not been much accretion. The project cost of RPL of Rs 27,000 crore can be taken at about Rs 30,000-33,000 crore as of today.
Therefore, a shareholder of Reliance Industries will be shouting if the ratio is anywhere more than 24 to 1 because that is the ratio working out, based on the book value. If market value is the criteria for swap ratio, it works out to about 16-17.
Ratio would definitely be negative for RPL shareholders.
Future of RIL shareholders
Tulsian said that RPL itself is entitled under Section 10AA, therefore RPL's profits would be exempted for the first five years being an EOU (Export Oriented Unit). "This merger is not being mooted or moved with a view to have any tax advantage because RPL as such is entitled, all its profits will be exempted for the first five years to the extent of 100% of Section 10AA being a 100% EOU."
PAGE_BREAK
Benefits
Tulsian says, "RPL has an advantage of the higher Nelson Complexity also. They have Nelson Complexity of 14.7 against RIL which has 11.7, which will always be giving the merged entity an extra gross refining margin to the extent of USD 2 per barrel. So all these things definitely makes a synergy, may be in terms of increasing the capacity and saving slight payments and overhead cost."
Tulsian is of the view that RIL-RPL merger can easily increase the debt equity ratio, by 10 bps on the merged entity but this will definitely be EPS accretive for the merged entity as well. He explains, "May be the retail investors will feel depressed or may be nervous that their price will get corrected closer to anywhere between Rs 65 to Rs 70."
What should investors do?
Tulsian said the merger definitely strengthens the case for making investment in Reliance Industries. He advises investors to get out of RPL. "One can really play blind and without taking a know of the merger ratio, one can get out from RPL even if one gets the price of anywhere above Rs 70 and to move into Reliance Industries because before management does that conversion for investor, it is better to have that voluntary shifting from RPL to RIL on Monday itself."
Get the best of News18 delivered to your inbox - subscribe to News18 Daybreak. Follow News18.com on Twitter, Instagram, Facebook, Telegram, TikTok and on YouTube, and stay in the know with what's happening in the world around you – in real time.
Read full article
Live TV