Corporate GenNext stand on agriculture
Corporate India's GenNext voices their concerns over various issues related to India's economic policies.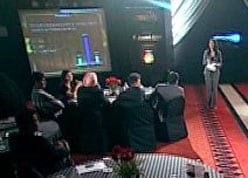 Corporate India's GenNext voices their concerns over various issues related to India's economic policies.
New Delhi: India is on the move like never before. The reform process started with the liberalisation of the economy in the 1991 is bearing fruit today. And the most significant consequence has been the emergence of a new face of entrepreneurship. At CNN-IBN, we call this the birth of a Young India.
Sixteen days before the Union Finance Minister rise to present the Union Budget 2007, things have never looked better. The economy is growing in about 9 per cent, the industry is scorching at a growth rate of about 11 per cent, and in the second week of February, corporate India has sealed up deals in excess of $25 billion.
In that context, CNN-IBN's Shirin Bhan spoke to a large group of representatives from the Corporate India's GenNext on CNN-IBN's Special Show Rising India: Corporate India's Generation Next to find out where they see the economic blueprint of India in the next the couple of years. It was the largest congregation of corporate leaders in Indian television history.
Agriculture is considered the biggest under-performer even do India is largely an agriculture-dependent nation. Should the private sector actually get sops for agricultural investments?
Finance Minister P Chidambaram seems to have a very clear vision when it comes to agriculture. "We need more investment on agriculture, both public as well as private. There are already some tax concessions for private investment. But we are looking at that. Number 1, we need more investment. Number 2, expand irrigation facilities rapidly. Far more acreage must be brought under assured irrigation," he says.
Dikshu C Kukreja, Director of CP Kukreja Associates, however, says agriculture in the country is somehow "always looked at with a handle with velvet gloves."
"I don't think in an economy where we stand now and as a country where we have reached, we really take that stance any more. Of course, it has a little bit to do with politics and vote bank calculations. But at the same time in a developing country at the way we are growing, agriculture should be looked at at par with any other industry," Kukreja argues.
He says: "There is no need to incentivise the private sector to invest in it. First of all, there is no need to have agriculture tax-free, the way we have been treating it. Secondly, there is no need to give sops to private industries to come into it. It can be just like another industry and it would perform far better if it is allowed to come at a level-playing field."
In the poll, 43 per cent said "yes, agriculture should get sops" while 46 per cent said "no, it shouldn't get sops." The rest 11 per cent voted "can't say".
According to Deep Kalra, CEO of makemytrip.com, "the problem is, 70 per cent of India's agriculture is actually dependent on rain-fed water and only 30 per cent is under irrigation, which it should be the other way round. So new techniques like drip-irrigation that we have learnt from other countries like Israel, should be brought in."
If corporate India is actually going to get a brand new market to exploit, why should they be incentivised to actually get in and make the investments?
"Because Incentives have worked in the past," reasons Deep. "If you look at a couple of our star industries — it was export of garments sometime back, it was the ITES and IT industry — they really took off because you gave the right incentives. So, it's one of the levers that the government has to promote investment in it and then it needs to be phased out at the right point of time," he adds.
Another participant has a completely different viewpoint. "I actually think the agricultural space in India offers a huge opportunity to the corporate world. And it doesn't really need to get sops or incentives to go in there. For example, when it comes to organised retail, if you allow organised retail — especially retail in the grocery space — that in itself will cause a backward integration into the agricultural sector. Rather than giving sops, just allow the private sector into that space. Deregulate, decentralise, let them come in and make the environment a lot more favourable and you don't need to give out any sops."
Manufacturing has been a big surprise story as far as India is concerned. There has been a rebound in the manufacturing sector. But then do government policies favour double-digit manufacturing growth?
As many as 66 per cent said, "No, government policies do not favour double-digit manufacturing growth while only 16 per cent said "yes". The rest 18 per cent voted "can't say".
Get the best of News18 delivered to your inbox - subscribe to News18 Daybreak. Follow News18.com on Twitter, Instagram, Facebook, Telegram, TikTok and on YouTube, and stay in the know with what's happening in the world around you – in real time.
Read full article
Live TV