GET Stock

Quotes


Rupee Notches More Gains Against Dollar, up 14 Paise at 68.20
Extending gains for the fourth session, the rupee appreciated by another 5 paise to 68.29 against the US dollar in early trade on Friday on continued selling of the American currency by banks and exporters.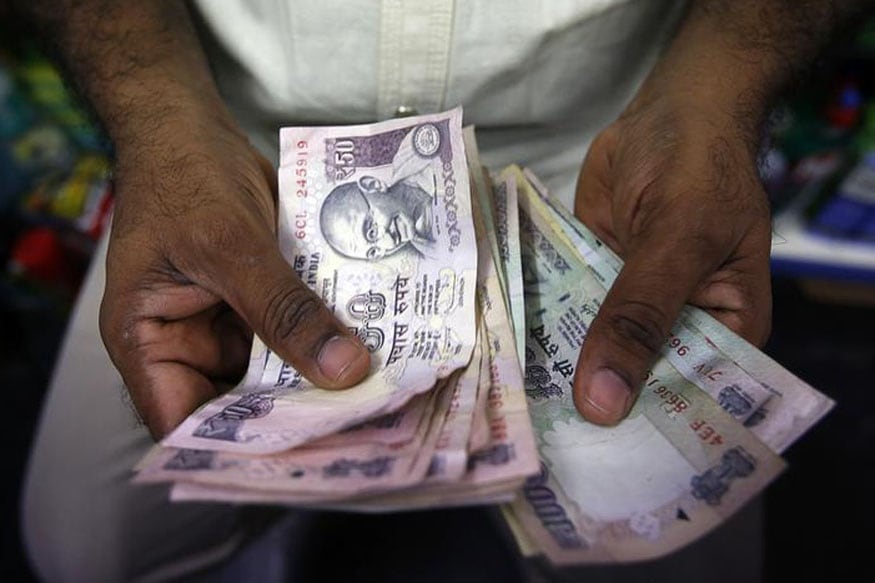 Representative photo (Reuters)
Mumbai: The rupee added to its gains against the US dollar, firming up by 14 paise to end at 68.20 – the highest level in more than a week -- on growing expectations that the Reserve Bank will lower its key rates in next week's policy review.
The lower-than-expected second quarter GDP data alongside softening inflation numbers are "a perfect blend" for a rate cut even as the rupee has made a strong comeback, a forex dealer said.
Keeping its edge against a resurgent dollar, the home unit opened higher at 68.28 from Thursday's closing of 68.34. But soon, it fell back to a hit a low of 68.39 mirroring sluggish equities. It bounced back smartly to hit an intra-day high of 68.19 in late afternoon deals before settling at 68.20, a rise of 14 paise, or 0.20 per cent.
For the week, the battered rupee gained 26 paise against the greenback.
The Monetary Policy Committee headed by RBI Governor Urjit Patel in October had cut benchmark interest rate by 0.25 per cent to 6.25 per cent.
Meanwhile, domestic equities succumbed to frantic selling, largely reflecting the subdued global trend.
In worldwide trade, the US dollar saw moderate selling pressure as against all major currencies on the back of some profit taking before the release of the US non-farm payroll report.
The US dollar index was quoted higher at 101.04 in late afternoon.
Meanwhile, RBI on Friday fixed the reference rate for the dollar at 68.3689 and euro at 73.0385.
In cross-currency trades, the rupee recovered against the pound sterling to finish at 86.10 from 86.33 and firmed up further against the euro to settle at 72.56 compared with 72.63 on Thursday.
But it fell marginally against the Japanese yen to close at 59.88 from 59.81 per 100 yens earlier.
In the forward market, premium for dollar weakened further due to sustained receivings from exporters.
The benchmark six-month premium for May dropped to 128-130 paise from 132-134 paise and the far-forward November 2017 contract also slipped to 272-274 paise from 278-280 paise on Thursday.
Meanwhile, domestic benchmark indices posted a sharp fall for the second day following across the board selling, impacted by rallying crude prices and subdued global sentiment ahead of key US macro data.
The flagship Sensex tanked by a whopping 329.26 points to close at 26,230.66 while the broader Nifty fell 106.10 points to 8,086.80.
On the global commodity front, crude prices traded little changed after a very sharp upmove overnight ahead of the US rig count amid doubts over Russia-OPEC deal.
Crude prices staged a spectacular rally and reclaimed the USD 50 a barrel mark after OPEC members agreed on curbing supply amid softening of prices.
Brent crude, the international benchmark, is modestly down 0.70 per cent to USD 53.22 a barrel.
Also Watch
Read full article
| Company | Price | Change | %Gain |
| --- | --- | --- | --- |
| TCS | 3,396.65 | +206.00 | +6.46 |
| HDFC | 1,839.00 | -25.45 | -1.37 |
| Alkem Lab | 1,765.25 | -34.45 | -1.91 |
| Infosys | 1,187.55 | +54.85 | +4.84 |
| Force Motors | 3,091.15 | +175.60 | +6.02 |
| Company | Price | Change | %Gain |
| --- | --- | --- | --- |
| TCS | 3,396.65 | +206.00 | +6.46 |
| Infosys | 1,187.55 | +54.85 | +4.84 |
| Wipro | 298.75 | +7.15 | +2.45 |
| Bharti Airtel | 401.00 | +6.05 | +1.53 |
| HUL | 1,466.00 | +11.75 | +0.81 |