Rupee Breaks 3-day Rising Streak, Plunges 43 Paise to 67.86
Forex market sentiment turned bearish after tracking losses in most Asian and emerging market currencies, also impacted by political developments in Italy.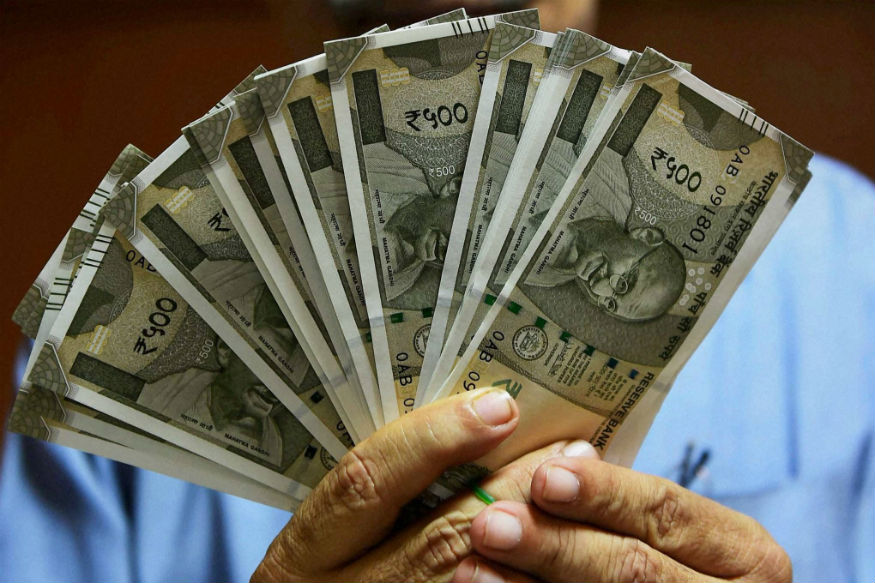 Image for representation.
Mumbai: After a short-lived recovery, the rupee on Tuesday once again turned shaky and lost ground against the US currency, falling by a steep 43 paise to end at 67.86 due to heavy month-end dollar demand from importers.
Forex market sentiment turned bearish after tracking losses in most Asian and emerging market currencies, also impacted by political developments in Italy.
Deepening political crisis in Italy, the euro zone's third biggest economy, provoked selling of Italian assets and the euro that was reminiscent of the euro zone debt crisis of 2010-2012.
A sharp sell-off in domestic stock market also largely led to weaker rupee sentiment.
However, suspected currency market intervention by the Reserve Bank of India stemmed the rupee's fall.
The rupee had touched a two-week high on Monday.
The Indian currency was given some reprieve after plunging to a fresh 18-month low of 68.42 last week, staging an impressive recovery fuelled by a sudden crash in global crude prices.
It had appreciated by a whopping 1.47 per cent in the last three trading sessions.
Similarly, fresh bouts of selling was seen on bond market with the benchmark 10-year yield rising to 7.76 per cent from 7.74 per cent.
Sliding crude prices is not helping rupee at this point of time unnerved by a wave of political uncertainty not only in Italy but also in Spain, a forex dealer commented.
Strong demand for the greenback from oil companies and gold traders to meet their import demand also weighed on trade, he added.
Meanwhile, crude prices rebounded, paring some losses triggered by expectations that Saudi Arabia and Russia could pump more crude to compensate for a potential shortfall in supply.
Brent crude futures, an international benchmark, is trading higher at USD 76.03 a barrel, in early Asian trade.
The rupee resumed with a sharp gap-down at 67.62 from overnight close of 67.43 at the inter-bank foreign exchange (forex) market.
It remained under immense pressure throughout the day and touched a fresh intra-day low of 68 in mid-afternoon deals before ending at 67.86, showing a steep loss of 43 paise, or 0.64 per cent.
The RBI, meanwhile, fixed the reference rate for the dollar at 67.8201 and for the euro at 78.6984.
The dollar index, which measures the greenback's value against a basket of six major currencies, was up at 94.65.
In the cross currency trade, the rupee fell back against the pound sterling to finish at 89.85 per pound from 89.76 and also drifted against the Japanese yen to end at 62.31 per 100 yens from 61.66 on Monday.
The local unit, however, strengthened against the euro to close at 78.39 as compared to 78.47 earlier.
Elsewhere, the euro rebounded sharply from a 10-month
low after comments by the leader of Italy's Five Star political party calmed investors concerns over the prospect of an Italian exit from the Eurozone amid political crisis in Spain, the next big economy after Italy.
The British pound is trading marginally higher on hardening expectations regarding BoE rate hikes this year despite ongoing concern about the Italian political situation.
In forward market on Tuesday, premium for dollar edged down due to consistent receiving from exporters.
The benchmark six-month forward premium payable in September softened to 86-88 paise from 87.50-89.50 paise and the far-forward February 2019 contract declined to 220-222 paise from 222-224 paise.
Get the best of News18 delivered to your inbox - subscribe to News18 Daybreak. Follow News18.com on Twitter, Instagram, Facebook, Telegram, TikTok and on YouTube, and stay in the know with what's happening in the world around you – in real time.
| Edited by: Ahona Sengupta
Read full article
Next Story
Next Story
Also Watch

Popcorn With Smoke, Pizza Dosa And Quirky Food Experiments At Horn Ok Please
Live TV