SEBI leaking malicious information to the media: Sahara
Sahara group on Friday hit back at SEBI after the latter moved the SC seeking arrest of its promoter Subrata Roy.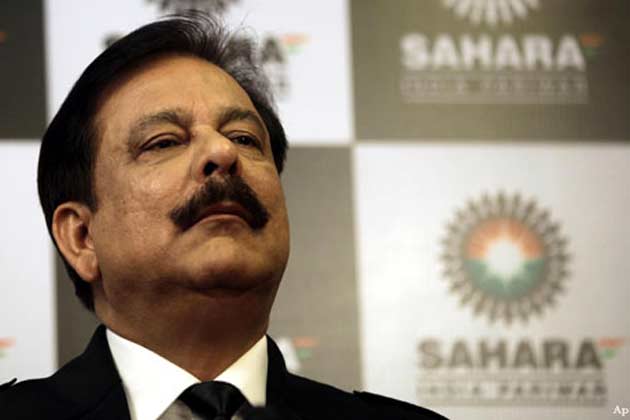 Sahara group on Friday hit back at SEBI after the latter moved the SC seeking arrest of its promoter Subrata Roy.
New Delhi: Sahara group on Friday hit back at SEBI after the latter moved the Supreme Court seeking arrest of its promoter Subrata Roy and barring him from leaving the country after two companies of the group failed to comply with court's order to refund Rs 24,000 crore to its investors.
In a statement, Sahara blamed SEBI for "leaking malicious information to the media" and challenged the organisation to prove that there was "even one fictitious investor in Sahara".
Below is the full text of Sahara's statement.
SEBI's malicious act
Everyday, SEBI is maliciously leaking to media (reason best known to them!!!), one or the other news, without any substance, against Sahara Group, to wreck personal vengeance, by some officers involved in handling with the matter.
Now, in order to make further media publicity, SEBI has filed another status report and Interlocutory Application (IA) in the Supreme Court and even before mentioning the matter in the Hon'ble Court, SEBI has supplied copy of the petitions and such reports to media, propagating the news about civil detention of the promoter and directors of the Company. Ironically, the matter was mentioned before the Hon'ble Supreme Court and Hon'ble Court did not find any urgency and advised for listing of the matter in due course, after Holi vacations. SEBI in its status report has asked for Civil Detention, knowing fully well that uch provisions of Code of Civil Procedure (CPC), prescribing the same as a mode of execution of decree do not apply to SEBI, as under the SEBI Act, application of C.P.C is clearly barred and ruled out and also the fact that no question of any such non-compliance, on the part of Sahara officials do arise in view of the entire unpaid amount having been deposited with SEBI and the records of redemption made submitted to them for verification.
SEBI is not only providing false information to the Media, it has also hidden truth from the citizens of this Country. Sahara has deposited TDS on the interest paid to the investors on behalf of the two Sahara Companies with the Income Tax Authorities. The TDS deposited is more than Rs. 700 crores. These true facts are never reported to the Media by SEBI.
About SEBI's one recent allegation: "Out of thousands of Sahara Investors, SEBI finds only 68 genuine investors."
SEBI's recent allegation is that there are few thousand investors who have not responded. SEBI should be wise enough to understand that all small investors who have already received payment shall definitely not correspond with SEBI or anybody for that matter. Allegation is absolutely baseless, concocted, unverified, malicious and in clear disregard of the Directions No.7 of the judgment dated 31.08.2012 passed by Hon'ble Supreme Court, which reads -
"SEBI (WTM), in the event of finding that the genuiness of the subscribers is doubtful, an opportunity shall be afforded to Saharas to satisfactorily establish the same as being legitimate and valid. It shall be open to the Saharas, in such an eventuality to associate the concerned subscribers to establish their claims. The decision of SEBI (WTM) in this behalf will be final and binding on Saharas as well as the subscribers."
SEBI is well aware that we have written so many times that millions of very small investors run their tea stalls, small venders etc. who live on highways. Their addresses may be, for instance, Mr X, NH-21, Gorakhpur. Millions of Rural people do not have House No., Mohalla etc. There are large numbers of small investors who do not own their houses and accordingly have shifted their address from time to time.
Our agent - introducers / office staff knows them very well and can arrange meeting any time with any authority, wherever and whenever required. You may point out any of the investors and our workers can produce them or reach to them without any difficulty as they provide service to these investors on a regular basis.
We challenge SEBI to find or prove even one fictitious investor.
However, SEBI without giving us any such opportunity, though required to do so, has instead, straightaway accused theses baseless and one sided allegations.
Should SEBI - Under any need, under any law, under any logic, under any Hon'ble Court's Direction attach group Chairman's and 3 Directors properties, bank accounts, etc. etc.
and
THE FACT REMAINS THAT WE HAVE REPAID ALL OUTSTANDING LIABILITIES EXCEPTING (LESS THAN) Rs.5120 CRORES WHICH WE HAVE PAID TO SEBI.
Get the best of News18 delivered to your inbox - subscribe to News18 Daybreak. Follow News18.com on Twitter, Instagram, Facebook, Telegram, TikTok and on YouTube, and stay in the know with what's happening in the world around you – in real time.
Read full article
Live TV