September inflation moves closer to 8 per cent
Wholesale price index rose a faster-than-expected 7.81 per cent in September, mainly driven by higher fuel prices.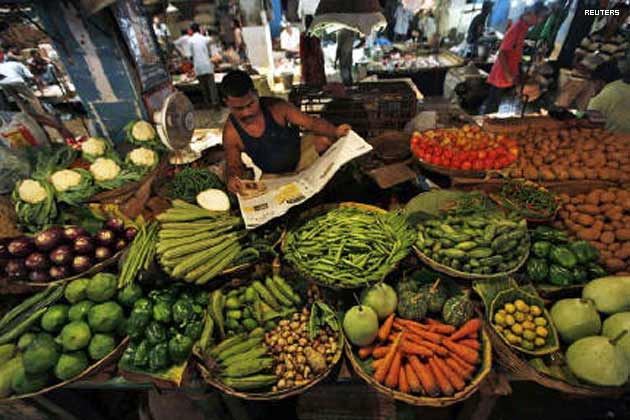 Wholesale price index rose a faster-than-expected 7.81 per cent in September, mainly driven by higher fuel prices.
New Delhi: Rising fuel prices boosted Indian inflation in September to 7.8 per cent, its highest level since November, undermining the government case calling for an interest rate cut by the RBI this month to boost the sluggish economy. The rise in the wholesale price index - India's main inflation gauge - was more than expected. Economists in a Reuters poll had expected an inflation reading of 7.7 per cent, up from 7.55 in August.
The Reserve Bank of India says stubbornly high inflation prevents it from cutting its policy rate, on hold at 8 per cent since April, even though economic growth is its weakest in three years. Inflation is well above the central bank's comfort level of 4-5 per cent.
"Today's inflation number significantly reduces the chance of a repo rate cut in the next policy (review)," said Jyotinder Kaur, economist at HDFC Bank in New Delhi. "But we see the Reserve Bank of India reciprocating to the government's recent reform measures by yet again cutting bank's cash reserve ratio," Kaur said.
Faced with a big hole in the budget and the prospect of losing its investment grade credit rating, the Indian government increased the price of heavily subsidised diesel on September 13 to rein in spending.
Consumer inflation, traditionally less closely watched in India, fell to its lowest levels since April, data showed on Friday. However, economists expect the diesel price increase to have a bigger impact on the WPI. The data showed that fuel prices in September rose 11.9 per cent from a year earlier, a sharp pick up compared with a rise of 8.32 per cent in August.
"Inflation number is very ugly," said Rupa Rege Nitsure, the chief economist of Bank of Baroda in Mumbai. "Overall the inflation situation is going to worsen until end-December." Nitsure said she expected the central bank to keep rates on hold until the fourth quarter of the fiscal year to next March. However, given weak growth, she expected the central bank to ease bank reserve requirements at its policy meeting on October 30.
The central bank cut the cash reserve ratio in September by 25 basis points to 4.5 per cent in a move to inject about 170 billion rupees into the banking system. Diesel is widely used by trucks ferrying food and other commodities around the country. Analysts expect inflation to quicken more in the coming months because fuel and food make up over a third of the wholesale price index.
The data also showed a modest pick-up in manufacturing inflation to 6.26 per cent in September from 6.14 per cent in August. Food inflation slipped to 7.86 per cent from 9.14 per cent. Businesses and politicians argue that any price spike from the fuel subsidy cut will be short-lived. They say the overall inflation trend is downward and point to the government's recent attempts to tackle the deficit to make the case for a more growth orientated monetary policy. A few economists think WPI inflation will fall, arguing that weak demand will offset fuel price pressures.
RATE CUT?
Data on Friday showed India's industrial output rose modestly in August, but not enough to end an industrial slump stretching back to February. In the first six months of 2012 India grew at its slowest rate since the depths of the global financial crisis three years ago. Last week, the International Monetary Fund lowered its 2012 growth forecast for India to 4.9 per cent from 6.1 per cent. Several finance ministry officials have said a 25 basis point cut is warranted at the RBI's next policy review on October 30.
Finance Minister P Chidambaram gave the RBI a further prod in an interview with Reuters on Saturday, when he called for the central bank to take "calibrated risks" to support the economy as a reciprocal measure to government fiscal efforts.
"Pressure is mounting on the central bank for a quid-pro-quo move after the government initiated reforms to correct the fiscal imbalances and we expect consensus to be split as we approach the end-Oct review," said Radhika Rao, economist at Forecast Pte in Singapore.
With barely 18 months until the next general election, Prime Minister Manmohan Singh is trying hard to get the economy back on track, partly to fund big-ticket welfare programmes ahead of the 2014 vote.
As well as increasing fuel prices, in the last few weeks he has opened up the retail sector to global supermarkets, allowed foreign airlines to buy stakes in local carriers and proposed raising the bar on foreign direct investment in insurance firms. But that may not be enough to rescue an economy a government panel recently said was teetering at a fiscal precipice.
Inflation has been above 7 per cent in each month since late 2009. And still-high spending on fuel, food and fertiliser subsidies could drive the fiscal deficit to 6 per cent of GDP for the financial year ending in March, above New Delhi's target of 5.1 per cent, Standard & Poor's said last week. The rating agency reiterated its warning that India still faced a one-in-three chance of a credit rating downgrade over the next 24 months.
The response to the global economic slowdown could also keep the RBI on a tight leash. Massive asset purchase programmes unveiled by central banks in the United States, Europe and Japan could stoke global commodity prices, which would keep domestic prices on the boil.
Read full article
Next Story
Next Story
Also Watch

IPL 2019: KXIP Vs KKR, Can Russell And Narine Push KKR To Semifinals?
Live TV