'Sugar Production May Fall Up To 20% Due To Drought In Maharashtra, Karnataka'
Uttar Pradesh has picked up part of the slack. But not entirely, because the fall is massive in Maharashtra and Karnataka, nearly 60 lakh tonne, while the improvement in UP is just 16 lakh tonne.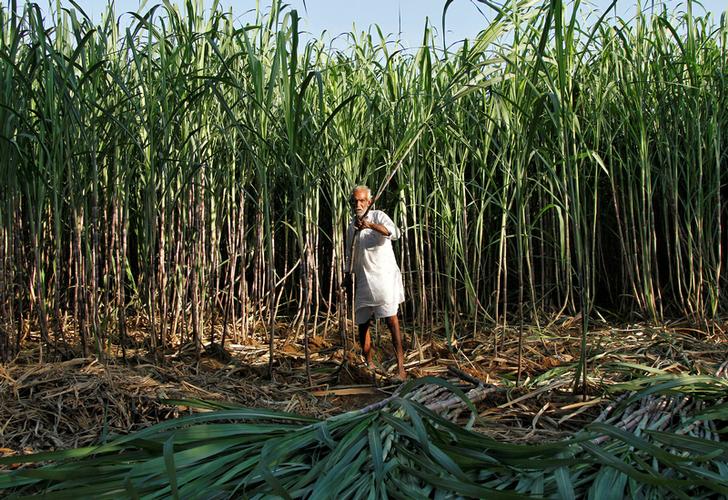 A farmer harvests sugarcane in his field (Representational photo: Reuters)
New Delhi: India is the second largest sugar producer, behind only Brazil, with annual output of about 250 lakh tonnes. The sugar production this year may fall up to 20%, mainly because of drought in Karnataka and Maharashtra, two of the top three sugar producing states.
Sugar has recently been in the news with the BJP government in Uttar Pradesh trying to ensure that mills clear Rs 4,000 crore which they owe to farmers in arrears.
There are also reports that the government has cleared import of 5 lakh tonne sugar to balance the shortfall in domestic production.
Abinash Varma, the Director General of the Indian Sugar Mills Association, tells News18's Tushar Dhara that despite lower production, India will not face sugar crisis, thanks to a combination of domestic stocks and imports. ISMA is the apex body representing the non-cooperative private and public sugar mills in India. Edited excerpts:
What is estimate for sugar production this year?
Domestic production of sugar this year is expected to be 203 lakh tonne, compared with last year's 251 lakh tonne.
What are the reasons behind the fall in production?
The fall in production is mainly because of two states — Karnataka and Maharashtra — which are among the top three sugar producing states in India. In the past two years, there was drought in both the states and therefore sugarcane availability has gone down tremendously because of lower yields and acreage.
Sugar production in top 3 states (in lakh tonne)

Uttar Pradesh has picked up part of the slack. But not entirely, because the fall is massive in Maharashtra and Karnataka, nearly 60 lakh tonne, while the improvement in UP is just 16 lakh tonne.
Will India face a sugar shortage this year?
No. Because at the beginning of the sugar season (October 2016), India had a surplus of about 77.5 lakh tonne from the previous season, which is high. Generally, what we require is stock for two months of consumption, which is 40 lakh tonne.
The other reason is the offtake of sugar has decreased this year for a number of reasons:
Demonetisation affected sugar sales and the sales of sugar products like sweets and chocolates.

Demand from bulk consumers of sugar (mithaiwallas like Haldirams, etc) has dropped, maybe because people have become more health conscious.

The government announced in its budget that it will stop the sugar subsidy under the public distribution system. Therefore, the demand for sugar under the PDS, which is 10% of the total sugar sold, will be affected. This sugar was sold at Rs 13.5 per kg at ration shops, while the open market price is Rs 42 or 43. The subsidy of Rs 31.5 per kg was what was paid by the government and it amounted to around Rs 4,500 crore per annum.
There are concerns in Uttar Pradesh around cane arrears. What's happening on that front?
The total arrears for the current season are Rs 21,670 crore, out of which Rs 17,385 crore has been paid. So the arrears left to be paid are about Rs 4,285 crore and most of these would pertain to 5-6 big sugar companies. Arrears are defined as payments for sugarcane which are delayed beyond 14 days. The reason why sugar mills in UP have slipped into arrears is because the millers have to pay above the fair and remunerative price of Rs 230 per quintal set by the Union government. This is a mismatch between cane and sugar prices, which makes UP millers slightly uncompetitive vis-a-vis their counterparts in Maharashtra and Karnataka. The second reason is the non-availability of working capital from banks. The banks are also a bit wary of lending because of bad balance sheets. Working capital is important for mills because the major payments are made in a period of 4-5 months, whereas inflows of cash are spread over 14 months.
What will be the level of sugar sales this year?
It will be around 240-242 lakh tonne. There is enough sugar to meet domestic requirements till the end of September (sugarcane season runs from October 1 to September 30). ISMA is expecting normal sugar production.
How will dry and hot weather this summer affect sugarcane production?
Sugarcane for the current season has already been planted, so the acreage will not be affected. But because of lower rainfall, and concerns around water availability, the yields might be impacted, which means that the produce per acre may go down. But I cannot say right now if the excess heat will have a major impact on sugarcane production.
| Edited by: Nakshab Khan
Read full article
Next Story
Next Story
Also Watch

IPL 2019: KXIP Vs KKR, Can Russell And Narine Push KKR To Semifinals?
Live TV