ASEAN summit cancelled after protests in Thailand
As many as 10,000 demonstrators were estimated to be in the resort.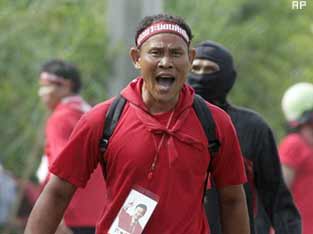 As many as 10,000 demonstrators were estimated to be in the resort.
Pattaya (Thailand): Thai officials cancelled a summit of the Association of South East Asian Nations (ASEAN) on Saturday after anti-government protesters broke into the summit venue at Pattaya, a resort town 100 km south of Bangkok.
The Thai government said the summit between ASEAN members and six dialogue partners, including China, Japan and India, was cancelled due to security concerns and would be held again into about two months time.
"We were concerned about the safety of the leaders and the people, including the protesters. We are working hard to control the situation," government spokesman Panithan Watanayagorn said.
Hundreds of the so-called "Red-shirt" anti-government protesters forced their way into the summit venue at about 01300 hours (IST) despite assurances by the Thai government that it would take whatever measures necessary to prevent such an event.
At an impromptu press conference the protesters, who support fugitive former prime minister Thaksin Shinawatra, aired their grievances.
"We want to find Prime Minister Abhisit Vejjajiva to tell him he cannot be prime minister any more. We want to tell him that if he holds and election and wins fairly then we will accept him. Now he is illegitimate and we cannot stand this," said Arisman Pongruangrong, a protest leader.
Thai officials acknowledged that the security forces had failed to contain the situation.
Summit meetings between ASEAN and ministers from China, South Korea and Japan had been delayed earlier after clashes between anti-government and pro-government supporters, but Thai government spokesman Panitan Watanagorn had insisted they would go ahead later.
"Cancellation is not on the table. The leaders have not changed their travel plans," he said in the morning. Peaceful demonstrators had a right to make their views know, but action would be taken against people with malicious intent, he added.
Panitan said police were also investigating reports that a surprise new group, the so-called Blue Shirts, had clashed violently with Red Shirts several km from the summit venue, Panitan said.
Newin Chidchob, an influential political ally of the current government, who split from Thaksin, acknowledged that he has helped "patriot citizens" show their anger over the former premier's campaigns to humiliate the country, according to television reports.
As many as 10,000 demonstrators were estimated to be in the resort, after travelling overnight from the capital about 100 km to the north.
Bangkok was relatively quiet after protest leaders announced their street demonstrations would ease in the capital until after the five-day Thai New Year holiday that begins this weekend.
"The safety of the leaders and the people attending the conference is of course of utmost concern to us, but we also care for the Thai people," government spokesman Panitan said.
The protesters want Abhisit to resign and dissolve parliament, and senior royal advisers they blame for a 2006 military coup that unseated Thaksin to also resign. They claim Abhisit is an illegitimate leader because he came to power only after the military and bureaucracy removed pro-Thaksin governments.
Get the best of News18 delivered to your inbox - subscribe to News18 Daybreak. Follow News18.com on Twitter, Instagram, Facebook, Telegram, TikTok and on YouTube, and stay in the know with what's happening in the world around you – in real time.
Read full article
Live TV