$149 bn rescue plan for Royal Bank of Scotland
The government already owns 58 per cent of the bank.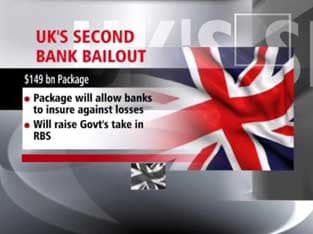 The government already owns 58 per cent of the bank.
New Delhi: World stocks rose on Monday while government bonds fell after Britain launched a multi-billion rescue plan for its troubled banks and the incoming US administration planned more measures to help the economy.
The UK government will allow banks to insure against steep losses and guarantee their debt to stop the credit crunch pushing the economy into a deep slump. The plan raises the government's stake in Royal Bank of Scotland (RBS.L: Quote, Profile, Research), which said it lost over 20 billion pounds last year, and also lays the framework for the Bank of England to boost money supply.
Barclays whose shares fell 25 per cent on Friday, confirmed it expected to report full-year profit above the consensus estimate.
The senior advisor of US President-elect Barack Obama, who is set to take office on Tuesday following a national holiday on Monday, said there would be changes to make the second half of the country's $700 billion bank rescue scheme more effective.
The measures on both sides of the Atlantic come as the credit crunch, well into its second year, squeezes corporate profits, hits consumer spending and pushes many major economies into recession.
"Clearly everybody has been forced to accept that the global economy is in dire straits, but it is the variety of solutions that are being offered up that are dictating the markets at present," Chris Hossain, senior manager at ODL Securities.
"Soothing words from Barclays, and further government intervention within the banking system appear to have been taken relatively well," he added.
"Sterling is going to come under pressure on the back of this, though in the medium-term the government announcement should be positive for sterling as it helps stabilise credit and lending markets."
Get the best of News18 delivered to your inbox - subscribe to News18 Daybreak. Follow News18.com on Twitter, Instagram, Facebook, Telegram, TikTok and on YouTube, and stay in the know with what's happening in the world around you – in real time.
Read full article
Next Story
Next Story
Also Watch

Popcorn With Smoke, Pizza Dosa And Quirky Food Experiments At Horn Ok Please
Live TV