Vineet Nayyar, Govt's Turnaround Man for Satyam, Named IL&FS MD as Uday Kotak Says Crisis Very Complex
In a Satyam Computers-style takeover, government on Monday had superseded the board of IL&FS and appointed a six-member board with Kotak as the non-executive chairman.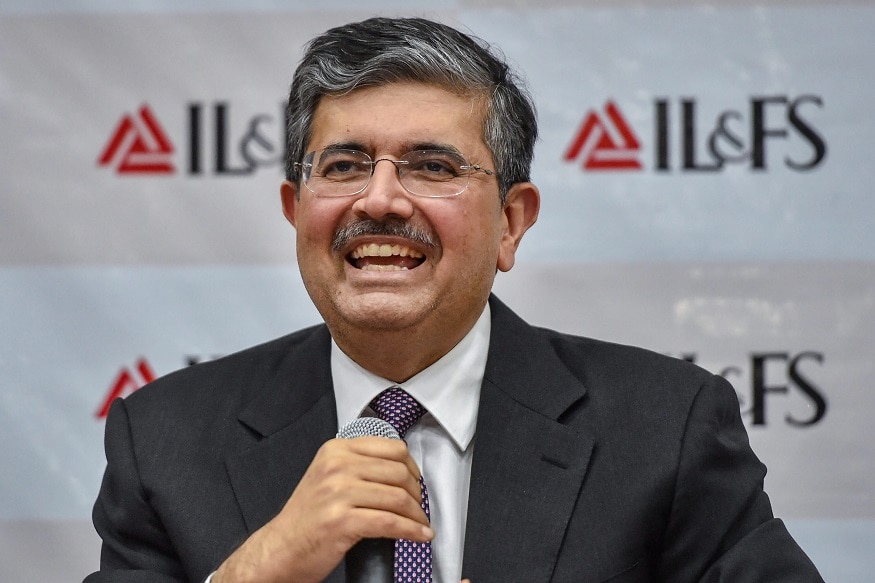 Uday Kotak, newly appointed non-executive chairman of IL&FS, speaks during a press conference in Mumbai. (Photo: PTI)
Mumbai:
IL&FS group chairman Uday Kotak on Thursday hinted that the crisis at the infra lending and engineering conglomerate is much more complex than earlier thought as the number of its subsidiaries and associates have more than doubled to 348, most of which have negative networth.
In a Satyam Computers-style takeover, government on Monday had superseded the board of IL&FS and appointed a six-member board with Kotak as the non-executive chairman.
The board had a marathon five-hour maiden meeting here and Kotak briefed the media in the evening. "The board was informed that there are 348 entities as part of the group, which is significantly larger than what we were told earlier. This is a very significant aspect of any resolution.
"We undertook an initial assessment of the ground reality and the way forward. We'll meet frequently to implement the directions of NCLT and to prepare a roadmap and turnaround," Kotak, who heads private sector lender Kotak Mahindra Bank told reporters.
It can be noted that the company was earlier claiming that it has around 150 subsidiaries including around 50 overseas. Its auditors have tagged most of them as non-going concerns due to their negative networth for long- something it has not disclosed publicly.
When asked whether the debt obligation will be higher as number of entities has more than doubled, Kotak said, "The earlier obligations were as of March 2018. Obviously, this is a moving target. We are looking at all the obligations and financing which the company raised."
The company as of March 2018 owed over Rs 91,000 crore to a banks and other creditors and since August 27, it has been on defaulting spree with nearly a score cases being reported so far.
"Obviously, we've a challenge. After today's meeting, we have a sense of broadly in what direction we need to go forward and have a better sense of alternatives that we can explore," Kotak said.
The board meeting also decided to preserve value of the company and its subsidiaries, joint ventures and associates, and that the board will take all necessary steps to achieve that, he said, adding they were briefed in detail by the legal advisors on the current issues.
The board also elected Vineet Nayyar, who was the government's turnaround man for Satyam, as the vice-chairman and managing director, subject to the NCLT approval.
That apart it elevated director Nandkishore as the chairman of the audit committee apart from appointing GN Bajpai as the head of the stakeholder relations committee.
When asked about a turnaround plan, Kotak the board is evaluating various options.
"As the new board, we are responsible not for the decisions taken earlier by whichever party. Our job from here is to act in the interest of various stakeholders. We have to ensure that we do it fairly and we rebuild trust".
"In times like this, what is most important is clarity that we can bring in because what really affects the markets more than anything else is uncertainty, but at the same time we don't want to preempt that clarity without really getting a clear picture.
"My message to all stakeholders is that we will do what is in the right interest of all stakeholders. We are here to rebuild trust and do it in an open, fair and objective manner," Kotak said, adding NCLT order requires us to give a roadmap by October 31.
Hinting that resolution will take time considering the large maze that the company has become he said, "in all fairness it will take us longer time and we are evaluating various options. Our priority is to preserve the fair value of the assets and the enterprise to the maximum extent we can do and obviously find a fair resolution mechanism."
Nayyar, who was at the helm for the scam-hit Satyam Computers, said ILFS and Satyam are like chalk and cheese. "In case of Satyam, it was a simple case of felony. The person stole the money and forged the accounts.
"But IL&FS is more complex. There is no evidence of any sort of felony so far. On the other hand putting it back on feet will require efforts and therefore you may not have such a clear cut solution as there is complexity at multiple levels. But hope we can come out with a solution," he said.
| Edited by: Padmaja Venkataraman
Read full article
Next Story
Next Story
Also Watch

IPL 2019: KXIP Vs KKR, Can Russell And Narine Push KKR To Semifinals?

Live TV
Countdown To
Elections Results
To Assembly Elections 2018 Results