With Eye on Elections, Shivraj Singh Chouhan Budgets for Madhya Pradesh's Harried Farmers
With an aim to rein in farm discontent in the election year, the budget plans to pump in huge investments into farming and related sectors including Rs 1,000 crore for Bhavantar Bhugtan, Rs 2,000 for crop insurance, Rs 3650 crore for Krishak Samriddhi Yojaya and others.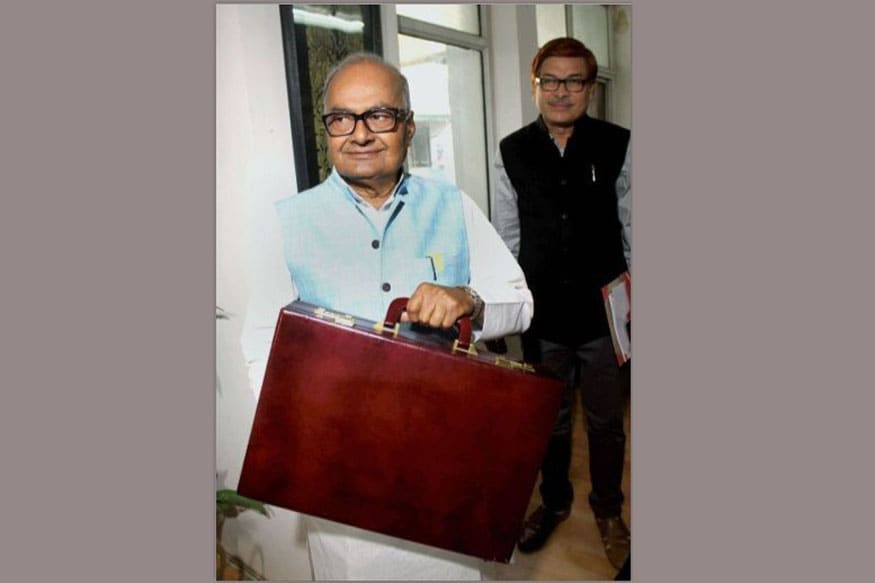 Madhya Pradesh Finance Minister Jayant Malaiya leaves from his residence to present the Annual Budget 2018-19 in the Assembly, in Bhopal on Wednesday. (PTI Photo)
Bhopal: The poll-bound Shivraj Singh Chauhan government in Madhya Pradesh presented a please-all budget on Wednesday that mostly focuses on quelling the rising discontent in villages with a slew of sops to farmers.
The farm sector got a budgetary allocation of Rs 37,498 crore, though the state's Finance Minister Jayant Malaiya did not make any provisions for farm loan waiver as he presented fifth and last budget of the Shivraj government.
With an aim to rein in farm discontent in the election year, the state plans to pump in huge investments into farming and related sectors, including Rs 1,000 crore for Bhavantar Bhugtan, Rs 2,000 for crop insurance and Rs 3650 crore for Krishak Samriddhi Yojana.
With the farmers reeling under bad loans and falling farm prices, there were vehement demands of farm loan waiver in MP on the lines of UP and Maharashtra - both BJP governed states.
The Shivraj government, in a surprise move, levied a 1 per cent cess on petrol and diesel, paving the way for more inflation. The MP cabinet had approved a bill to this effect a couple of months ago to raise around Rs 350 crore for the development of infrastructure in the state.
The Rs 2,04,642 crore budget was the biggest ever budget in Madhya Pradesh with fiscal deficit standing at 3.24% of the GDP.
Additionally, the Panchayat and Rural Development ministry got a budgetary provision of Rs 18,165 crore while urban infrastructure would be boosted with an allocation of Rs 11,932 crore to Urban Administration and Development department.
For facelift of crumbling roads and bridges, the budget has an allocation of Rs 8,780 crore for the Public Works Department (PWD).
School Education has an allocation of Rs 21,724 crore while the higher education would be boosted with funds to the tune of Rs 281 crore and Technical education with the provision of 210 crore.
The MP government would pump in Rs 687 crore into investment promotion in industry sector while Rs 200 crore would be spent on infrastructure development.
"It's populist yet balanced budget. Rs 855 crore under Investment Augmentation Assistance promise return of industrialists at certain percentage of taxes paid by them. Rs 800 crore under infrastructure maintenance and development is little less but seems decent. Rs 1501 crore provisioned under skill development would definitely boost availability of skilled labourers for industries," Pithampur Industries Association president Gautam Kothari said.
RG Dwivedi, head of PHD Chamber of Commerce & Industries, flayed the budget, saying the stamp duty wasn't lowered and cess of petrol and diesel was a bad move.
Leader of Opposition, Ajay Singh, criticized the budget, saying BJP only remembered about households with no electricity after 14 years of rule and introduced Saubagya Yojana for such households now in election year. "The Shivraj govt keeps increasing budgetary provisions but has no control over expenses and execution of programmes."
"In 2003, MP had public debts of Rs 26,000 crore which now stand at Rs 1.85 lakh crore," Congress MLA Jitu Patwari alleged, saying the situation of farmers has not improved in 14 years.
However, CM Shivraj Singh Chouhan claimed that it was farmer-centric budget which had something for every section. "The budget takes care of requirements of the poor including roti, kapda, makan, shiksha and dawai." Heavy allocation of farming and related sectors would lead to surge in growth rate and per capita income, he said.
| Edited by: Bijaya Das
Read full article
Next Story
Next Story
Also Watch

IPL 2019: KXIP Vs KKR, Can Russell And Narine Push KKR To Semifinals?
Live TV
Countdown To
Elections Results
To Assembly Elections 2018 Results