There is a special place in hell for bosses who make their minions work on a Sunday. That special place is office. And that is why he sends the employees there. Here are ten things that every eternally damned soul can relate to when they have to go to office on a Sunday.1. Cancelling plans with friends and familyPlans were made. Excitement was felt. Then you got a call that you need to be at office.
2. Friends blame you for itI mean how the hell is it my fault? I'm the victim here
3. Office is a ghost townOf course it is. Others have better excuses than you.
4. Dealing with mom'Paise bhi nahi dete aur jab marzi bula lete hai! Yeh kaisa office hai?' Or 'Poora office tu akele samhalta hai?' Which one do you get to hear more often?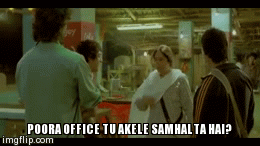 5. Not being able to party too much on Saturday NightYou pray that you don't end up drinking too much
6. Otherwise you're like this at office
7. ADIDAS: All Day I Dream About SleepCause that's what people do on Sundays for crying out loud!
8. Avoiding Social MediaBecause you'll see all your friends and family members having their fancy lunches on Instagram, and checking-in on Facebook
9. The Office Canteen is shutWhat the hell is this? Everyone gets an off on Sunday!
10. No one left to party with, after the day is doneKyunki kal Monday hai