Ever since the Internet arrived, women have been the targets of trolls-- they face a steady, and brutal harassment almost every day.  While one may argue that men too get trolled online, but they are not told that they deserve to be *beep* through their *beep*. You can fill in those *beeps* with choice of cuss words, and threats of sexual violence.
And too often, celebrities have the worst. They face criticisms for wearing purple lipstick, insulted for being too thin or not too thin, abused for taking a stand, and threatened because their opinions don't match with the army of faceless online trolls on the Internet.
But guess what? Women, after all, are not helpless. Here are the times when female celebrities showed the world that they won't take any sh*t.
Mithali Raj

Captain of the Indian women's cricket team, Mithali Raj is as fierce online as she is on the cricket field.
When Mithali posted a picture with fellow cricketers Nooshin Al Khadeer, Veda Krishnamurthy, and Mamatha Maben, a Twitter user pointed out that her sweaty armpits looked odd.
The user named Ashim Das Choudhury (@ashimdchoudhury) wrote, "sorry Smt Captain, hahaha odd looking. the fasina wet."



What a momentous day today was, standing with these special women!!@MabenMaben @AlNooshin @vedakmurthy08 pic.twitter.com/EsNwRN2G7N


— Mithali Raj (@M_Raj03) August 20, 2017
To which Raj gave a befitting response saying: "I m where I m because I sweated it out on d field! I see no reason 2 b ashamed f it, when I'm on d ground inaugerating a cricket academy."
I m where I m because I sweated it out on d field! I see no reason 2 b ashamed f it, when I'm on d ground inaugerating a cricket academy. https://t.co/lC5BOMf7o2 — Mithali Raj (@M_Raj03) August 20, 2017
In another incident, the captain was applauded by one and all for her apt response to a sexist question, asked by a reporter during the pre-event dinner of the 2017 ICC Women's World Cup.
When asked who her favourite male cricketer was, Mithali shot back by asking, "Do you ask the same question to a male cricketer?"
"I have always been asked who's your favourite cricketer but you should ask them who their favourite female cricketer is," Mithali questioned the reporter in response to the patronizing question.



Superb response from Indian skipper Mithali Raj. Asked by a reporter who her favourite male player is: "Would you ask a man that?" 👊🏻 #WWC17 pic.twitter.com/RqgVLzXp46


— Adam Collins (@collinsadam) June 22, 2017
Saina Nehwal
Photo credits: PTI
Things did not quite go Saina Nehwal's way in Rio Olympics when a 61st-ranked Maria Ulitina of Ukraine defeated her in her second match. This heartbreaking defeat linked to the knee injury that got Nehwal admitted to a hospital in Hyderabad upon her return from Rio. During the same tournament, India discovered another badminton superstar in PV Sindhu who defeated Japan's Nozomi Ukuhara to enter the badminton finals, winning a silver medal eventually. Following Sindhu's entry into the finals, Nehwal's "fan" decided to troll her. He said:
@NSaina dear saina...pack ur bags..we hav found someone who knows how to beat the best ones — ANSH... (@ImAnshS6) August 18, 2016
But true sport that Saina is, she had a dignified reply for him. She said:



Sure thank u 😀Sindhu is doing really well 👍India is doing really https://t.co/7Sf2rztear


— Saina Nehwal (@NSaina) August 18, 2016
Thankfully, that was enough for the troll to see the error of his ways. He replied:
sorry for hurting u ..i really didnt mean it..i still love u...still a big fan — ANSH... (@ImAnshS6) August 18, 2016
True Champ.



No problem my friend 👍all the best to u https://t.co/peMdJaJ4Rs


— Saina Nehwal (@NSaina) August 18, 2016
Priyanka Chopra
Padma Shri recipient and UNICEF Goodwill Ambassador knows how to shut the trolls with kindness. Last year, Priyanka Chopra got slammed on social media for not being "decently" dressed and sitting in a disrespectful posture during her meeting with Prime Minister Narendra Modi in Berlin.
PeeCee who was promoting her movie
Baywatch
in the city, took to Twitter to share a picture with the prime minister.
Thank you for taking the time to meet me this morning @narendramodi Sir. Such a lovely coincidence to be in #berlin at the same time. 🙏🏼🇮🇳 pic.twitter.com/vLzUSH5WR1 — PRIYANKA (@priyankachopra) May 30, 2017
But for some strange reasons, some people were not happy about the meeting. Priyanka was wearing a dress when she met the prime minister and the
sanskaari brigade
decided to shame the actress.
They slammed her for not covering up her legs and wearing "decent clothes". Some even found her posture "disrespectful".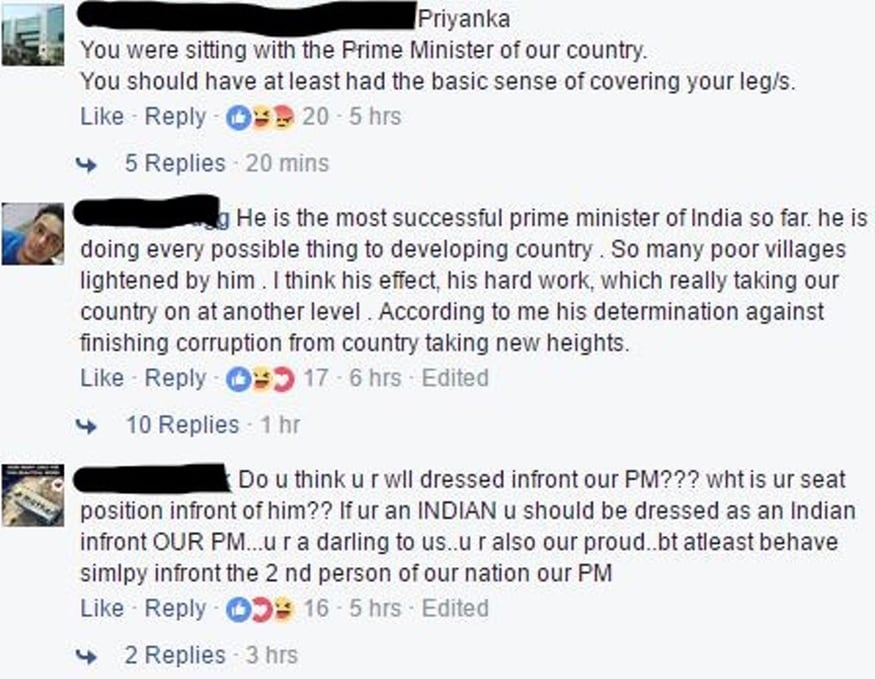 Priyanka decided to give it back to the trolls in the most cheeky way. The actress shared a picture on her Instagram and Facebook page by roping in her mom while "showing off" 'em legs.


Mayanti Langer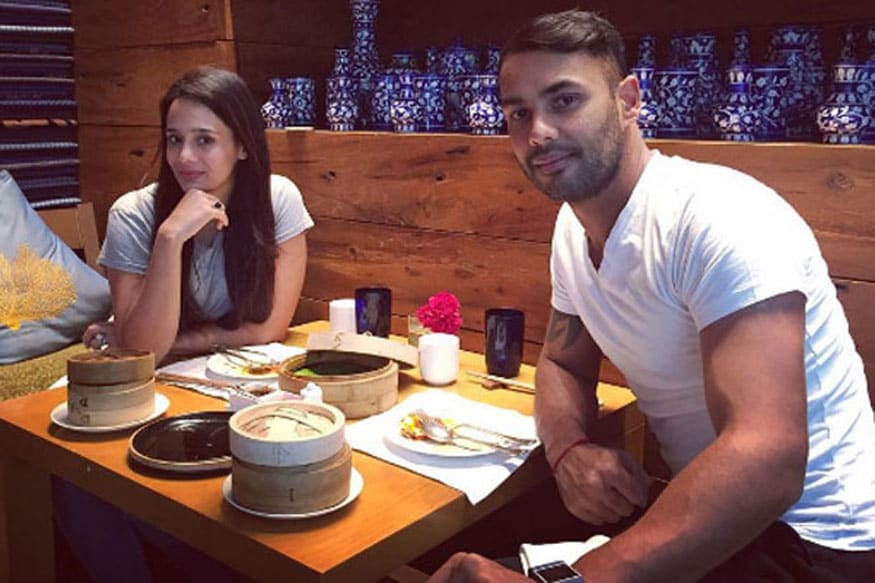 The son of former India cricketer Roger Binny, all-rounder Stuart Binny has had it mostly rough ever since he came into the limelight after being selected to play with the IPL team, Rajasthan Royals. Binny has had a career of mostly downs and his inconsistent performances with the Indian cricket team have come in for a fair bit of criticism. And, sadly, Indian fans have never shied from blaming players' partners for their poor performance on the field. Just ask Anushka Sharma. Mayanti Langer Binny, TV sports host, journalist and Stuart Binny's better half, has also been pulled into trashy jokes on several occasions for her husband's off days on the field. That's when Mayanti decided to give it back.
pic.twitter.com/V8nOcje893 — Mayanti Langer Binny (@MayantiLanger_B) September 1, 2016
Tapsee Pannu
Taapsee Pannu who starred with Jacqueline Fernandez and Varun Dhawan in
Judwaa 2
took to the microblogging site promote the film.
Pannu posted a couple of stills from her song, "Aa Toh Sahi". She was wearing a bikini in the photos.



"When you are against the tide, it's YOU who needs to stand up for yourself......But don't forget the smile " #Judwaa2 #AaTohSahi pic.twitter.com/qIimdBSkHY


— taapsee pannu (@taapsee) September 13, 2017
Body-shamers wasted no time in letting Pannu know how they felt.
Pity on you. Be a good girl and make your parents proud — Fangirl_thiru (@Be_You_tiful_S) September 13, 2017



thuuu


— joseph vettri (@Vettri44448707) September 13, 2017
Twitter user MerajAli tweeted to her saying: Km se km social media pe aisi gndi pic mt upload kriye...gndi gndi movie bna ke desh ki young pidhi ko to brbad kr hi rhi h aaplog... Taking notice of two offensive responses (deleted), the actor decided to put the trolls in their place.
Gndi??? I knew I should've washed that sand off me. Next time I will take care. I 'aaplog' for that https://t.co/291ePztnlP — taapsee pannu (@taapsee) September 13, 2017
Another user, Vijay Morsh, tweeted:
"In our country, we have freedom of expression, so why don't you remove the remaining clothes also. Your brother must be feeling proud of you after watching this."
To which Pannu responded:



Sorry Bhai hai nahi varna pakka puch ke bataati. Abhi ke liye behen ka answer chalega ???? https://t.co/Snv6dlNhWj


— taapsee pannu (@taapsee) September 13, 2017
Masaba Mantena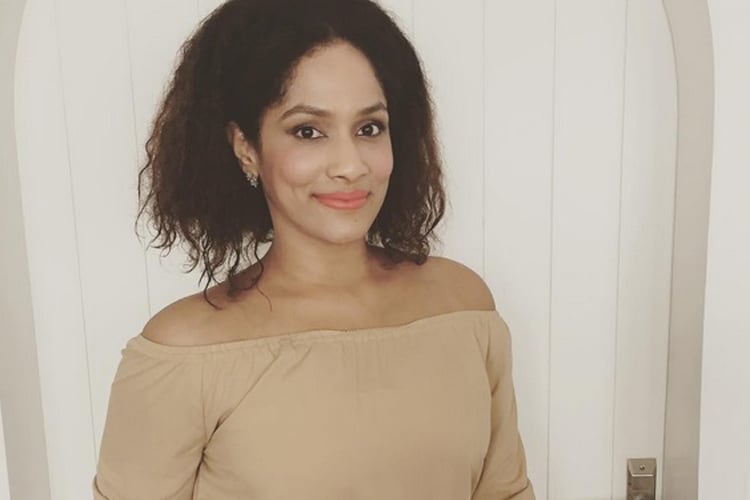 Ace designer Masaba Gupta, daughter of West Indian cricketer Viv Richards and Indian actress Neena Gupta, found herself to be the target of trolling last year. While many celebrities shush up during times like these, Masaba decided to give it back to the trolls in a dignified manner. The designer, who is known for her quirky creations, took to Twitter and posted an open letter. It all began after Masaba shared her opinion on Supreme Court's decision to ban the sale of firecrackers in Delhi and the National Capital Region with immediate effect. "Recently I retweeted in the support of the Firecracker ban by the Supreme Court and like every other issue in this country, big or small.. The trolling & bashing began," her tweet read. She wrote that terming her with names like "bastard child" or "illegitimate West Indian" only makes her more proud of all that she's achieved.
pic.twitter.com/VRwKk8sQPm — Masaba Mantena (@MasabaG) October 12, 2017
Sonam Kapoor

Bollywood actress and fashionista Sonam Kapoor was trolled for "revealing too much" when she sported a black Rosario Atelier ruffled-sleeve jumpsuit for an event last year.
Sonam was called names and slut-shamed for donning an attire that was deemed inappropriate.



Only if we gave more importance to women security in this country not what they wear. @sonamakapoor you go girl bold & beautiful. 🙌 pic.twitter.com/ZBTzPUgSxv


— Shazmeen Kara (@shazmeenkara) March 3, 2017
She later took to social media and said that the photographers went out of their way to take certain shots of her, but she couldn't care less as she is proud of her body.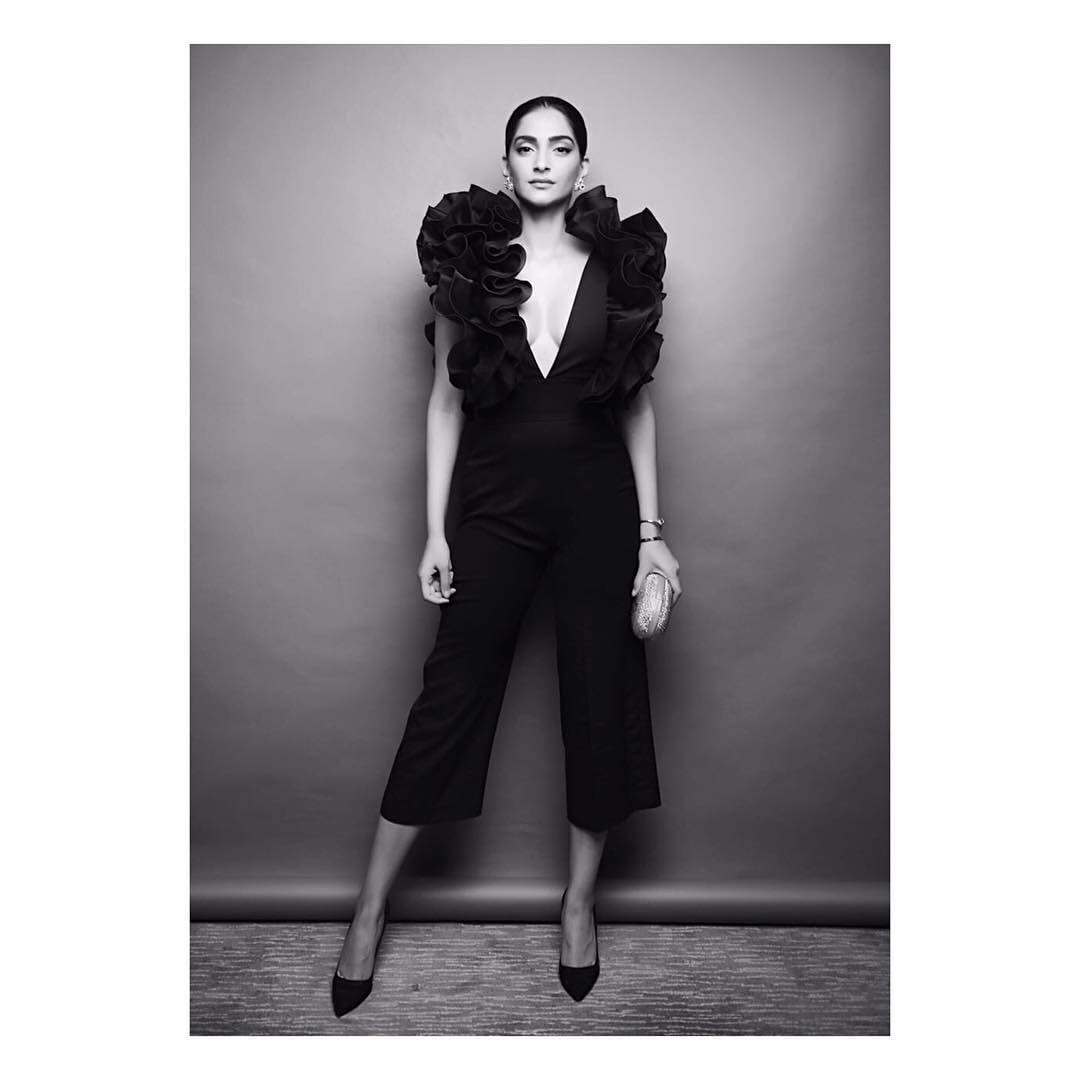 credits: @RASARIO / Instagram
sexist nonsense. The photogs went out of their way to take these pics.. and frankly I don't give a damn,I'm proud of my body! https://t.co/zryjBBYI6B — Sonam Kapoor (@sonamakapoor) March 3, 2017
Aneri Vajani

The
Beyhadh
actress Aneri Vajani who plays the role of Saanjh had probably not anticipated that she would join the lengthy list of celebrities who have been body-shamed on social media for wearing skimpy clothes.
"When you own your breath nobody steals your peace. Happy Yoga Day," she wrote while posting her photo on Instagram.


"Kitna gandha body hai," wrote one user in comments while another added, "I understand m a skinny too but this is extreme babe! Get some supplements." Unfazed, Vajani hashtagged her response with #MyLifeMyRules in a post on Twitter and asked trolls to take a "chill pill".
#MyLifeMyRules! pic.twitter.com/9WAsJG0YMs — Aneri Vajani (@aneri_vajani) June 20, 2017
Shama Sikander

Actress Shama Sikander, popularly known for her character in Vikram Bhatt's web series, Maaya, slammed the body-shamers and slut-shamers who are a regular in her comments on her Instagram account.
Soaking in the sun, Sikander shared photos of her relaxing on the beach.


Following the barrage of sleazy comments, Sikander had the perfect response. "A woman has BOOBS...that's what makes her different than men and I'm grateful that I'm a woman and a blessed one indeed. Yes "I HAVE BOOBS" and nice ones indeed.. they are "juicy" and also are "melons " or whatever else you prefer calling them. I think it's time for all those TROLLS who like to give my body parts names like these to get over it and move on in life. They're mine and I love them... #BodyShaming #NotTolerated #RespectWomen #LoveForBikini," she wrote.



Parvathy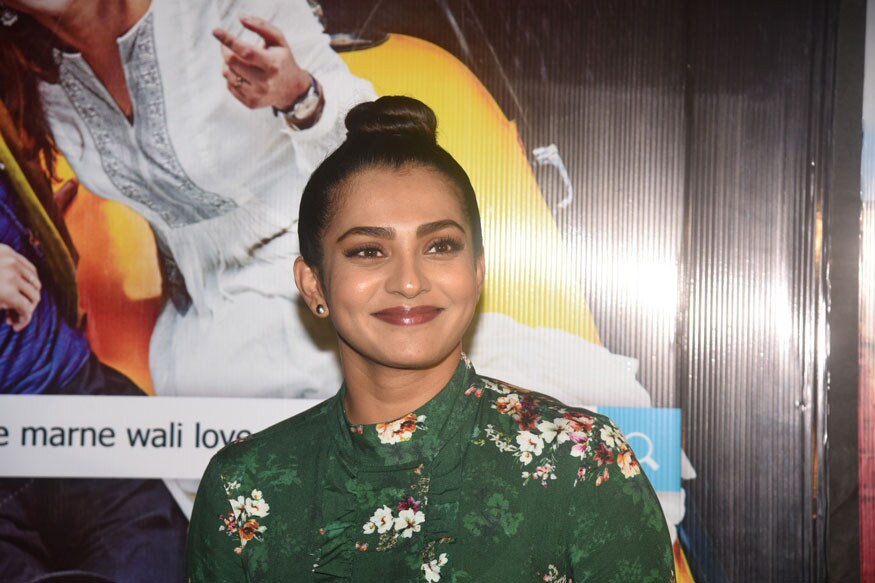 Photo credits: Yogen Shah

She had been at the receiving end of attacks on social media ever since she spoke out against misogyny in the Malayalam film
Kasaba.
 But actor Parvathy gave it back to a director who insinuated that she thought of principles only after she became famous.
Malayalam director Jude Anthany Joseph put up a post on his Facebook account on Monday saying, "A monkey managed to get into circus and obeyed whatever the master said. It ran, it jumped, it rolled. Finally it becomes good, famous and then starts abusing all the circus masters. Laments that the masters exploited the monkey. The monkey could have very well abandoned the circus and gone back to the jungle. But who will know the monkey then?"
After social media users slammed the director for his insensitive post, Parvathy herself took to respond to Jude in a subtle manner.
Though Jude did not take any names it was evident what he was getting at.
Parvathy who debuted in the Malayalam film
Out of Syllabus
in 2006 later went on to deliver big hits such as
Ennu Ninte Moideen
and
Takeoff
as well as played the female lead in the Dhanush starrer
Marya
n in Tamil and the Bollywood release
Qarib Qarib Singlle
.
But Parvathy had an even bolder reply – without taking any names – to all the "circus owners". "OMKV" she tweeted back, which in Malayalam trollspeak is roughly equivalent to "bugger off".



To all the circus muthalimaar!!! #feminichispeaking pic.twitter.com/sTVtz6rldE


— Parvathy T K (@parvatweets) December 18, 2017
Mallika Dua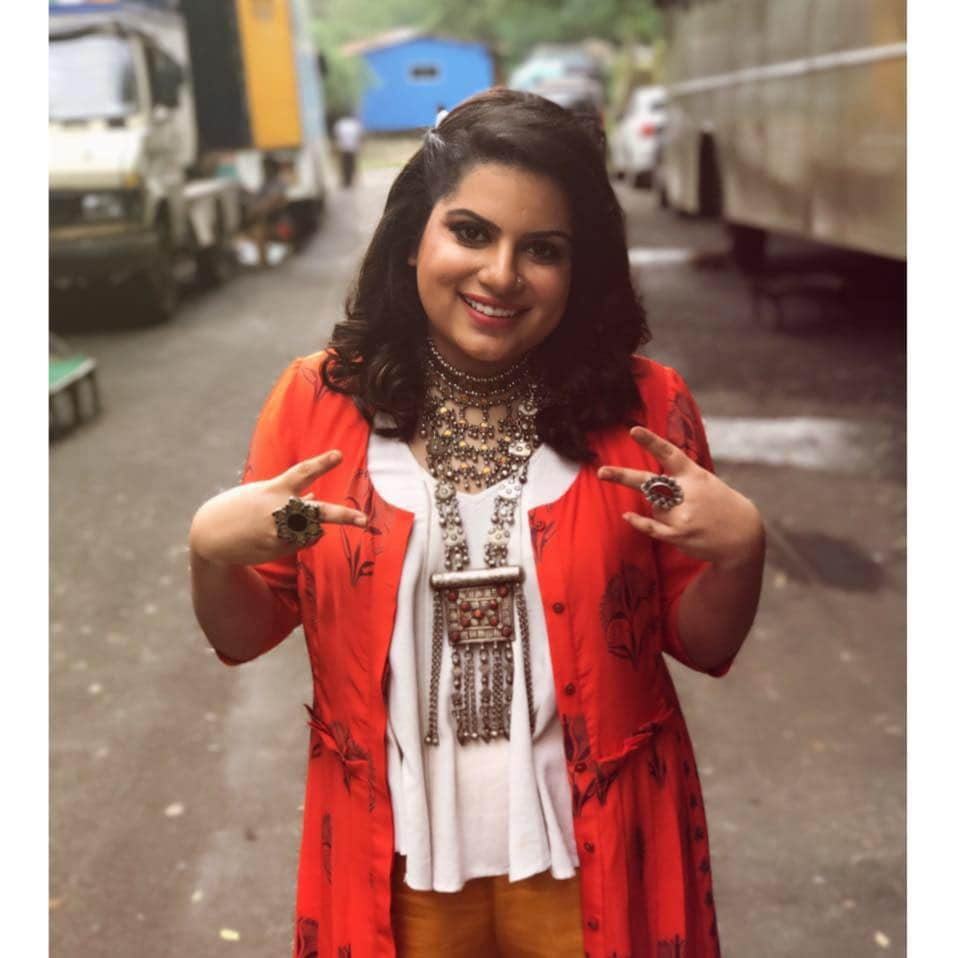 Photo credits: Mallika Dua / Facebook
Comedienne Mallika Dua's father and journalist Vinod Dua slammed superstar Akshay Kumar for making a vulgar remark at his daughter. "I am going to screw this cretin Akshay Kumar for telling his co-worker Mallika Dua that 'Aap bell bajao, main aap ko bajata hun' (You ring the bell, I will bang you)... This is his sense of humour and language... Star Plus... Wake up," Vinod wrote on Facebook. He posted alongside it a clip from the shoot of popular comedy show "The Great Indian Laughter Challenge", in which Akshay made the remark.
Unacceptable behaviour! Male actors still get away with making sexually colored remarks under the guise of 'comedy'. #MeToo  @MallikaDua pic.twitter.com/IwZLS9XQMB — SheSays (@SheSaysIndia) October 25, 2017
Mallika also shared the clip on the social media site and wrote: "Hey! Quick question. Does anyone find 5:26 funny? Charming? Entertaining? Family entertainment. GEC."



Sorry to quash your hunger for sensationalism but Facebook and perhaps a copyright claim had it removed. Find something better to do. pic.twitter.com/c9zwEslJgA


— Mallika Dua (@MallikaDua) October 26, 2017
Soon, the troll brigade - Akshay Kumar's fans - came out in full force on the microblogging site, making bizarrely sexist comments while calling Dua a hypocrite because of her appearance in a popular All India Bakchod (AIB) video "If Apps Were People," where she had played Tinder Aunty.
This is u, right? U r kicked out from the show. Now u r seeking for public's attention by @akshaykumar name. Shameless. pic.twitter.com/8EbCoSfahg — Swagger Khiladi🙏 (@Kattar_Akkian) October 25, 2017
Writing for The Quint,
Dua addressed the troll attack. She wrote, "I've had the good fortune of being virtually puked on by Akshay Kumar's hooligan-ish fans for over 24 hours. It seemed less like fans supporting their idol and more like a bunch of men scramming to protect their licences to speak to women inappropriately and get away with it. "Itna mazaak toh chalta hai". Oh, well.'
In the piece, Dua wrote, "This isn't about Akshay Kumar. This is about every big Bollywood star and every other big shot, who cannot tell the difference between charm and harm. This is about every big celebrity who thinks his colleague enjoys being grabbed by the waist and twirled without her consent. This is about workplace etiquette for everybody, men and women included, and about understanding the idea of professional communication so we don't make someone uncomfortable in their place of work, unintentionally or otherwise."
Salute!
#BeingAWoman is a special series to celebrate womanhood in today's India on the occasion of International Women's Day 2018.