11 years of 'Grey's Anatomy': What roaming the corridors of Grey-Sloan Memorial has taught us
Does seem like a lifetime back when we first watched Shonda Rhime's Grey's Anatomy, right? You may be pretty close to the truth though; it has been a good 11 years since we first got a peek into Shondaland. A roller coaster of emotions, Grey's has made us laugh, cry, despair and burst into 30 second dance routines. As far as shows are concerned, Grey's is our hearts wrapped in a package in the hands of a toddler, about to be ripped off anytime.
Over the years, here are a few things Grey's Anatomy has taught us.
Relationships are tough
You may fall in love with someone dreamy (McDreamy), crazy (Izzy) or bisexual (Callie), but there is no reason why it will be a smooth ride ever after. From abandoned weddings, post-it weddings to weddings-right-before-you-die, we have seen it all in this show. But more than the interesting ceremonies, it has been the relationships which have been tough, to handle and to watch. From the perfect lead pair of doctors Meredith Grey and Derek Shepherd, who by the end of last season, had become as angst-ridden and bitter as any couple could possibly get to the dream lesbian couple Callie and Arizona, who couldn't save their marriage no matter how hard they tried. Count in April and Jackson's diametrically opposite beliefs ruining their chemistry to Alex and Jo's now hot now cold relationship, bonds at the Grey-Sloan Memorial Hospital have broken, mended and broken time and again.
Gives one lots of perspective on how to really tread on this path, no?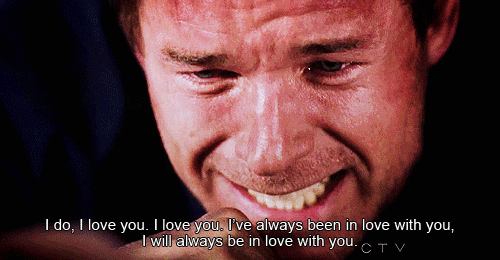 My Person is more important than my partner
Christina Yang and Meredith Grey epitomise friendship in a unique way. Real life bonds now have great standards, thanks to these two and their insane level of understanding. They called a spade a spade, sometimes at the cost of hurting each other but their friendship was brutally frank with no beating around the bush. That is what friends are supposed to do anyway, right? And remember Christina's words, 'You are the sun, don't let him eclipse you.' Christina believed in Meredith way more than Derek possibly did and that is why she was Mer's person, more important than a partner, more important than family.
And when life brought them down or when they got ridiculously high, a thirty second dance party was all it took.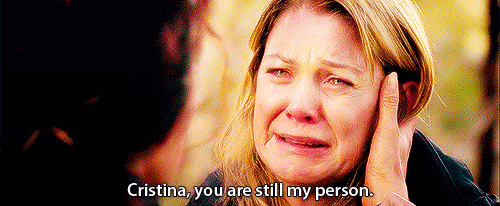 Being pissed off is okay
As all Grey's loyalists know, the show's lead characters have been pretty much pissed-off about everything, especially in the last two seasons. Pissed at husbands for making decisions for them, pissed at wives for leaving without notice, pissed at partners for cheating, for speaking where they had no business to being super pissed at biological fathers they didn't know existed. And they have been pissed without being apologetic for their behaviour.
Obviously, the show runners want us to know it is okay to be angry, to say what we feel, to express point blank what we think without sugar coating them. In the show, being pissed-off has helped better some issues and totally ruined others. But hey, we are giving full points for honesty here.
Everyone is fighting a personal battle
We hear that often but don't really get what it means. Watch one (or a hundred) episodes of Grey's and you will get the message clearly enough. Here is an example: Meredith Grey had a difficult relationship with her mother throughout and that lead her to believe she was just average, thanks to the many taunts of her genius doctor mom. Later, she fell in love with a married man and was under the shadow of his beautiful and talented ex-wife for a while. Grey later learned of her mom's affair with hospital chief Dr Richard Webber and also found out she had not one, but two step sisters. She even lost 'her person' Christina Yang to a higher calling. By the end of last season, she had a strained relationship with her husband (once called McDreamy!) and eventually, lost him to an accident.
This year, Mer has been bashed into a coma by an out of control patient and has just recently recovered. Phew! And this is just one character in the show. When you count in all the things every other character is dealing with, from alcoholism, PTSD, drug addiction, divorce to death, you realise a hard and cold reality: everybody is waging a personal battle. No one is super human and it is okay to be a little broken. As the actress who plays Dr Stephanie Edwards in the show calls it in an interview, 'its messy humanity'.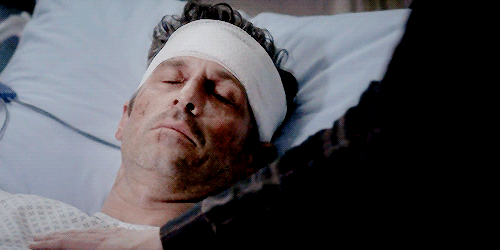 Get the best of News18 delivered to your inbox - subscribe to News18 Daybreak. Follow News18.com on Twitter, Instagram, Facebook, Telegram, TikTok and on YouTube, and stay in the know with what's happening in the world around you – in real time.
Read full article