12 Times Women Were Angry In 2017. And, They Should Have Been
If we were to summarise this year in two words, it would be: Angry women.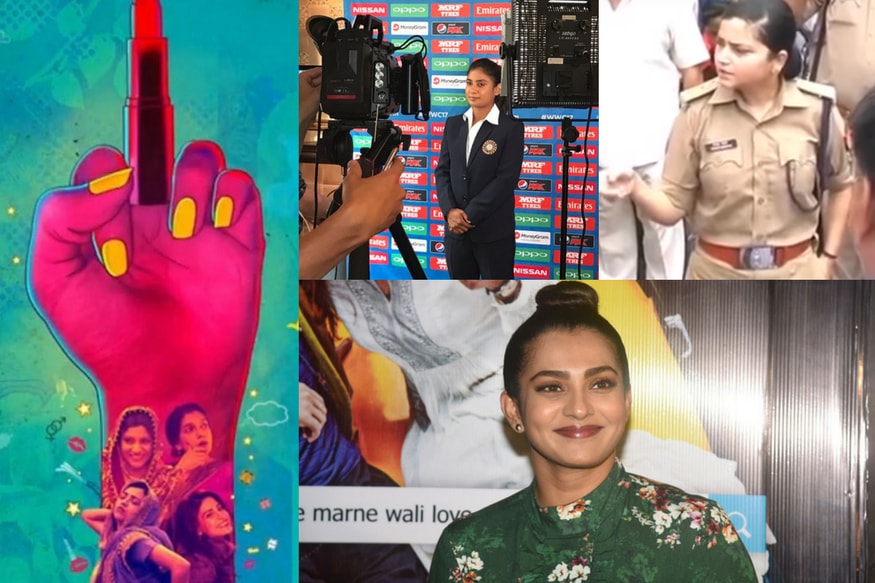 If we were to summarise this year in two words, it would be: Angry women.
An hour after I changed my Facebook profile picture, I got a message. "You look prettier when you smile," read the message from Mr D. Needless to say, I wasn't smiling in my picture. We had virtually met about three weeks ago on a dating app but never happened to meet. That message made sure we never went out for a coffee. Or, anything.
Ask any woman, and they will tell you how often they are asked to smile, even when they have absolutely no reason to. "Smile more, it's the best make-up you can wear", "Hey, give me a smile!" "Keep smiling" etc etc and etc.
Well, we won't. The idea in asking someone to smile may seem harmless, but it's extremely uncomfortable. I mean what if you are having a bad day-- perhaps you are having severe cramps, or maybe you are late for work, or you just don't want to smile? I mean, we are not crazy, dear menfolks! And yes, we don't care if not smiling makes us look not pretty, according to your dictionary. We have too many reasons to not smile, and boy, we proved that in 2017.
If we were to summarise this year in two words, it would be: Angry women. For once, women across the world came together through protests, movements, hashtags, speeches and even lists to tell men across the world: "Be afraid of us, very afraid."
Here are the times women were angry this year.
1. When women wore pussyhats to protest against Trump
On January 21th, 2017, history was made when thousands of women (and men) walked the streets in response to the newly elected president Donald Trump and his administration. The march was intended to send a message to the White House: Women's rights are human rights, and women and minorities have a voice that will not be silenced. Meanwhile, yarn shops probably ran out of pink thread after the overwhelming demand to make pink pussyhats.
2. When a bunch of women revealed the ugly truth about a Hollywood mogul
It took a lot of courage and a hell lot of anger for the women to come forward and publicly accuse Harvey Weinstein—a Hollywood mogul known for his Oscar winning films—of sexually harassing them. New York Times dropped a bombshell report detailing "decades" worth of sexual harassment allegations against Weinstein. Later in the year, the Time Magazine recognized these numerous women and men as the 'Person of the year'. In an interview to Time, Taylor Swift said she was made to feel bad about the consequences that her harasser faced. "When I testified, I had already had to watch this man's attorney bully, badger and harass my team, including my mother… I was angry."
3. When women dropped the #MeToo truth-bomb
When thousands of women, including Indians joined the #MeToo movement on Twitter and Facebook, sharing their experiences of the times they have been harassed and assaulted. For once, the world and the country knew that sexual harassment isn't limited to some. It isn't about age, it isn't about what you wear, and it isn't about what time you step out of your home. It happens everywhere, even in safe spaces.
4. When we kicked out our own Harvey Weinsteins
Three months after allegations of sexual harassment surfaced against The Viral Fever's (TVF) Arunabh Kumar, he stepped down as the CEO. He had to. When the controversy first broke -- in the form of an anonymous blog recounting how Kumar allegedly harassed a woman employee -- TVF and Kumar himself had brusquely dismissed all allegations. "I am a heterosexual, single man and when I find a woman sexy, I tell her she's sexy - but this is only done in my personal capacity. I compliment women in my personal space and not at the workplace. Is that wrong?" Kumar had said. You possibly can't point a finger at misogyny and be applauded for it, when you're yourself responsible for it. Eventually, Kumar stepped down, saying he has been "mentally and emotionally drained".
5. When a lady cop took on local BJP leaders for violating traffic rules
DSP Shrestha Thakur proved that women in uniform are not to be messed with. In a video from Uttar Pradesh, that went viral, Thakur is seen confronting BJP city president Mukesh Bhardwaj and other party workers. This was after the police fined BJP worker Pramod Kumar for riding a motorcycle "without any documents, number plate and helmet." With a group of men surrounding the cop, you would Thakur would be scared. She wasn't. A fortnight later, she was transferred.
6. When Mithali Raj taught how not to interview a sports star
Too often, female athletes are asked questions that have very little to do with their game. A substantial chunk of narrative in coverage of female sportswomen is still based on her physique, her outfit, her traditional gender roles and worst of all, as a counterpoint to the men's game. So when Indian women's cricket team captain Mithali Raj was asked to name her favourite male cricketer, her response was- "Do you ask the same question to a male cricketer?"
7. When the South Indian film industry decided enough is enough
Following the abduction and sexual assault of a popular Malayalam actress in February 2017, the doors were wide open to conversations on sexism and discrimination. South Indian actresses understood that this is their moment to speak out. And, they did. It was the tipping point.
The consequences of pissing off men in the south Indian film industry can be huge. But, this time, they didn't care.
At the audio launch of her move, Tamil actor Jyothika casually slammed directors for their sheer hypocrisy saying, "Physically, you won't give your heroines the kind of dresses the women in your homes would wear, but at least, mentally give them roles with some intelligence."
Actor Parvathy pointed out that a woman would never get a complex role like the dark-skinned Vinayakan in Kammattipaadam, a gangster movie starring Dulquer Salmaan, because of the industry's obsession with fair-skinned women. A few weeks ago, after the actor called out misogynistic lines in Mammootty's film, Kasaba, the abuses and trolling refused to stop. Despite the rape threats that Parvathy is getting, she has decided not stay silent. And no, she will not smile for you.
8. When Raya Sarkar started a list on alleged sexual predators, and it went viral
What started as an online list of Indian men in academia accused by women of repeated sexual harassment turned into a full form feminist movement in India. The list was compiled by law student Raya Sarkar who claimed to have gathered the names directly from students with the intention of warning other young women about sexual harassers. Later, another blogger Inji Pennu created a Google spreadsheet, inviting others to add names and include details such as the description of the complaint and the number of complainants. The list featured the names of 58 academics from 29 Indian colleges, research centers and universities.
9. When a woman from Chandigarh stood up to VIP stalkers
We met a lot of feisty women this year, and Varnika Kundu will be somewhere on top of that list. Varnika will be remembered as the feisty young woman from Chandigarh who dared to take on her VIP stalkers. Vikas Barala, the son of Haryana Bharatiya Janata Party chief, and his friend Ashish had stalked and intimidated Varnika and tried to abduct her on the night of August 4-5. Varnika made sure they were arrested. She shut everyone down who tried to decipher why exactly she was stalked—was it because she was out at night? Was it because she was alone? Was it her clothes? To hell with the character assassinators. "If I let the fear stop me from living my life or let it define my life, then these guys have won," she said in an interview.
10. When women tried to send sanitary napkins to the country's Prime Minister
A student political party in Tamil Nadu, the Revolutionary Youth Front, was so upset about the government's decision to impose 12 per cent Goods and Service Tax (GST) on sanitary napkins, they decided to take matters in their own hand. As a mark of protest, they wrapped a bunch of sanitary napkins and tried sending it to Prime Minister Narendra Modi and Finance Minister Arun Jaitley. They were arrested before they could courier it.
11. When Lipstick Under My Burkha had a message for the Censor Board chief
After enduring a long tussle with the CBFC, when the film was allowed to release, it had a new poster out. The film, which explores the sexuality of four women, was denied a certificate by the Pahlaj Nihalani-led Censor Board for being too 'lady-oriented.' The final poster had a hand holding up the middle finger which is shaped like a lipstick.
12. When women made sure triple talaq is criminalized
This year, the long practice of instant triple talaq among some Muslims in the country finally came to an end after the Supreme has ruled it 'unconstitutional'. And, it was all made possible by some very angry women. The ruling was made after five women petitioned the court, arguing that the practice, which allows a Muslim man to divorce his wife in minutes merely by repeating the word "talaq" (divorce) three times, was a violation of their fundamental rights.
You will never guess how furious the wom are around you, until you ask them. Because they may be seething with rage, but for years, they have been taught being angry is unwomanly. They've learned that nice girls don't get cross. Nice girls don't speak out or stand up for themselves. It's unbecoming. So, they smile. But hey, they are not going to do that any longer.
Get the best of News18 delivered to your inbox - subscribe to News18 Daybreak. Follow News18.com on Twitter, Instagram, Facebook, TikTok and on YouTube, and stay in the know with what's happening in the world around you – in real time.
Read full article