16 or 18? Different Age Restrictions on Pankaj Tripathi's 'Mirzapur' Has Left Redditors Confused
'There's no end to suffering.'
Pankaj Tripathi in a still from Mirzapur.
"The following program may contain content or language which may be inappropriate for people under 18 years of age. Viewer discretion is advised."
Movies, television shows, music videos, and now web series across the world undergo a rigorous content rating system to make them suitable for viewers of different age groups.
For instance, Indian movies and shows follow U (0-11), U/A (12-17) and A (18+) for children, teenagers, and adults respectively.
However, inconsistent and bizarre age restrictions put within a season of Pankaj Tripathi's web series Mirzapur left Redditors in a fix.
Spoilers ahead
Here's how it goes:
Episode 1 - 'Jhandu' (16+)
Episode 2 - 'Gooda' (16+)
Episode 3 - 'Wafadar' (18+)
Episode 4 - 'Virginity' (18+)
Episode 5 - 'Bhaukal' (18+)
Episode 6 - 'Barfi' (16+)
Episode 7 - 'Lions of Mirzapur' (18+)
Episode 8 - 'Tandav' (16+)
Episode 9 - 'Yogya' (16+)
Simply meaning that who weren't adult yet had to skip episodes 3, 4, 5, 7 because let's face it, they are good law abiding Indian citizens.
Pointing this anamoly out, Reddit user u/22prateek12 aptly titles his post by saying, "It sucks when you have to wait 2 years to watch the next episode. #Mirzapur"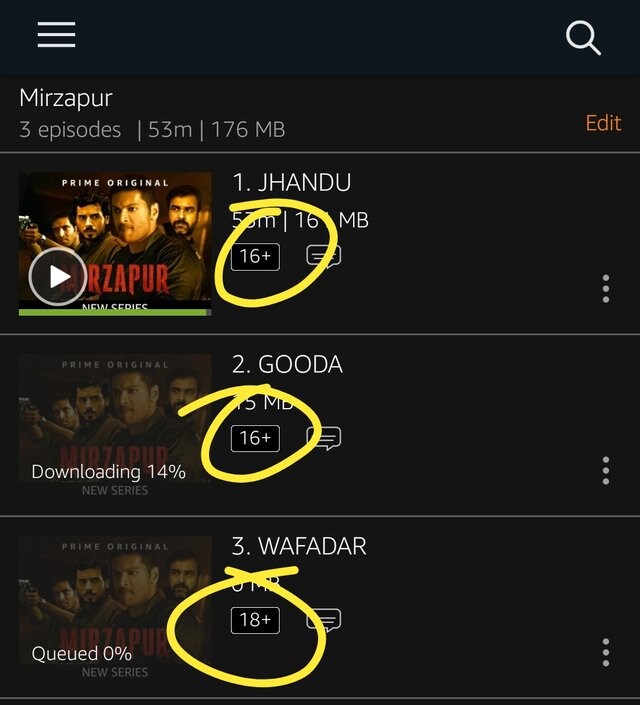 The post kicked off a hilarious conversation on the platform.
"Attack on Titan fans waited 4 years for season 2," wrote one user. "Think about Half Life 3," wrote another.
"Think about max payne 4 or any new prince of persia, there's no end to suffering.[sic]" "It gets really meh after 2nd episode."
Those who were 'adults' were critical of the show.
"Mirzapur is an attempt at building a game of thrones universe without the magic and the dragons, and while it has a great cast, the script is absolutely underwhelming, unbelievable, and unnecessary."
"In related note, I didn't like Mirzapur that much. They tried too hard to imitate Gangs of Wasseypur but kinda falls flat. Its too slow for my taste, the characters don't seem that strong, sex scenes seem forced with over the top moaning. They should've gotten better actors, and sped up the story just a tiny bit. It's still very good by Indian standards though. I haven't completed it yet, so can't really comment about the story line, but till episode 5 it's still just meh.[sic]"
In a review for News18, Rohit Vats wrote, "There is hardly anything to cherish in Mirzapur except Pankaj Tripathi, who is operating on an entirely different tangent than the others. In the end, it becomes a half-baked, unimaginative replica of Gangs of Wasseypur minus the fun."
You can watch the show here.
Get the best of News18 delivered to your inbox - subscribe to News18 Daybreak. Follow News18.com on Twitter, Instagram, Facebook, Telegram, TikTok and on YouTube, and stay in the know with what's happening in the world around you – in real time.
Read full article