GET Stock

Quotes


20 Tweets That Will Hit Indian Engineers Right in the Feels
The Software Engineer in me screams 'Cache koi mil jaaye'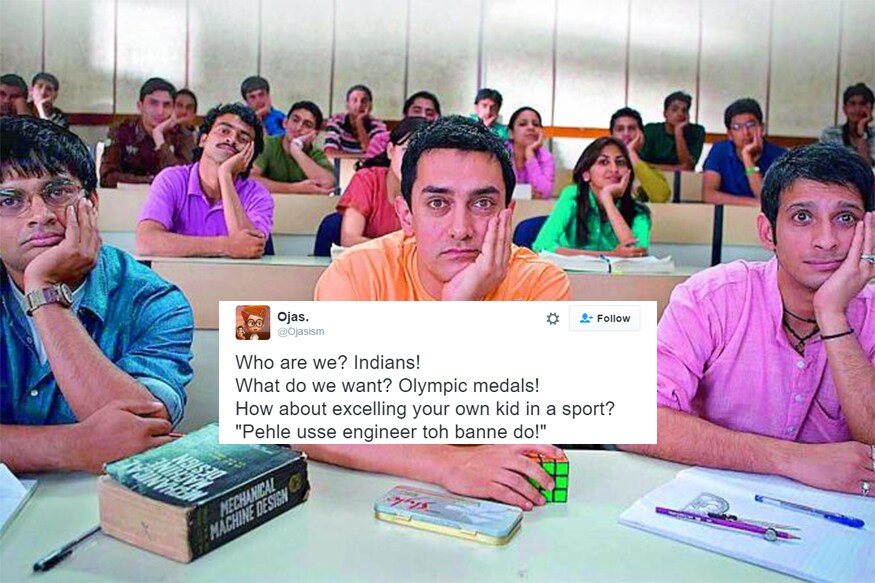 Image source: YouTube & Twitter
Engineering is not just a thing you study, in India. It is a way of life that is often forced upon young innocent teens and it is a burden they have to bear for the rest of their lives. They are forced to live in the poverty of their hostels and they are forever shunned by the opposite sex. But they rise. They are hardy. They are intelligent. They are scrappy. And most of all, they don't care.
Today on Engineer's Day, here are 20 tweets that every Indian engineering student can relate to and it will totally hit them right in the feels!
1.
Life story of an engineer. pic.twitter.com/TXcM7CC3Ig

— Dead Mau5hi (@AdvancedMaushi) February 27, 2016
2.
When an engineer sees appointment letter pic.twitter.com/KLMd2AXcbm

— Aman (@Firki_) December 8, 2015
3.
No one generates as many random logical statements as a drunk engineer.

— dorku (@Dorkstar) August 16, 2014
4.
me at 6: gonna be wwf champ
god: lol

at 10: gonna be pokémon master
god:

at 14: gonna be astronaut
god: wait for it

[becomes engineer]

— amrtsh (@floydimus) November 17, 2014
5.
The Software Engineer in me screams "Cache koi mil jaaye".

— izzy (@abcdefu) November 11, 2013
6.
Somebody called me a 'frustrated engineer' yesterday and I felt really bad. Just say 'engineer' please, the rest is understandable anyway.

— pnkj (@AskThePankazzzz) December 23, 2015
7.
2 things I can't forgive my parents for:
1 Making me choose engineering.
2 Not getting me "joote me hai lights" waale Action Shoes as a kid

— m (@Psilosophy) February 28, 2015
8.
Mechanical Engineer friend is getting married. He wants to sell 2 TB hard-disk loaded with all kinds of porn. Price 10k. Lemme know

— Sagar (@sagarcasm) July 2, 2016
9.
You know you're an engineer when girls want your hard disk and there is no typo in that statement.

— dorku (@Dorkstar) May 23, 2013
10.
Hey you, engineer, what's your MBAtion in life?

— izzy (@abcdefu) August 31, 2012
11.
Who are we? Indians!
What do we want? Olympic medals!
How about excelling your own kid in a sport? "Pehle usse engineer toh banne do!"

— Ojas. (@Ojasism) August 16, 2016
12.
That one girl in engineering batch pic.twitter.com/zd1gond4wo

— dorku (@Dorkstar) April 11, 2015
13.
"Happy Engineer's Day to all engineers throughout the country, without you guys we'd be in total loss." - Shaadi dot com

— A muse sing (@LoKarloFollow) September 15, 2013
14.
A businessman's "Damn that girl in black dress is so hot. Lemme buy her a drink" is every engineer's "Chhod na yaar, aukaat ke bahar hai."

— pnkj (@AskThePankazzzz) May 19, 2013
15.
Typical engineer tries to experiment with his perfectly fine gadgets. Screws them up. Spends hours trying to restore them. Then feels proud.

— dorku (@Dorkstar) May 4, 2013
16.
Engineering student is a guy irate over the fact that the Xerox-Wala outside his college earns more than he will after becoming an engineer.

— udaas priest (@UdaasPriest) February 10, 2013
17.
Mechanical engg branch boys posing with the girl of their branch. pic.twitter.com/OHU2xeW6l2

— billoo (@MohitParmarr) April 15, 2016
18.
When an Engineer see a girl.#EngineersDay pic.twitter.com/yJEI5BamI7

— iRonny (@GyanDoBaba) September 15, 2016
19.
Left-Expectations after becoming an #engineer
Right-In Reality ! #EngineersDay pic.twitter.com/jNvPZwlfi3

— Fart Vader (@LordFartVader) September 15, 2016
20.
The word "Engineer" is derived from "Anjaneyar" (or Hanuman), who built a bridge and didn't hang around with girls. #ItAllHappenedInIndia

— Ramesh Srivats (@rameshsrivats) September 15, 2011
Also Watch
Read full article