GET Stock

Quotes


700 Issues Later, Tinkle is Still Loved by Anushka Sharma, Rana Daggubati and Everybody Else
700 issues of happy memories and counting.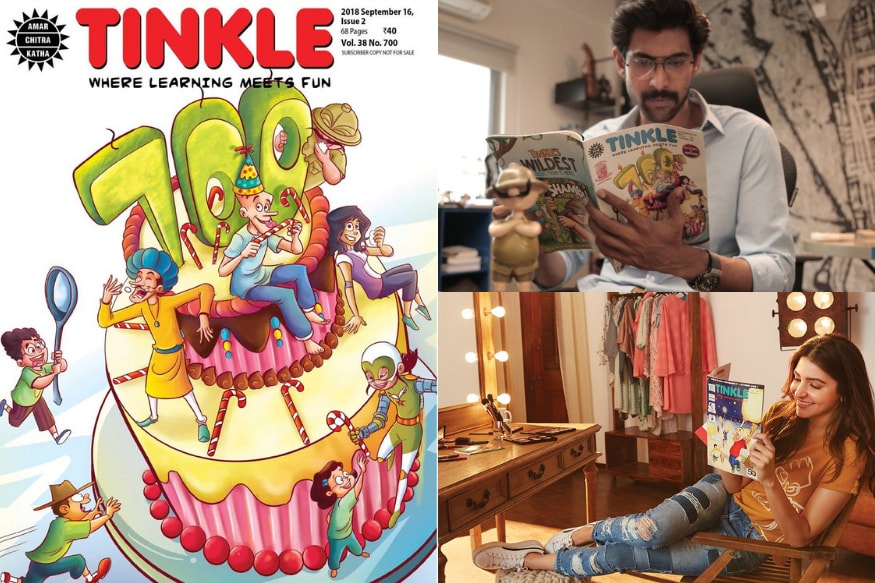 (Image: Twitter)
Chacha Chaudhary, Nagraj, Champak, Archie comics, Panchatantra were a fundamental part of every 90s kid's staple diet. Another unmissable childhood favourite was Tinkle, a fortnightly magazine which was religiously carried to school, to the washroom, on train rides - everywhere. The adventures of the goofy yet innocent Suppandi, the oh-so-lucky Shikari Shambhu, Ramu and Shamu, and even Kaalia the crow bring a bright smile on everyone's face even today.
And we're here! #Tinkle has arrived at #milestone no. #700!
~
Get your copy TODAY! pic.twitter.com/hhSOUx3Rr8

— Tinkle Magazine (@TinkleMagazine) September 16, 2018
Tinkle, which was first released in December 1980, released its 700th issue last week on 16 September, almost coinciding with the birthday of Late Anant Pai, the creator of the iconic magazine. This issue comes with 64 pages unlike the usual 48 pages and even features celebrated author Ruskin Bond as a 'guest star'.
Almost 38 years have passed but the memories will never fade away. And who can preach this better than the good ol' internet?
Woohoo! :) https://t.co/KUEkYcLK4I

— Rajani Thindiath (@RajaniThindiath) September 17, 2018
Happy #700 issues, Tinkle magazine! Thank yoh for being part of our lives for the last 38 years. Wish you many more fun filled storytelling years ahead! @tinklecomicsstudio #suppandi #tinkle700 #tinklemagazine #tinkle #shambu #tinklecelebrations #subscribe #subscribetotinkle pic.twitter.com/MlqXglbaUZ

— Rana Daggubati (@RanaDaggubati) September 20, 2018
Happy #700 issues, Tinkle magazine! Thanks for being a part of our childhood. 38 years & counting! Wish you many more successful years ahead! @TinkleMagazine @Suppandi #Tinkle700 https://t.co/PPIzahOmBK | @AnushkaSharma pic.twitter.com/kcoYNo76td

— Nush (@NushBrand) September 15, 2018
@TinkleMagazine @TinkleDigest
700th issue of Tinkle magazine..
An illustration of my favourite memory of Tinkle.
Travelling with Tinkle ❤☺ pic.twitter.com/AgrxexCMNY

— Soma Ghosh(Shormi) (@ghoshshormi) September 18, 2018
Just got @TinkleMagazine and its double celebration #Tinkle700 and #happybirthdayunclepai pic.twitter.com/P8WEXcZPBS

— Abhishek Sharma (@AbhishekA1999) September 17, 2018
700 issues of @TinkleMagazine! And countless happy train rides with Suppandi and friends :) https://t.co/LZqsqMwOY4 pic.twitter.com/l7GweHAMCi

— Ramya Sriram (@thetapin) September 19, 2018
Thank you tinkle for being my amazing childhood friend

You helped me find my fantasies, my friend in myself whenever i spent time with you.

Though caught up, don't read much now, your 700th issue surely lit me up.

Congratulations #tinkle700 #BedTimeStory

— abhijit pratap (@abhijitsid) September 21, 2018
#Train journeys were a regular feature growing up an #armybrat Remembering @TinkleMagazine on their 700th issue, for keeping us glued to our seats through those long endless hours! #Congratulations #tinkle700 #childhoodmemories https://t.co/pExLhcaq92

— Geetanjali (@i_Epiphany) September 21, 2018
All my childhood,I enjoyed Tinkle and it's various characters... I missed that simplicity so much...I hope Uncle Pai's characters like Suppandi and Anwar are enjoyed by gen-y,z kids too.#tinkle #unclepai https://t.co/XvrShZtECO

— Bhavna Gajbe (@BGajbe) September 18, 2018
My favorite childhood pastime!Tinkle is love #ShikariShambu #Kapish #SuppandiTales #RamuShamu #LittleRaji #Tinkle #tinkle700 https://t.co/SRXmKc324P

— Naveen_Ankareddy (@AnkareddyNaveen) September 20, 2018
Happy #700 issues of magazine Tinkle, my kids were fond of articles in it - now married and settled !

— B S Pandher (@bspandher3) September 22, 2018
Forever love and hugs to any and every fellow #Tinkle lover also, thanks for providing a source of getting my childhood back! @NakuulMehta pic.twitter.com/ZUESzXsBcM

— mads (@mads_2488) September 17, 2018
Read full article