#90sMoviesIn2018: Chamatkar and Shah Rukh Khan Show That Miracles Can Truly Happen
Chamatkar wasn't a bad film when it came out, it merely seems terrible now. And that's because tastes evolve, standards evolve; people evolve.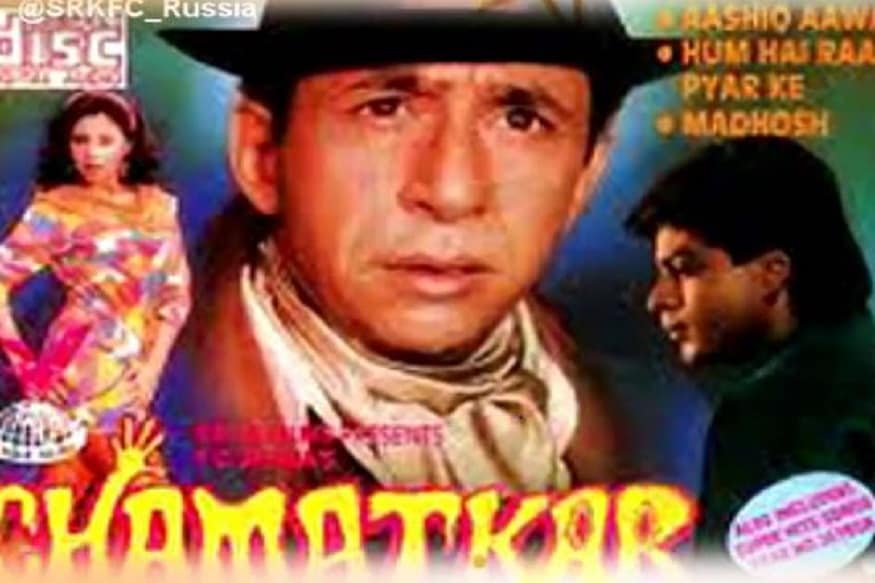 (Image: YouTube)
Editor's note: Since cinema is not only a form of entertainment but also an important cultural tool that has the power to shape opinions, we are reviewing classics and trying to see them through the lens of the current socio-political climate. The aim is to call out biases, misrepresentation and everything else that is problematic so that we can gauge our journey thus far and the road ahead.
Movie: Chamatkar
Director: Rajiv Mehra
Cast: Naseerudin Shah, Shah Rukh Khan, Urmila Matondkar
Release: 1992
It wouldn't be entirely inaccurate to say that Chamatkar was like the Thugs of Hindostan of 1992. It was also "inspired" by (or ripped off of) a pirate film with supernatural elements, in this case 1968's Blackbeard's Ghost, also relied heavily on special effects, and also irretrievably changed Bollywood. While Thugs of Hindostan showed that even a 'woke' Aamir Khan can make completely commercial crap in 2018, Chamatkar introduced Indian film audiences to Shah Rukh Khan in 1992.
The man who would be king made his debut as a Hindi film lead in a moderately successful ghost comedy (note the distinct lack of anything remotely close to horror, because even now, the only horror in Chamatkar is the film itself, not thrills and chills, of which it definitely does not boast). It was a hit among younger audiences, which only goes to prove that children are essentially idiots with no skills of discernment. I remember loving it myself, despite growing up to be the kind of adult who drops Fellini references in casual conversations. Don't let that stop you from reading on.
Viewing it in 2018 High Definition admittedly does no favours to a movie that begins with a cringe-inducing opening credits sequence rendered in off-coloured, jumpy animation; and on paper, which was still a thing in 1992, Chamatkar had quite a bit going for it. It had a fresh-faced new (read cheap) lead actor, whose relative inexperience was tempered by the undeniable veteran awesomeness of Naseerudin Shah, as the quasi-father figure to the hero. The plot wasn't completely conventional, it employed the best animation that a thrifty 1992 budget could buy, and the heroine was a child actor turned young starlet who was aesthetically pleasing, and presumably as cost-effective as her love interest.
SRK plays Sunder Srivastava, a distinctly pre-Rahul do-gooder idealist, inclined to stutter at moments of stress (no k-k-k-k-k-kiddin'), whose main aim in life was to build a brick and mortar school for the horde of children of his village, in place of the present ramshackle wattle-and-daub structure that was demolished by his students every day. While Jesus didn't appear to save his Samaritan ass, he still bore witness to the resurrection of the far more morally flexible Marco, a trench coat-wearing, hatted gangster ghost, who was hatted and feared (and hated) when he was alive.
Marco's spirit was visible and audible only to a guy with a speech impediment, and even worse, was barred from heaven until he atoned for his mortal sins, because apparently isn't a thing hell, unless you count having to listen to Sunder during spelling lessons. Oh, and he had this wife who was responsible for Marco deciding to abandon his life of crime, which ironically led to Marco being murdered on his wedding night (post consummation), by his protégé. Cue Marco rising from the grave, being barred from heaven, vowing revenge, yada yada, yada. The important take-away here is that Marco and his wife du jour conceived a baby girl who grew up to become a beautiful young woman, Savitri, and wasn't a bastard.
If you don't know what happens next, well, watch the movie, and maybe eat some water-soaked almonds once in a while. Because the thing is, that, Chamatkar wasn't a bad film when it came out, it merely seems terrible now. And that's because tastes evolve, standards evolve; people evolve.
Our early ancestors may seem hopelessly outmoded, armed with rude weapons and limited means rather than inappropriate memes and unlimited data plans (with terms and conditions). But it's good to occasionally remind ourselves that if it hadn't been for those sticks and stones back then we wouldn't have ended up with electricity and internet in our home. Sort of like Chamatkar reminds us that if it hadn't been for Sundar back then, we wouldn't have ended up with Rahul and in our Bollywood.
Get the best of News18 delivered to your inbox - subscribe to News18 Daybreak. Follow News18.com on Twitter, Instagram, Facebook, TikTok and on YouTube, and stay in the know with what's happening in the world around you – in real time.
Read full article