#90sMoviesIn2018: 23 Years Later, Dilwale Dulhania Le Jayenge Remains as Relevant Today
DDLJ was the first truly successful marriage of entertainment and advertising in a Hindi film, and like any good Indian marriage, it's clearly doing well even 23 years later.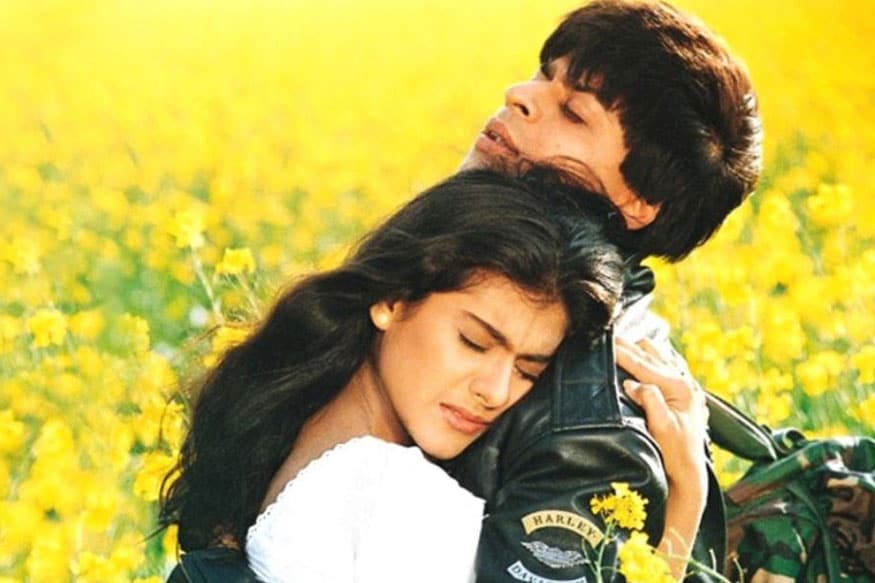 Shah Rukh Khan and Kajol in a still from DDLJ.
Since cinema is not only a form of entertainment but also an important cultural tool that has the power to shape opinions, we are reviewing classics and trying to see them through the lens of the current socio-political climate. The aim is to call out biases, misrepresentation and everything else that is problematic so that we can gauge our journey thus far and the road ahead.
Movie: Dilwale Dulhania Le Jayenge
Director: Aditya Chopra
Cast: Amrish Puri, Shah Rukh Khan, Kajol
Year: 1995
Dilwale Dulhania Le Jayenge may seem a typical Bollywood rom-com of the 1990s, nay, THE Bollywood rom-com of the 1990s, but in hindsight it is so much more. Mostly, it's about the struggles of one man, Baldev Singh Chaudhary, and the proud parampara of patriarchy that he represents.
Despite the father's ultimate surrender to civil liberties, DDLJ itself, with the longest theatre run in Indian cinema history, is THE Bollywood success story.
The preceding title-holder, Sholay, was a tale of friendship and honour, morality and ethics, valor and Basanti's horse. DDLJ is about way more important, not to mention au courant, things.
With prominent displays of Pringles wafers, Stroh's beer, and Swiss snow, DDLJ was the first truly successful marriage of entertainment and advertising in a Hindi film, and like any good Indian marriage, it's clearly doing well even 23 years later. It also established the unbreakable bond between Mother India and her NRI progeny.
You can be in Lundun (as Baldev insists on calling it) or Los Angeles, but as an Indian, your blood better run saffron, as well as white and green because we're secular like that. That hard man Baldev has an ever harder heart-on for his Hindustan. Indeed, that demonym is used almost as much in the 1995 film as it is in today's polity. From Baldev's orgiastic soliloquies on all things Hindustani to Raj basically dumping Simran in front of her family because Papa Kehte Hain (what, you guys still think Raj was the hero of the film? It was always Baldev, you guys) to even Anupam Kher's more rouge than roguish beret clad Dharamvir Malhotra, DDLJ is the ultimate Hindutva PR push.
This is evident from the first sequence of the film wherein we meet Baldev for the first time, whose mind might be unraveling but spine is as ram-rod as a flag pole with a tiranga. After rambling on about how the streets in Lundun don't know his name and only the city's pigeons remember his face (totally untrue, given that those rats of the sky have an attention span only slightly surpassing that of a goldfish, that pigeon of the fish bowl), before launching into his first homage to India, er, Hindustan, where the grass is green and the girls are wheatish and obedient.
After his hallucination-filled walk home from the grocery store he owns (and people think The Simpsons are racist), we meet the rest of the family, his wife Lajjo, and (presumably to his unspoken regret) two daughters, Simran and Rajeshwari, the latter being the only other actually decent person in the whole narrative, apart from Dharamvir Malhotra, father of Raj.
Anupam Kher and Shah Rukh Khan apparently watched every '90s Adam Sandler film they could in preparation for their respective roles as rich father and spoilt man-child son, both of whom suffer from ADHD as well as Tourette's. The only thing missing from their lives is a racist Rob Schneider cameo, and even then there's plenty of evident racism to go around elsewhere.
Given the plot of the film is far greener in most people's memories than are their constitutional rights (never mind the rights of others), without going over its much-ploughed mustard fields, let's burn some stubble.
Speaking of fields, while it's true that every song from that film has become as iconic as DDLJ itself, and set the template for Bollywood numbers for way, way too long, and most vitally boosted tourism numbers to Switzerland to the point of no return, really? Did we really need more costume changes within a single track than there are in entire films today? Did we really? I know YouTube wasn't around yet, but still. Surely there were other things to get on with (This paragraph was sponsored by millennial thought and time management).
As we've discussed, DDLJ is more about the rights of a father than the tantrums of his vapid kids, and the struggles of traditional Hindustan against a distressingly modern India. India chugs beer while Hindustan gratefully sips lassi, and India wears clothes outside that Hindustan wouldn't wear alone in front of their spouses. It's about who finally gives way in this titanic struggle for control over their lives, and while the film's end seems to indicate a win for youth, vitality and freedom of choice, it's all because Papa kehte hain.
Get the best of News18 delivered to your inbox - subscribe to News18 Daybreak. Follow News18.com on Twitter, Instagram, Facebook, Telegram, TikTok and on YouTube, and stay in the know with what's happening in the world around you – in real time.
Read full article