#90sMoviesIn2018: Here's Why Meenakshi Seshadri-Rishi Kapoor's 'Damini' is a Cult Feminist Film
With a strong feminist character at the centre, Damini doesn't feel stale even in 2018, which is either a hallmark of a cult film or the unfortunate indication that little has changed in our approach towards rape cases.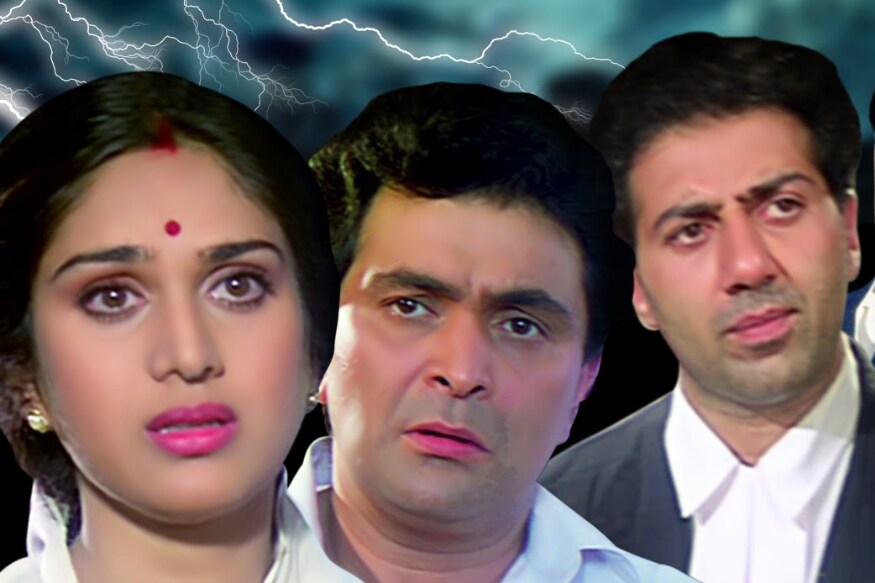 Image credits: Ultra Movie Parlour / YouTube
Editor's note: Since cinema is not only a form of entertainment but also an important cultural tool that has the power to shape opinions, we are reviewing classics and trying to see them through the lens of the current socio-political climate. The aim is to call out biases, misrepresentation and everything else that is problematic so that we can gauge our journey thus far and the road ahead.
Movie: Damini
Director: Rajkumar Santoshi
Cast: Meenakshi Seshadri, Rishi Kapoor and Sunny Deol
Year: 1993
Damini -- released in 1993 -- is perhaps one of the most misunderstood films in Bollywood history. Despite receiving instant critical acclaim upon its release and having a successful run at the box-office, we as an audience have celebrated this film for all the wrong reasons.
Yes, Sunny Deol's punchy dialogues like, "Tarikh par Tarikh milti rahi hai, lekin insaaf nahi mila, my lord!" deserved all the claps and whistles it received, and the theatrics of the courtroom drama, wherein two lawyers Govind (Sunny Deol) and Mr Indrajit Chaddha (Amrish Puri) exchange angry words and stares indeed make for a great Bollywood entertainer. But the real reason why Damini was such an iconic film and deserves a cult status is the protagonist of the film --- Damini (played brilliantly by Meenakshi Seshadri).
Till date, Bollywood has not given us such a strong and beautifully written female character as Damini, who not only has a mind of her own, but also a conscience. Long before films like Raazi and Pink were made in Bollywood, Rajkumar Santoshi's Damini gave us a HIT feminist movie with a female central character, who fights against all odds to bring justice to another woman. Although Damini comes with a strong dosage of testosterone thanks to Chaddha and Govind's courtroom interactions, and it may seem like all that the characters do is shout out sensational dialogues, the film, which centres around a rape case outlines the idea of consent, calls out victim shaming, and holds a mirror to the media, police and the judiciary to show how ineptly and insensitively most rape cases are dealt with in India.
While the movie begins with Damini in the halls of a mental asylum, we soon find ourselves watching a flashback of all the sequence of events that led her to that asylum in the first place. We meet Damini as a young, beautiful, and outspoken girl who cannot stand any injustice and refuses to partake in any hypocrisy. Shekhar Gupta (Rishi Kapoor) who sees Damini performing at a stage show is quite taken by her beauty but as he gets to know her better, he also begins to admire her for her honesty and straightforwardness.
He and his father soon arrive at Damini's house with a marriage proposal and within half an hour of the film Shekar and Damini tie the knot.
There is no courtship before their wedding, but they soon find ways to love and respect one another. While Shekhar remains smitten by his new bride, not all his family members are kind to her. Damini comes from a low middle-class family into Shekhar's affluent household and finds that not everyone is as welcoming as Shekhar and his dad is. But she, like an adarsh bahu, does all the chores and tries to make nice with everyone. She also befriends the house help, Urmi.
Damini was perfectly ensconced in marital bliss, with appropriate songs in outdoor locations every 15 minutes but all hell breaks loose when she and Shekhar witness Urmi being raped by Shekhar's brother and his friends during a Holi party at their house. Urmi winds up in a hospital with serious injuries, and a rape case is filed against Shekhar's brother and his friends.
As all family members, including Shekhar, try to cover up the rape, Damini too is pressurized to give a false statement to the police by her in-laws. However, when she is shown photos of Urmi struggling for life, she tells the truth to the police and becomes a witness in the case. Her father-in-law hires a big shot lawyer -- which is Mr Chaddha (Amrish Puri) -- to defend his son and his friends, and from thereon the film gathers stream and begins to pick up.
What is astounding and unfortunate about Damini is how relevant the film is even today, after twenty-five years of its release. As the court case plays out in the film, Damini is cross-examined by Mr Chaddha with many questions, that are intended to make her uncomfortable. Chaddha repeatedly victim shames Urmi, in order to get under Damini's skin and compel her to have a meltdown.
Thankfully, Sutanu Gupta's story had the good sense of making Damini call this out publically in a monologue later. Damini, as a character, showing the basic human sensitivity towards Urmi, who is a rape victim comes across as a brilliant contrast to media's, court's and police's approach towards Urmi and her rape case. There is also a perp walk from hell, where Damini is made to identify the guilty men, which is perhaps an attempt to show the kind of harassment even witnesses have to face sometimes.
Another thing that the film points out very bluntly is the status difference of the victim, who is a domestic help, and the rapists, who are rich brats. Because the defendants are rich, they can afford a lawyer like Chaddha who has the reputation of winning a case even before fighting it, while Urmi's lawyer is a poor public prosecutor, until Damini convinces Govind to take over. In an especially troubling scene, we see the four rapists sit down and have a conversation about the ongoing case. They even joke about raping other women after this case is done and dusted such is their confidence that they would never be convicted for raping Urmi.
Despite being high-pitched, Damini isn't entirely tone-deaf as a film. There are subtly layered emotions in various relationship equations shown in the film. For example, in spite of the growing differences between Shekhar and Damini due to the rape case, they come across as a couple who love and respect one another no matter the circumstances, and although Shekar tries hard to 'support' his family, and hide the fact that his brother raped a girl, the guilt he carries for doing so, and the frustration of not being able to stand by Damini -- when he knows very well that it would be the right thing to do -- is wonderfully portrayed.
Damini's dad (played by Anjan Srivastav) -- although a token character who represents typical 'middle-class' men -- depicts how easy it is for a 'common man' to kowtow to social mores instead of standing up against injustice. He lies in court helping Chaddha and Mr Gupta (Shekhar's dad) prove that Damini is mentally unstable, because he thinks that way the Guptas (who are his daughter's in-laws) will be able to get out of the case, and Damini will soon be taken out of the asylum and all will be forgiven and forgotten. However, he later realises that a conniving lawyer and a shrewd businessman should never be taken at their face value and regret inevitably follows.
Damini as a film also goes beyond the set gender roles that Bollywood always subscribes to. It is perhaps one of those few films where a male actor, Aamir Khan, makes a guest appearance for a dance number. Until then Bollywood had seen many guest appearances by women, who would just show up in a film for one song-and-dance sequence --- as Helen did in many 70s and 80s films.
However, there are some evident flaws that the film should have and could have easily avoided. As tension escalates between Shekhar and Damini about the court case, at one point we see Shekar slap her. That is one scene that blatantly normalises domestic violence and it wasn't required to make any point in the film. The arguments that the couple were having was enough to depict the ideological rift between the two. Another thing that the film could have done away with is the vivid depiction of the rape scene, it should have been dealt with more nuance.
However, despite these flaws, Damini as a film that was way ahead of its time. With a strong feminist character at the centre, this film doesn't feel stale even in 2018, which is either a hallmark of a cult film or the unfortunate indication that little has changed in our approach towards rape cases.
Get the best of News18 delivered to your inbox - subscribe to News18 Daybreak. Follow News18.com on Twitter, Instagram, Facebook, Telegram, TikTok and on YouTube, and stay in the know with what's happening in the world around you – in real time.
Read full article