#90sMoviesIn2018: How 'Phool Aur Kaante', Ajay Devgn's Debut Film, Glorified Invasion of Privacy, & Mindless Violence
The lessons from Phool Aur Kaante is better forgotten, especially its messed up idea of wooing girls, motorcycle stunts and mindless violence.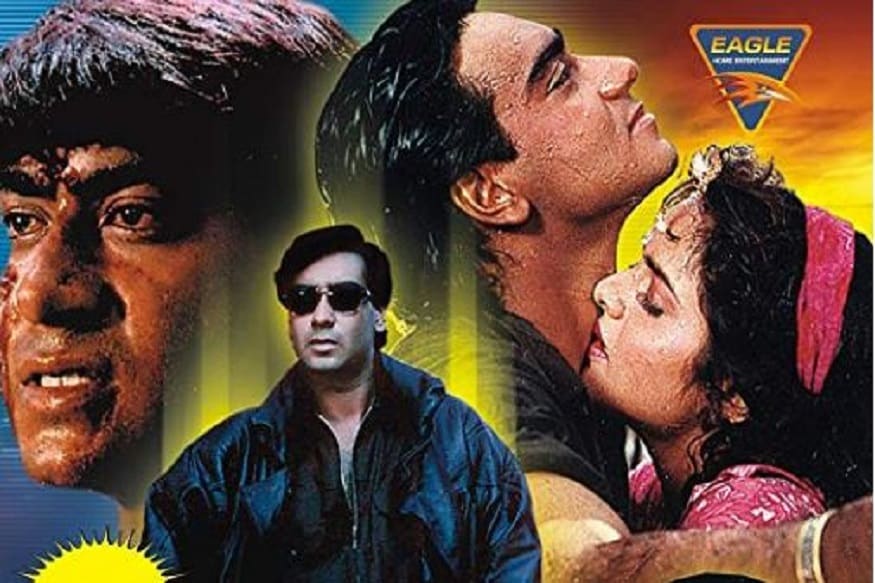 (Image: Amazon)
Editor's note: Since cinema is not only a form of entertainment but also an important cultural tool that has the power to shape opinions, we are reviewing classics and trying to see them through the lens of the current socio-political climate. The aim is to call out biases, misrepresentation and everything else that is problematic so that we can gauge our journey thus far and the road ahead.
Movie: Phool Aur Kaante
Director: Sandesh (Kuku) Kohli
Cast: Ajay Devgn, Madhoo and Amrish Puri
Year: 1991
The first time India ever saw Ajay Devgn onscreen, it was in 1991's film Phool Aur Kaante. Standing with his legs planted on two speeding motorcycles, Ajay Devgn's Ajay enters college like a Greek hero who has victoriously returned from a battle. The plebeians (read: extras who are playing the part of college students) cheer and wave at him, and he blows flying kisses at them, before doing an impossible split -- one that would've put Olympic medal-winning gymnasts to shame -- as the distance between the motorcycles is increased by a road divider.
You would think such a glorious and grand entry is surely for a particular reason, but it is just another day for Ajay, 'the stud' of his college. Surprisingly, when Phool Aur Kaante hit the screens back in 1991, it was this introductory scene that earned Devgn a legion of fans and made him an overnight sensation. Also, believe me when I say this, Ajay's utter disregard for road safety is hardly the worst thing about this film.
As Phool Aur Kaante proceeds, Ajay meets Pooja (Madhoo) in college. Well, it is the cute-meet made in hell, as Pooja, the new girl, walks into the college campus and Ajay breaks into a song-dance-and-harassment routine, as per the usual Bollywood standard. Pooja -- walking like a snotty dictator -- tries to ignore all the bad dancing that's going on around her and makes her way to the class as the camera zooms into her butt and her breasts several times. After this, Ajay goes and tells his friends that he is in love with Pooja -- the girl he had just mobbed with a bunch of other college kids, who had party streamers. His friends obviously ask him for details. But, he replies by saying that he doesn't know who the girl is, what her name is or in which class she studies, but he knows he is in love with her.
As I was re-watching the film last week, at this point I wanted to pull all my hair out, but a more troubling thought harassed my mind. An entire generation of men in India has actually been repeatedly taught by Bollywood -- with films such as Phool Aur Kaante, Saajan, Dil etc -- that all you need is a pretty girl, and you can fall in love with her. Nothing else is required for her to be worthy of your love, and whether she loves you or not is clearly inconsequential. For a movie industry that's known for its love stories, it is truly disheartening to see these films and realise how little the filmmakers actually think and perhaps know about love and relationships and how they have, over the years, taught such messed up ideas about romantic love to their audience.
I want to say that this was the lowest point of Phool Aur Kaante, but who am I kidding? It kept getting worse.
In order to locate the girl, Ajay took out his binoculars and began spying on the girls' hostel. The fact that it was an invasion of privacy never occurred to him, nor his friends as they lined up at the window, watching women, without their permission. He continued harassing Pooja, prying on her with his binoculars, writing love notes on the walls of her dorm and interrupting her morning runs, while every character around him and Pooja began affectionately addressing these harassments as the playful banter of an 'aashiq'. Finally, when you thought it would never happen, he proposes with words nonetheless (no dance and song).
She says no, and angrily so, but obviously Ajay has never heard of the saying "No Means No". Therefore, he breaks into another song-dance-and-harassment gig to woo her. Surprisingly, Pooja's 'no' also did not actually mean 'no'. During a five-minute long song-and-dance sequence, Pooja blushes, acts coy, gets passive-aggressive and finally reveals her true love for Ajay, while at the same time singlehandedly ruining the credibility of any girl who ever said 'no' to a classmate.
The film moves forward. They get married. Ajay gets a job because he is a dude, and Pooja cooks and cleans because she is a woman, who only went to college to get a dude and I want to say it ends here because, despite these horrifying obvious flaws, I could have still endured the film if it was only an hour long. But, as you know, no Bollywood film ends so quickly.
Phool Aur Kaante is actually not a love story at all. It's the story of a father (Amrish Puri) and son (Devgn). Puri plays the role of Mumbai ka super don, Nageshwar, who had abandoned his son (Devgn) and left his wife to die on his way to becoming a crime lord; but now he repents and wants his son back. His son, Ajay, however, hates him for being a criminal and doesn't want to see his face. Nageshwar tries to keep Ajay safe by killing whoever tries to harm him, and at one point he tricks Ajay and Pooja to coming back to him, by kidnapping his own grandson and believe it or not, it actually works.
Since he is a don, rival gangs attack and people keep dropping dead like flies. The mindnumbing violence, which for most parts is totally unnecessary, just overtakes the film making it a dull, yawn-fest. There are many questions that are left unanswered, like why does Nageshwar insist on wearing a trench coat and a hat in Mumbai heat? Or why could he just not apologise instead of hatching a devious plan to kidnap his own grandson? But by now I was too tired to ask these questions, and I can confidently say, most of the audience who will continue to watch this film till the end will do so only because the remote is too far from their reach and they are too lazy to get up.
Phool Aur Kaante's claim to fame, and perhaps its most redeeming quality, is the music by Nadeem Shravan. But, apart from that, this movie has nothing that is memorable. Although Devgn's intense gaze and daredevil stunts did give Bollywood many action films later (some of which might actually have been good), the lessons from Phool Aur Kaante is better forgotten, especially its messed up idea of wooing girls, motorcycle stunts and mindless violence.
Get the best of News18 delivered to your inbox - subscribe to News18 Daybreak. Follow News18.com on Twitter, Instagram, Facebook, TikTok and on YouTube, and stay in the know with what's happening in the world around you – in real time.
Subscribe to Moneycontrol Pro and gain access to curated markets data, trading recommendations, equity analysis, investment ideas, insights from market gurus and much more. Get Moneycontrol PRO for 1 year at price of 3 months. Use code FREEDOM.
Read full article