#90sMoviesIn2018: Kuch Kuch Hota Hai Taught Me a Very Skewed Idea of Beauty
Kuch Kuch Hota Hai was one of those many films, which drilled in my head, a very skewed idea of how Indian femininity and beauty should be.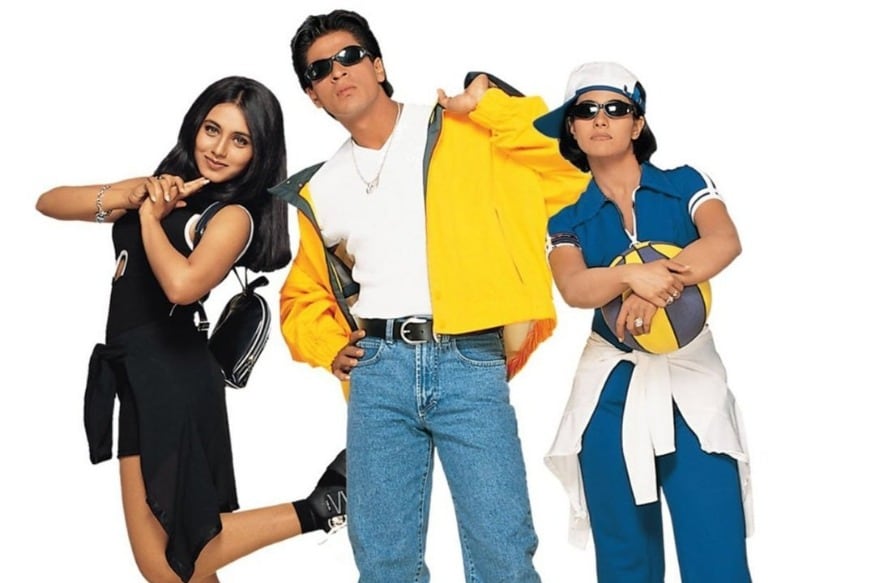 The 1998 film was a roaring commercial blockbuster and the three central characters - Rahul (Shah Rukh Khan), Anjali (Kajol) and Tina (Rani Mukherji) are popular even today.
Since cinema is not only a form of entertainment but also an important cultural tool that has the power to shape opinions, we are reviewing classics and trying to see them through the lens of the current socio-political climate. The aim is to call out biases, misrepresentation and everything else that is problematic so that we can gauge our journey thus far and the road ahead.
Movie: Kuch Kuch Hota Hai
Director: Karan Johar
Cast: Rani Mukerji, Shah Rukh Khan, Kajol
Year: 1998
The first time I watched Kuch Kuch Hota Hai, I was 10-year-old and too afraid to blink, because I didn't want to miss even a tiny second of the film. I hungrily took in everything from Karan Johar's magical, cool urban world -- the clothing (way before the athleisure trend started, this film made workout clothes look cool), the strange elaborate hand-claps-and-nose-touch greetings that Anjali (Kajol) and Rahul (Shah Rukh Khan) exchanged (something that instantly became a trend among my friends), the fun college scene, the song-and-dance numbers...literally everything. I consumed the film voraciously, making mental notes of all the things I wanted to try in real life after I go home, and was alone in my room, where no one could see me and judge me for trying those things.
I wanted to try the air-piano that Shah Rukh played in the film, and slow waltz with my bolster pillow. I wanted to try on my mother's chiffon sari when she leaves for work the following Saturday, and I wanted to dance to Koi Mil Gaya next year, on Teachers' Day. However, when I did finally go home after the movie that night, the first thing I did was to pick up a hand mirror and examine my face. As I watched my small round face staring back from the hand mirror, I finally realised how terribly disappointed I was with my headful of black unruly curls.
I had still not figured out how to handle those curls -- they were disobedient, and always refused to be neatly tied into a braid, or come together in submission, within the hold of a scrunchy. More importantly, they were the reason why boys in my school bullied me and call me 'Maggi noodles'. It was a frustrating nickname to deal with, and a rather uninspiring one too, given how every girl with curly hair must have heard that analogy at some point or another, but it stung me nonetheless.
Therefore, when I first saw Tina (Rani Mukerji) in Kuch Kuch Hota Hai, make a sweeping, head-turning entrance in college, with her beautiful silky straight hair, wearing a gorgeous yellow mini skirt, I yearned to be her. As the film moved forward, I realized Rahul would choose her over Anjali (Kajol) the moment he sees her, and she would be everything he wants in a girl -- a super hot yet sanskari Bharatiya nari, who can croon Raghu Pati Raghav and wear beautiful pastel salwar-suits as opposed to Anjali who didn't know how to use make-up, and defeated him in basketball matches regularly.
Kuch Kuch Hota Hai was one of those many films, which drilled in my head, a very skewed idea of how Indian femininity and beauty should be. It told me, you have to swap athleisure wears for those chiffons, and your short unruly hair, for the beautiful long mane to be worthy of a man's love. It said -- very loudly so -- that men always choose feminine 'graceful' girls as opposed to fun-loving ones. The only kind of girls boys like are the ones who can drape a saree effortlessly, know Bharatnatyam, and is basically 'lady-like'. Of course, I unlearned those lessons with age, but it was hard to live through several years believing them to be true, and growing up with a generation of girls, who not only believed these preachings as truths from the gospel but knowing that some of them continue to measure up beauty by those standards.
Soon after the film's release, our school was abuzz with trivia and news about Kajol, Shah Rukh Khan and Rani Mukerji. After Dilwale Dulhania Le Jayenge, it was the first film to cause such a major stir among us. Girls started copying the Kajol's haircut and wearing that same headband she wore in the film. I -- who has a phobia of sports -- actually picked up a basketball once and tried to play because I thought it made me look cool. Boys began wearing clunky silver chains, with the alphabets of the word C-O-O-L hanging from them. A few daredevils -- inspired by the film-- even ditched the regular ruled notebooks and began to carry colourful files with loose sheets to take notes in -- this act of rebellion did not go down well with the nuns in my school. Some of us got extremely excited to learn that we would study 'Tales of Shakespeare' the following year, and imagined those English classes to be full of philosophical questions like 'What is love?'. Unfortunately, we were all in for a rude shock when we discovered studying Shakespeare was nothing like what it seemed in Kuch Kuch Hota Hai. However, in the month of August, my grandmother knitted a dozen friendship bands for me to give to my friends and my recent crush and that turned out to be quite a fun and eventful day for most of us.
As years passed, I also realised how doltish the idea of friendship and love was, in the film. It's hard to realise and accept that the film you loved so much that you threw a tantrum for days -- refusing to talk to anyone -- until your parents were forced to take you to watch it again, could actually be so flawed. But, with time you learn to make your peace with it. You realise -- on re-watching the film-- that how stupid it must be for a woman to dump her education, and drop out of college just because a guy didn't fall in love with her. How strange it was back in the 90's when films like Kuch Kuch Hota Hai normalised ragging and harassment of new kids in college. Also, how bizarre it is for a loving, doting father to go to MTV and Neelam when his daughter runs away to Shimla to attend a summer camp, instead of trying to locate her in more effective and well, traditional ways.
However, Kuch Kuch Hota Hai, despite its flaws, also taught me a few life lessons. It told me that beautiful girls can be kind too. Unlike Hollywood, which always propelled the stereotypes of beautiful and mean cheerleaders, Kuch Kuch Hota Hai showed me how we, as women, can be compassionate towards one another.
There is an especially heartwarming scene in the film, where Anjali puts on a dress -- in a bid to look like Tina and get Rahul's attention -- and everyone, including Rahul (her best friend), makes fun of her. Tina is the only one in the entire crowd who can see why Anjali was trying to imitate her, and she tries to empathize. She chases after Anjali, as Anjali runs away from the crowd humiliated and tells her, " Tum khubsoorat ho Anjali, tum bahaut khobsuroot ho" and that's something, I feel every woman should tell one another more often, onscreen, as well as in real life.
In the last twenty years, despite some gaping imperfections, Kuch Kuch Hota Hai has aged well. While Bollywood has the history of churning out innumerable love triangles, Kuch Kuch Hota Hai was one of those few films, where each character (especially the female characters) was layered with emotional complexities. But, if you are one of those, who bought into the beauty myth the film propelled, I am really not sorry to tell you, that the standard of beauty that this film upheld is a farce.
Get the best of News18 delivered to your inbox - subscribe to News18 Daybreak. Follow News18.com on Twitter, Instagram, Facebook, TikTok and on YouTube, and stay in the know with what's happening in the world around you – in real time.
Subscribe to Moneycontrol Pro and gain access to curated markets data, trading recommendations, equity analysis, investment ideas, insights from market gurus and much more. Get Moneycontrol PRO for 1 year at price of 3 months. Use code FREEDOM.
| Edited by: Suyash Upadhyaya
Read full article