#90sMoviesIn2018: Watch This Movie Now and You'll Know Bobby Deol is the Best Part of Soldier
For a movie presumably honouring the strength, courage and moral fortitude of soldiers, it uses the term in a rather cavalier fashion, by implying any long-haired dude with a gun can be a soldier.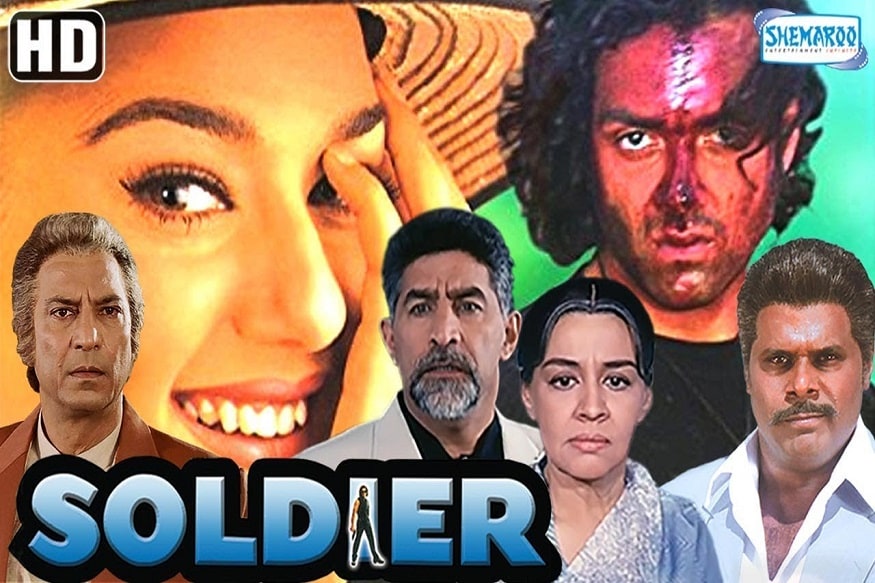 (Image: YouTube)
Editor's note: Since cinema is not only a form of entertainment but also an important cultural tool that has the power to shape opinions, we are reviewing classics and trying to see them through the lens of the current socio-political climate. The aim is to call out biases, misrepresentation and everything else that is problematic so that we can gauge our journey thus far and the road ahead.
Movie: Soldier
Director: Abbas-Mustan
Cast: Bobby Deol, Preity Zinta, Suresh Oberoi, Dalip Tahil
Release: 1998
Is the theme song already stuck in your head? I certainly hope so, given that it's ringing in my ears as I type this out. No matter what you have to say about the 1998 Abbas-Mustan revenge flick (and people have said a LOT in the last 20 years), you have to admit that's one catchy tune.
It's also utterly misleading.
The thing is, apart from the first 10 minutes, the movie doesn't really have anything to do with a soldier. It is out and out a revenge flick, and just because the avenger (hey!) is the son of a soldier, that doesn't make him one. For a movie presumably honouring the strength, courage and moral fortitude of soldiers, it uses the term in a rather cavalier fashion, by implying any long-haired dude with a gun can be a soldier. Still, it made for one hell of a theme song, eh?
Soldier was the fourth highest grossing film of 1998, its songs were justifiably 'super hits' as the term goes, and of course, "Soldier, Soldier, Meethi Baatein Bol Kar." Watching it now, however, one wonders if we were that starved of quality cinematic content. For an action film, its action is excretable, its comedy unpalatable and just plain logic utterly missing.
Essentially about one man (Bobby Deol), who's not a soldier but is out for revenge, Soldier follows his hunt for his father's killers (Suresh Oberoi, Dalip Tahil, Sharat Saxena and a mysterious fourth figure). So, given the movie is more about a "man with no name", or at least fake name, let's model this 2018 critique of a 1998 film with a 1966 cinematic schema.
The Good
It may seem weird to be writing this in 2018, but honestly, Bobby Deol is the best thing about Soldier. As Vicky/Raju, the fatherless sociopath who charms/kills his way into the inner circle of his father's killers, Bobby displays a surprisingly wide emotional range, whether he's playing a lover, a fighter, or a killer (again, at no point anywhere is he remotely close to a soldier, soldier, meethi baatein bol kar; stop, damn it).
The rest of the cast, with a few notable exceptions, is also pretty um, good. Preity Zinta (in what was technically her first film) is a breath of fresh air amidst the overpowering miasma of machismo and testosterone, making her bubbliness engaging rather than the irritant it develops into later in her career. Suresh Oberoi, Dalip Tahil and Sharat Saxena are familiar and welcome in their usual role as villains, though we wish the latter two hadn't gone overboard with the faux Bihari accent.
Even the plot, if you regard it by itself -- sans the patriotic posturing, comedic kerfuffle, and dreadful action sequences – isn't that bad. It's a fairly competent rendering of the vengeful son trope, with enough twists to keep it from turning totally trite. Alas then, for the comedic kerfuffle, dreadful action sequences and Johnny Lever (I'll give the patriotic posturing a pass since that shit sells).
The Bad
Johnny Lever, seriously. Johnny Lever is amusing for exactly four minutes, when he makes his first appearance as Mohan, an Indian migrant looking for his twin brother, whom he lost in, where else, the kumbh mela. Following that, his periodic popping up in different occupations gets utterly jarring and is the most annoying comic relief ever. It's no wonder that Bobby walks off-screen in every interaction, following the first.
I realize that lighter moments are vital to the action genre, to give audiences some breathing room between the heart-pounding adrenaline rush, which the rest of the film hopefully entails. Alas then, that in Soldier, most of the "funny" scenes are gratuitous, distracting and lamer than a one-legged horse. Yes, they're that sad. Cartoon sound effects, a dog with dreadlocks similar to a henchman (here's looking at you, Jojo), and an infuriating comic don't make for laughter.
The Ugly
An action film needs to have well-executed action sequences; that's kind of the point. In Soldier, the action is beyond ludicrous. While films back in the day happily ignored the laws of physics (today's cinema is only slightly better), a fact we cheerfully expected, they should, at the very least, get basic biology right. After Bobby shoots his way through a villain's house in the most Rajini way possible, including shooting baddies through the head, the roof of the mouth and other vital areas, no one seems to die. The aftermath shows Saxena and Tahil's characters lamenting that they've all been admitted to hospital, and this is where the writers also take the opportunity to slip in an AIDS joke. Nice. Not.
Also, again, given that the movie is called Soldier, the aforementioned first 10 minutes see a platoon of Indian jawans being murdered like incompetent cannon fodder, at the hands of Suresh Oberoi and Dalip Tahiil no less. And literally in the same sequence, it takes multiple stabbings by dagger and bayonet as well as multiple gunshot wounds to murder one Indian army officer. Classist, much?
Get the best of News18 delivered to your inbox - subscribe to News18 Daybreak. Follow News18.com on Twitter, Instagram, Facebook, Telegram, TikTok and on YouTube, and stay in the know with what's happening in the world around you – in real time.
Read full article