A Bangladeshi Student Turned Police's Tear Gas Shell Into a Pen Stand
'The pen is mightier than a sword.'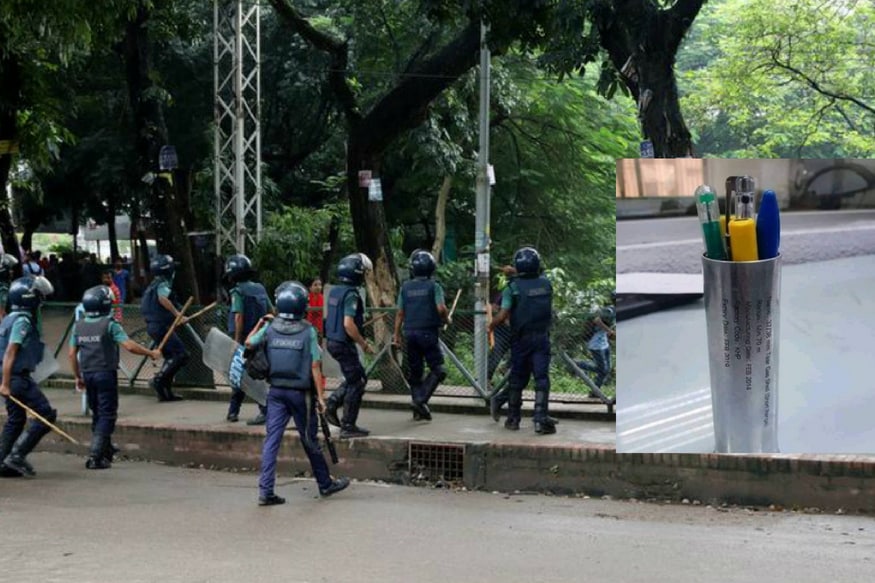 Students run after clashes with the police during a protest over recent traffic accidents that killed a boy and a girl, in Dhaka, Bangladesh, August 5, 2018. REUTERS/Mohammad Ponir Hossain
One wouldn't expect someone to pick up a tear gas shell hurled at them during protests and take it home, but a Bangladeshi student just did that.
Bangladesh has seen
a lot of unrest
in the past few days.
The death of two teenage students by a transport bus in Dhaka on 29 July, brought thousands of school and college students on the streets of the capital city, demanding for strict implementation of road safety rules and safer roads.
Things turned ugly when students' protest turned into a resistance against the government and the cops got involved. Students clashed with the police and soon the 'peaceful' protest was met with tear gas, lathi charge, water cannons, rubber bullets, and even metal pipes.



This is a peaceful protest staged by students in Bangladesh demanding for a safer road yet policemen came upon orders of its govt to stop the protest by means of violence.

Deaths were recorded, some were injured, media personnel were beaten. Please help! #WeWantJustice pic.twitter.com/1WQhFwaXEL


— fifigandanghari 💞 (@AlfonsoLabrague) August 5, 2018
While the 9-day protests have
finally come to an end
, a student has sent out a strong message to the Bangladesh government by taking home a tear gas shell hurled at her. Because, as they say, the pen is mightier than a sword.
Kajari Majumder, a Facebook user, and a Bangladesh resident, took to her account and shared a photograph of her new pen stand. Majumder wrote, "পুলিশের টিয়ারশেল আমরা কলমদানি বানিয়েছি। ওপারের কমরেড ছবি পাঠালেন। (We made the tear gas shell of the police. On the other side, comrade sent pictures.)"
Her post was also shared by writer Taslima Nasreen on Twitter who wrote, "Bangladesh government's tear gas shells are now used as pencil stands by students."

Bangladesh government's tear gas shells are now used as pencil stands by students. pic.twitter.com/lG776kgegb

— taslima nasreen (@taslimanasreen) August 7, 2018

Others too came forward to share the unusual picture.



The state used as tear gas shell. People of #Bangladesh turned it into a pen stand.
This is the tribute we can give to #RabindraNathTagore .#BangladeshStudentsProtest pic.twitter.com/JO59IGrhhS


— suman sengupta (@sumonseng) August 7, 2018

"পুলিশের টিয়ারশেলকে আমরা কলমদানি বানিয়েছি"
'We make tear gas shell as a pen stand'#bangladeshstudentprotests #WeWantJustice #পাশেআছি #বাংলাদেশ #longlivestudentmovement pic.twitter.com/GFJk1V1HXb

— Angshuman Goswami (@gangshuman) August 6, 2018

Giving in to the demands of student protesters, Bangladesh's Cabinet On Monday
approved
a new road safety law and promised to consider the death penalty for deliberately causing accidents.
"The Cabinet today approved the Road Transport Act 2018 with provisions of highest five years of rigorous imprisonment for reckless driving while the term was three years," Cabinet secretary Shafiul Alam told a media briefing after the Cabinet meeting chaired by Prime Minister Sheikh Hasina.
Bangladesh has been dealing with a notoriously flawed system of public transport. According to
UN
reports, more than 3,000 people die in road accidents in the country each year.
Read full article
Countdown To
Elections Results
To Assembly Elections 2018 Results