A Boy Was Ridiculed for Wearing Pink Lipstick. His Family Did the Best Thing Ever
"Gender real nahi hota"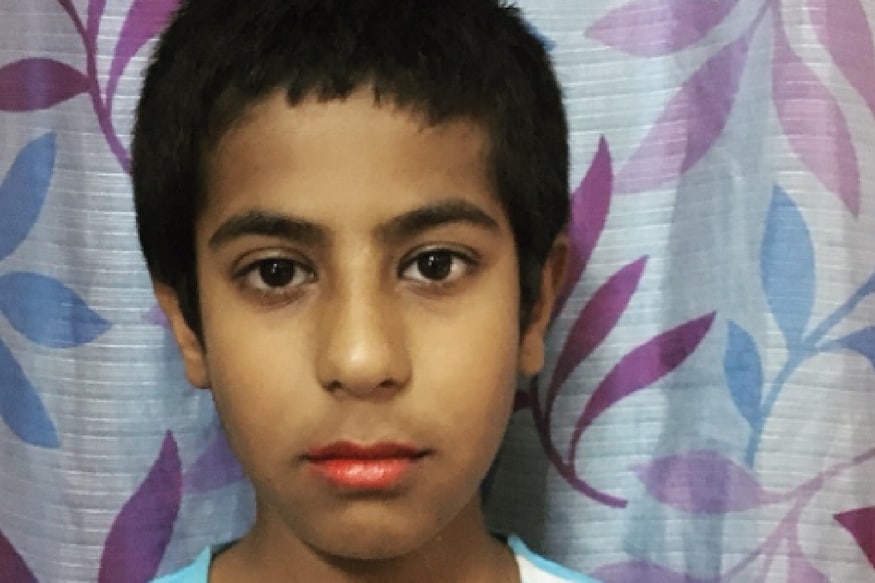 This Young boy was called a "chakka" for putting on lipstick. (source: Twitter)
One day, a boy in Allahabad scurried behind the curtain, then slid under the bed to hide from his "embarrassed mother" and sternly shielded his face from the gaze of a camera that her elder sister held at him.
No, he hadn't failed his Math test or eaten too many scoops of ice cream. His mistake was that he dared to apply a shade of pink lipstick.
On a Twitter thread this morning, 22-year-old Diksha Bijlani, Legislative Assistant to Member of Parliament, shared the story of her 'Little Cuz'. Bijlani writes that her cousin is the most "effeminate" member in her family and he absolutely loves nail paints, lipsticks and learning home science.
When Bijlani's young cousin wore lipstick, he was jeered and mocked at. His family members also called him a "chakka".
My cousin, 9, is the most "effeminate" in the house. Let's call him Little Cuz. Loves to paint nails, wear lipcolour, learn home science! But in this stereotypical alpha male-centric household he's often the pivot of jokes. Today he applied lipcolour & got called a "chakka" (1/n) pic.twitter.com/mZ2FplPNyP

— Diksha Bijlani (@BijlaniDiksha) June 18, 2018
Bijlani's 'Little Cuz' is the constant butt of jokes for his family members and neighbors-- the victims of a frighteningly stereotypical alpha-centric gender identities who find it hard to accept a boy wearing lipstick simply because he loves to.
However, to our absolute joy, Bijlani helped 'Little Cuz' come to terms with his identity beyond gender binaries.  She had a plan. She got together with all her cousins, including her elder brother and they all put lipstick on.
In such a house it takes constant work as elder cousins to undo the conditioned gender binary,normalise gender neutral acts which are deemed feminine. So we all wore lip color to make him comfortable & accepted. He felt a specially empowered when he saw my brother wearing it(3/n) pic.twitter.com/aixXrfMpbw — Diksha Bijlani (@BijlaniDiksha) June 18, 2018
And might we add, they all seem to be rocking it.
My brother gave up any toxic masculinity & complied to influence Little Cuz. Little Cuz came out & smiled comfortable in his skin.

So important to realise that we owe the responsibility of giving every younger kid a safe space to embrace his place within the gender spectrum(4/n) pic.twitter.com/d9ffsJbsTa

— Diksha Bijlani (@BijlaniDiksha) June 18, 2018
Bijlani's initiative to create conversations that target the plague of toxic- masculinity is a heart warming lesson on the importance of letting young kids know that they are accepted as they are, for what they are so that we are able to provide everyone a safe place in the gender spectrum. Oh, and 'Little Cuz' managed to embrace his identity in all glory.
Update: Today, Little Cuz picked up his sister's pink bicycle. Uncle ridiculed him for riding on a pink bicycle like a girl (bec that's how petty my fam is). He retorts & says "Gender real nai hota. Kal mene aur bhaiya dono ne red lipstick lagaya tha didi ke saath. Aap puchlo" 😊 — Diksha Bijlani (@BijlaniDiksha) June 19, 2018
Just like us, Twitter is celebrating Little Cuz in all its glory:
The world needs more sisters like you. Thank you for this. Hugs, if I may.

— Vivek Tejuja (@vivekisms) June 19, 2018
Even if you launch a satellite with 1/10th of expected cost, ppl will criticise you. he is too young to understand this. Loved the kind gesture showed by you to make him feel comfortable.

— Koi (@Fried_Papad) June 20, 2018
I think we've all done something like this in our childhood knowingly or unknowingly, and it was the correct way to approach it. Thanks India's #generationZ you make me proud a lot of times.

— Ansh Sahni (@AnshSahniLive) June 19, 2018
That made me smile :) Get the kid a chocolate and tell them there are people who will always be by their side

— Manish Sain (@Manish__Sain) June 18, 2018
I wish I had siblings like you back in my time!Hugs and hugs for your courage and so proud of you,Remember when he will grow up he will I m sure gonna thank you for standing beside him.This gives me hope as country and society some day will rise above all gender stereotypes

— hoderhider (@udhan_khatola) June 20, 2018
Get the best of News18 delivered to your inbox - subscribe to News18 Daybreak. Follow News18.com on Twitter, Instagram, Facebook, Telegram, TikTok and on YouTube, and stay in the know with what's happening in the world around you – in real time.
Read full article