GET Stock

Quotes


A Flight Attendant's Joke Made This Man Fly 2,300 Kms in the Wrong Direction
Here's what happens when you take jokes too seriously.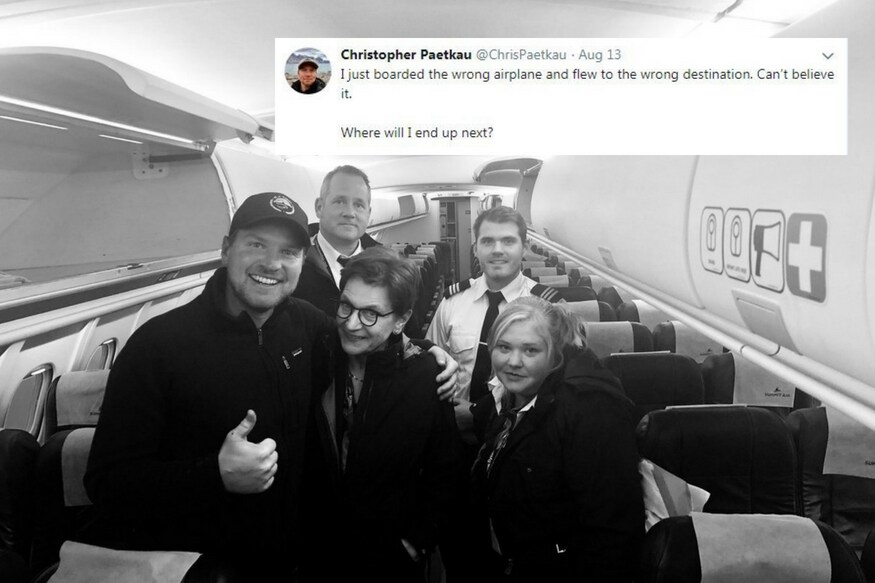 (Image: Twitter)
Ever taken a flight and realized that you were flying in the wrong flight all this time but now it's too late to make a U-turn because you've flown around 2,300 kms in the wrong direction? Well, that's exactly what happened to a Canadian man who ended up on the 'longest flight of his life'.
According to a report by
CBC
, Christopher Paetkau, who is a wildlife photographer, was headed from Yellowknife to Inuvik on Sunday when he mistakenly boarded a flight to Iqaluit, which is approximately 2,300 kms in the other direction.
Talking to
The Province
, Paetkau told that the unfortunate misunderstanding happened as he heard final boarding calls for three different flights at the same time.
While boarding the flight, he asked a flight attendant if he was getting on the flight to Inuvik, and she jokingly replied, "Yeah, eventually".
Paetkau did not realise he was on the wrong flight until they landed in Rankin Inlet, Nunavut. He then asked another flight attendant when they would arrive in Inuvik, and the whole confusion came to light.
He told CBC that the flight attendant felt horrible about the unintended goof-up and was like, "Oh, my god! I did not take you seriously, like, I thought you were joking."
Another person who had boarded the flight before Paetkau had jokingly asked the attendant when they would land in Hawaii. The flight attendant, thinking that Paetkau was joking too, responded in jest.
A video of the incident shared on Twitter has now gained over 2.14 lakh views.



I just boarded the wrong airplane and flew to the wrong destination. Can't believe it.

Where will I end up next?#arctic #firstair #yellowknife #airtravel @CBCManitoba #winnipeg pic.twitter.com/DfZYa4ATjW


— Christopher Paetkau (@ChrisPaetkau) August 13, 2018
Paetkau, however, says the First Air airline flew him back to Yellowknife where he was put up in a hotel before flying to Inuvik on Monday afternoon.

It's official.

Just call me "Winnipeg man who flew 3000km in wrong direction"

I may not ever live this down. And, I don't want to ;)#arctic @FirstAir https://t.co/Xuc8OidHwO

— Christopher Paetkau (@ChrisPaetkau) August 14, 2018

He says that he became friends with the flight attendant on the flight.
The airline, First Air, too responded to Paetkau's tweet.



We aim to please! Since you're buds with our crew and Captain, you're friends with the entire First Air family too! We expect a holiday party invite of course! https://t.co/SLezZQKJ9j


— First Air (@FirstAir) August 13, 2018
Read full article