A Goat Walked the Red Carpet of Tony Awards and We Just Can't Keep Calm
The star of the night.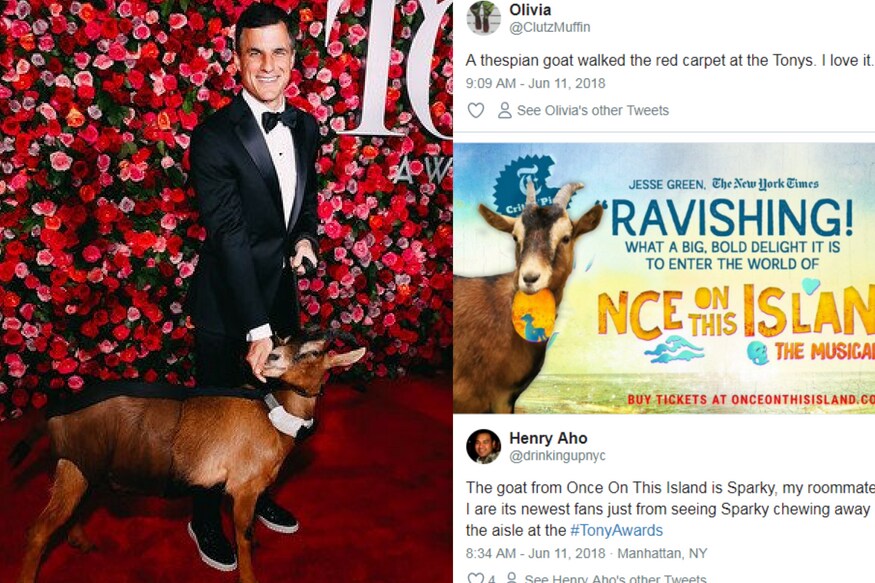 The star of the night.
As always, the latest edition of Tony Awards was a dazzling affair of celebrities waltzing around the red carpet in glinting outfits.
Much to their dismay and our excitement, none of them managed to steal the show this time.
Because 'Sparky', the goat did.
Sparky, who appears in "Once on This Island," strutted the red carpet and was accompanied by the very elated Ken Davenport who is the producer of the show.
Although he strolled down the carpet with fashionable calm, we bet the clean up crew had a tough time because true to it's nature, Sparky did what goats do...all the time.
No surprises there, but Twitter has erupted with joy and laughter over the debut appearance of this 'one-of-a-kind' star:
Are we just going to slide past the fact that there was a GOAT ON THE RED CARPET AT THE #TONYAWARDS ???? #onlyatthetonys

— Mary-Anne (@maryanne1397) June 10, 2018
It might be a @TheTonyAwards first: A goat on the red carpet — and a stylish one, too. #TonyAwards2018 pic.twitter.com/fzxGLU9TBq

— NY1 - ON STAGE (@NY1onstage) June 10, 2018
THE GOAT FROM @OnceIslandBway IS WALKING DOWN THE CARPET

THIS HAS MADE MY ENTIRE YEAR

I LOVE THE GOATS SO MUCH & THIS PRODUCTION #TonyAwards

— JSun (@JessHSun) June 10, 2018
This little goat performed at the dress rehearsal. Here he is waiting to go in, getting treats. #TonyAwards #thisisbroadway pic.twitter.com/DNd8OFUvbv

— Liza Donnelly (@lizadonnelly) June 10, 2018
Nothing more iconic than the OOTI goats crapping on the carpet before the #TonyAwards even begin

— Amaya (@montynichole) June 10, 2018
the only red carpet stars i care about are the ooti goats absolute legends

— jess (@obcfalsettos) June 10, 2018
Go backstage with the star of @OnceIslandBway in this exclusive behind-the-scenes look at what it's like to be the G.O.A.T. https://t.co/0BajJ6nc47 pic.twitter.com/GDyQ4etBWc

— Playbill (@playbill) April 17, 2018
Get the best of News18 delivered to your inbox - subscribe to News18 Daybreak. Follow News18.com on Twitter, Instagram, Facebook, Telegram, TikTok and on YouTube, and stay in the know with what's happening in the world around you – in real time.
Read full article